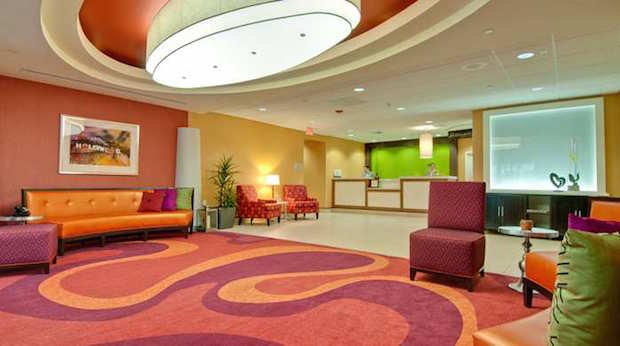 Hollywood Hilton Garden Inn Review
I'm still winding down a bit from the whirlwind trip to LA at the end of last month for the premiere of Disney/Pixar's Brave.  Besides the excitement of the event itself, part of the awesomeness was being right in the heart of Hollywood for a few days.
And I was able to stay right in the midst of it all by staying at the Hilton Garden Inn, located on N. Highland Avenue in Los Angeles. When I visit a city I like to walk. I find that you can get a much better sense of the city, its people and its highlights by using your own two feet to get from point A to point B.  I know the stereotype is that nobody in LA walks, but I did a bunch of it!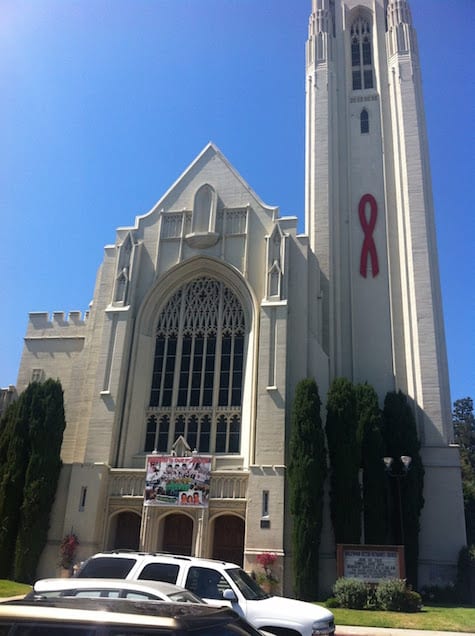 The Hilton Garden Inn is within walking distance of the Hollywood Bowl, as well as the big "must-see" spots like the Hollywood Walk of Fame, Grauman's Chinese Theater, Highland Pavillion and Universal Studios. It's also near spots that you have probably never heard of, but almost certainly seen in the movies, like Hollywood United Methodist Church, which is right down the block and the site of filming for scenes from dozens of movies including Sister Act, Back to the Future, Anger Management and People Like Us.
I took a bunch of pictures while walking around.  Unfortunately, I just did my walking with my iPhone so they aren't photography masterpieces, but I saw plenty to capture digitally.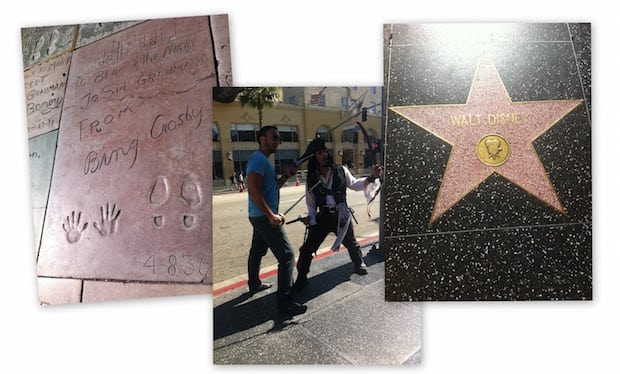 Since the trip was so jam-packed, I didn't have a ton of time to experience the hotel, but the time I spent there was enjoyable. They have a pool, which many of the other bloggers on the trip said was awesome, but I didn't even get to see! My room had everything I needed and was nicely decorated.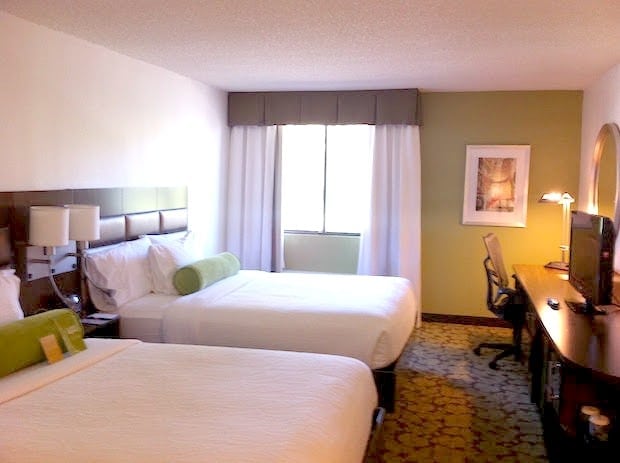 Amenities included hair dryer, coffee-maker, TV, ergonomic desk chair, great-smelling toiletries and best of all the oh-so-needed complimentary high-speed internet access.  I also slept like a rock on the Serta Perfect Sleeper Bed —— soooo comfy!  I also liked some of the special touches like the cool mirrors and this flooring in the entryway.
One of the benefits of having so little spare time is that I just "had" to order room service in order to maximize my time.  I was a bit concerned about how long the food would take, but it arrived in only 20 minutes.  I ordered the caprese salad to start and then the Penne Pasta Pomodoro, which was made with mild Italian sausage, fresh roma tomato sauce, shaved parmesan reggiano and served with a focaccia crisp.  Both were delicious!  The caprese salad was made with burrata cheese rather than the traditional fresh mozarella and tasted fantastic.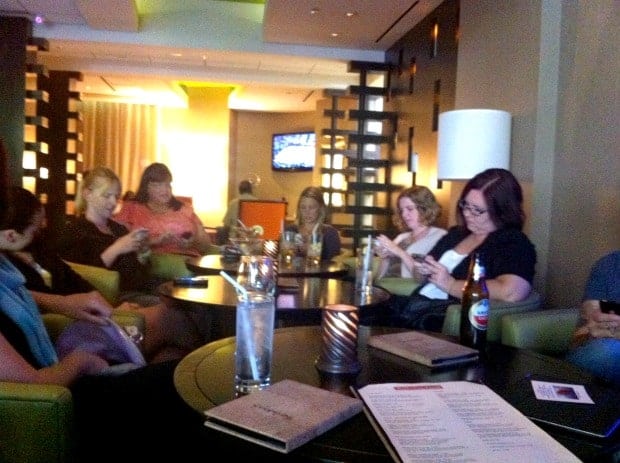 And lastly, I have to mention that the staff was great. They were very accommodating and helpful. I actually felt pretty horrible for the poor server in the bar who had about 15 of us order last minute meals when we only had a short time before we were leaving. I'm surprised he didn't rip off his apron and walk out the door in frustration, but he kept it together and we all got our food, even if the last few took theirs in to-go boxes.  By the way, this is what a group of bloggers looks like enjoying dinner together.  I kid!  We actually had great conversation and fun, but of course with some tweeting and other smartphone related breaks thrown in.
Disclosure:  My accommodations and meals were provided as a part of the #BraveCarsLandEvent. Any opinions expressed are my own.