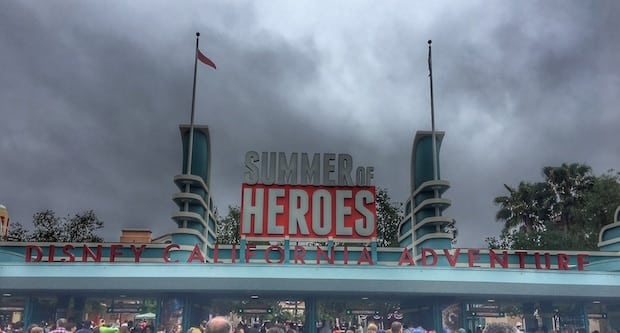 This summer it's time to Hero Up at Disneyland Resort and be a part of the celebration of all of your favorite heroes! I had a chance to spend a few days at Disneyland last week and had a BLAST!! Disney California Adventure is totally decked out for Summer of Heroes and has lots of new fun and exciting things to experience, with the HIGHLIGHT being the all-new Guardians of the Galaxy – Mission: BREAKOUT!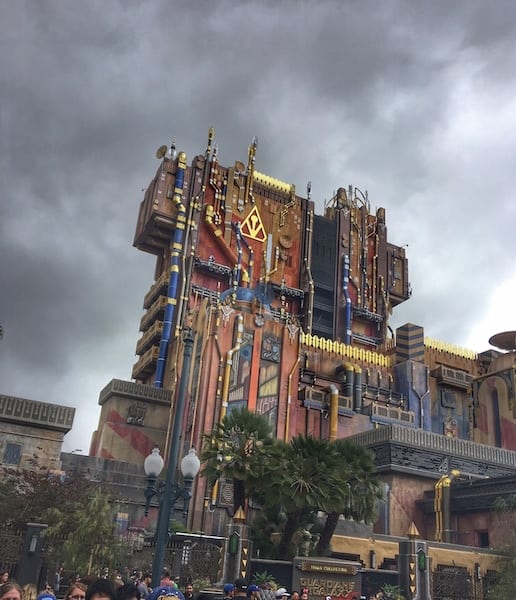 Let me just say that Guardians of the Galaxy – Mission: BREAKOUT is an experience not to be missed. In 3 words – I LOVED IT. I have to be totally honest and say that it was too much for some of my friends (so be forewarned before you go), but I loved every minute of it. The right starts with a walk into The Collector's Fortress. It's an amazing looking building! Once you get inside the Fortress Lobby, it turns a bit creepy, but still fascinating. There are display cases with both artifacts and creatures The Collector has put on public display. It's here where you also see a welcome video explaining how he has trapped the Guardians of the Galaxy high atop his fortress in secured glass cages wired with power from a massive generator and suspended over a deep abyss.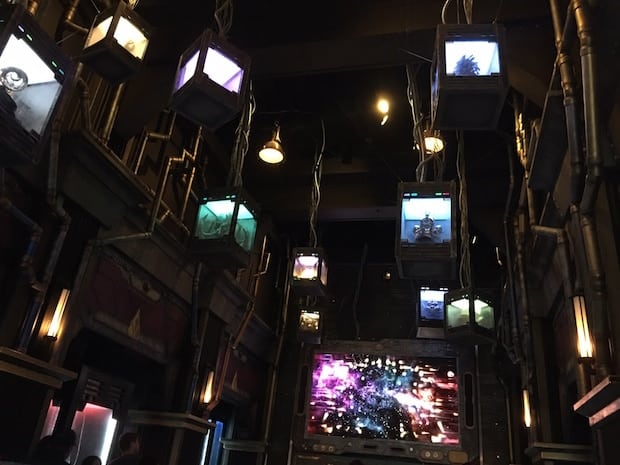 From here you move into the Collector's Office, but not until you (along with everyone else) hold up your hands to be "bio-scanned" for security clearance. There are even more items on display in the office (keep your eyes open for some really cool Disney/Marvel related items). You'll also run into Rocket, who asks for your help. Since you already have securing clearance (remember the hand raising?) he can use that clearance to hijack the gantry lift to the top of the fortress, disable the generator, and free the rest of the Guardians of the Galaxy.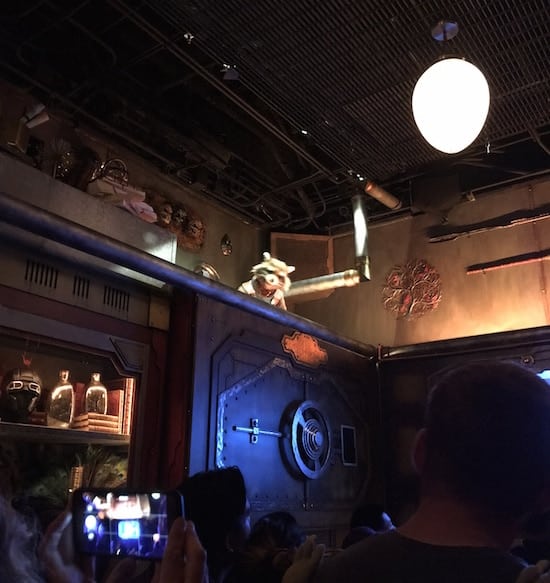 Here is where it rally gets good! Once you get in the gantry lift, Rocket hacks in to override The Collector's recorded tour spiel with music fromStar-Lord's Walkman and before you know it, the gantry is shooting up into the fortress, then plummeting downward while Rocket tries to take control of the generator. Your ride will take you on one of six different ride profiles depending on the song you end up with. They include:
"Hit Me With Your Best Shot" by Pat Benatar
"Give Up The Funk" by Parliament
"Born To Be Wild" by Steppenwolf
"I Want You Back" by The Jackson 5
"Free Ride" by The Edgar Winter Group
"Burning Love" by Elvis Presley
It seriously is a BLAST and I would LOVE to be able to head back and ride again soon. I would have to say that it is probably in my top 5 favorite rides of all time. SO FUN!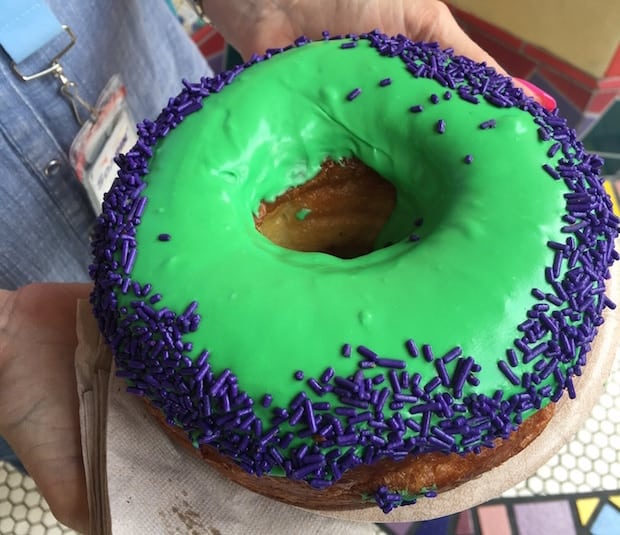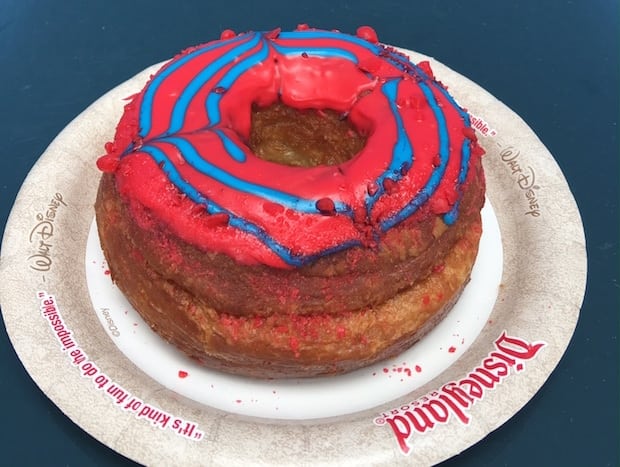 Another highlight of Summer of Heroes is the FOOD! They have lots of fun and delicious new food items with everything from super hero sized subs to Space Outpost Tacos to Groot Shaped Bread! I checked out a few of the sweet treats including the Gamma-Sized Donut, the Spider Bite and the Infinity-Ade, a lavender lemonade with sugar on the rim and a reusable glowing cube inside. You even get to choose your color of stone. I chose multi-color!
There is more fun to be had during Summer of Heroes. Check out this list courtesy of Disneyland:
Guests have a chance to be dazzled by the beloved and iconic "Main Street Electrical Parade," with an extended run through Aug. 20.
The spectacular nighttime "Fantasmic!" show re-opens at Disneyland this summer, and the classic Disneyland Railroad and Rivers of America attractions return to delight park guests.
Also in Disneyland, Star Wars and Disney fans will step into out-of-this-galaxy adventures at Star Wars Launch Bay, meeting some Star Wars characters and getting an up-close look at replica props and models from "Rogue One: A Star Wars Story."
Across both parks, guests will meet characters familiar and new – from Moana and Chewbacca to the stars of Summer of Heroes, including Groot, Captain America and Spider-Man. Photos with Groot are sure to be a big hit as he makes his first appearance in a Disney park.
"Disney Junior Dance Party" debuts Friday, May 26, at Disney California Adventure, creating a fun concert experience where adults and kids can sing and dance along to the music. Popular Disney Junior characters from Disney Junior TV shows "Doc McStuffins," "Sofia the First" and "The Lion Guard" will be joined by characters from the new series "Mickey and the Roadster Racers."