If you're looking for the best standing desk for work at home, take a look at our FlexiSpot standing desk review!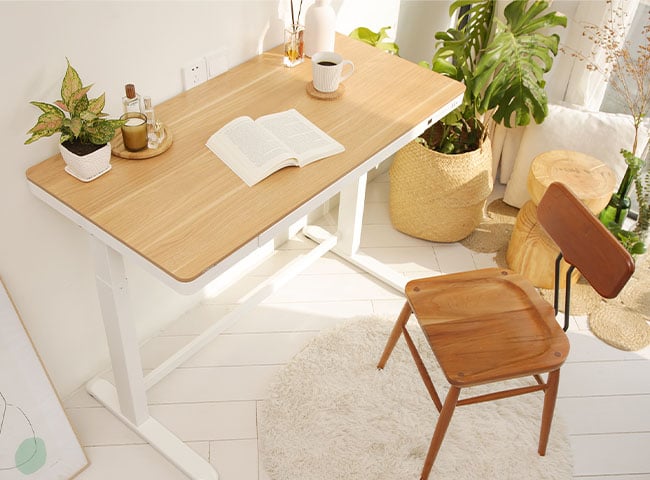 If you work from home, there's a good chance you're spending most of your time on a computer. And even if you're not working from home, if you're in an office you probably spend the majority of your day sitting at a desk.
One switch that many people have been making recently is moving from a sitting desk to a standing desk. Studies have shown that people who switch to a standing desk – even for part of the day – can experience health benefits like a lower risk of weight gain and obesity, reduced back pain, and improved mood and energy levels.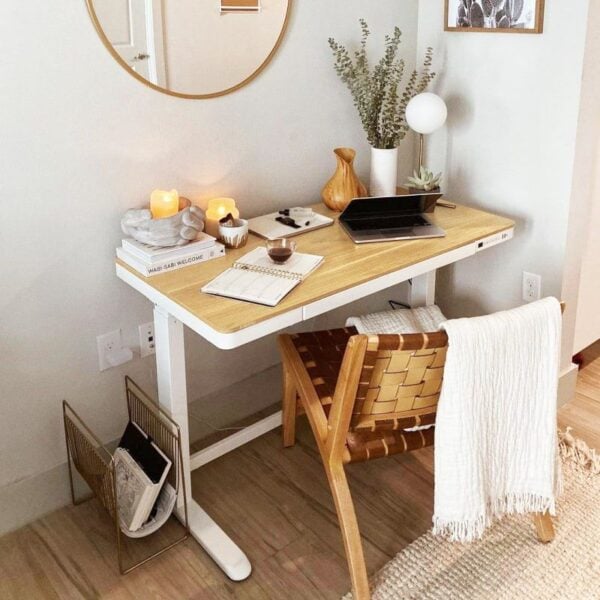 If all of this appeals to you, great! But don't just run out and buy the first standing desk you can find. You want to carefully consider the possibilities and features to pick just the right one for you.

Flexispot Desk Review:
The Comhar All-in-One Standing Desk from FlexiSpot checks a lot of boxes! Here are some of my favorite features: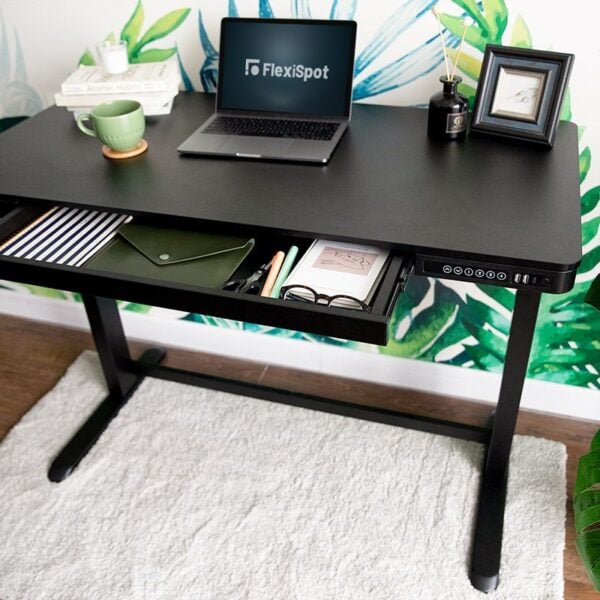 Adjustable Height Range

This standing desk has a height range from 28.3″ – 47.6″. This means that you can use it as a sitting or standing desk – just use the control panel to move it up or down as needed.
Unlike some other standing desks, the Comhar All-in-One Standing Desk has a lower starting height to more easily accommodate children for an accurate standing position.
Its suggested user height range (while standing) is 5'2″ – 6'6″, so this height adjustable desk is probably perfect for you!
I find the adjustable height helpful because we have put the desk behind our sofa in our lower level. By lowering it to its lowest position it blends in nicely with the furniture and makes it look more like a living area than an office again.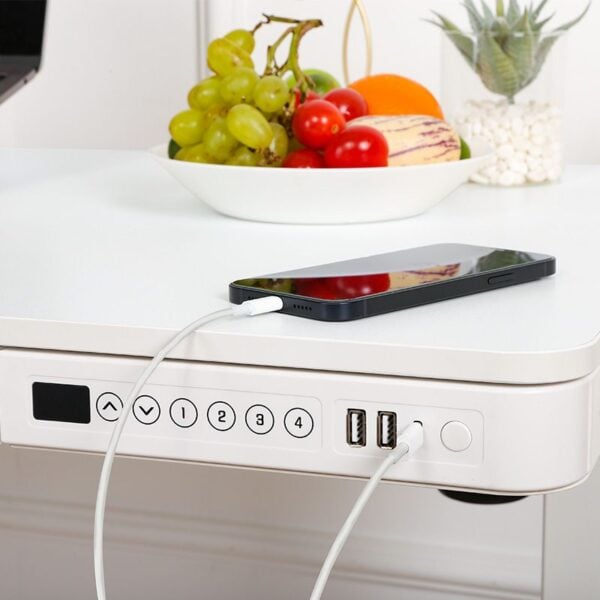 Integrated Control Panel
Use the integrated control panel to move the desk up or down as needed. You can also use the height memory presets to easily move it to exactly the height you like.
And since there are several presets available, multiple users can save their preferred height setting in a family or cooperative workplace environment. Genius! Since my husband and I are different heights, this is extra helpful.
The control panel also includes three USB charging ports for your devices and accessories as well as a child lock, which I find also helps prevent curious cat paws who like to press on furniture edges.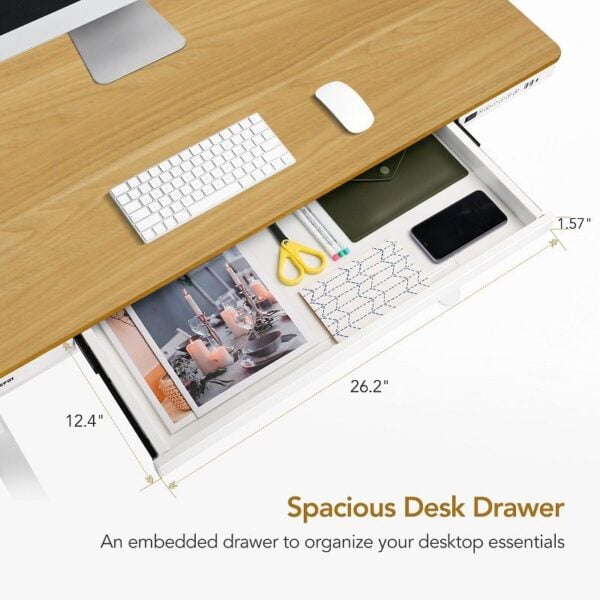 Spacious Storage Drawer
The spacious storage drawer has a modern design that seamlessly blends in with the desk. Use the drawer to keep your belongings out of sight and your desktop clear. It's just the right size to store some of the most important office supplies and keep the top of the desk clear.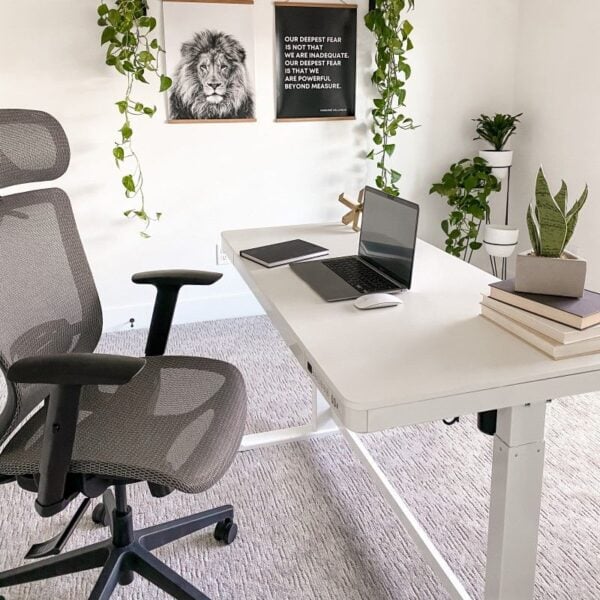 Large Surface Area
While the Comhar All-in-One Standing Desk takes up minimal floor space, it still has a spacious 48″ x 24″ desktop. This offers plenty of surface area for multiple monitors, your laptop, keyboard, mouse, paperwork, and/or any desk accessories you may have.
If you have a small living space, such as a studio apartment, this FlexiSpot desk can even serve double duty as a kitchen table. Because it's adjustable you can lower it to a more comfortable height to work with a couple of kitchen chairs. That makes it a real space saver!
The desk frame is built to resist scratches and stains, and you can use the leveling glides along the bottom to stabilize and level the surface as needed.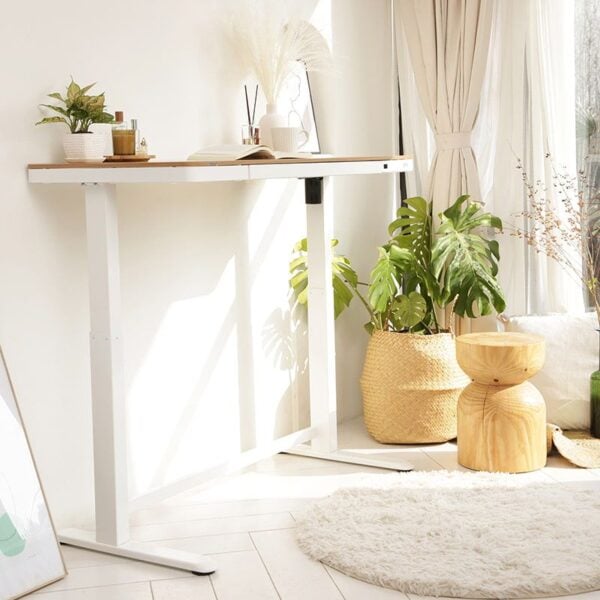 Other Features
Got a specific decor scheme in mind? You can choose to order this desk in Maple, White, or Black so it fits your office aesthetic.
There's space underneath for a desk bike or an under-desk treadmill to help you stay productive and balance your work with working out.
You can also purchase casters, an ergonomic chair, a standing desk mat, and more accessories to customize your environment.
And with a simple 3-step assembly, it's easy for you to put together yourself with minimal time and effort needed.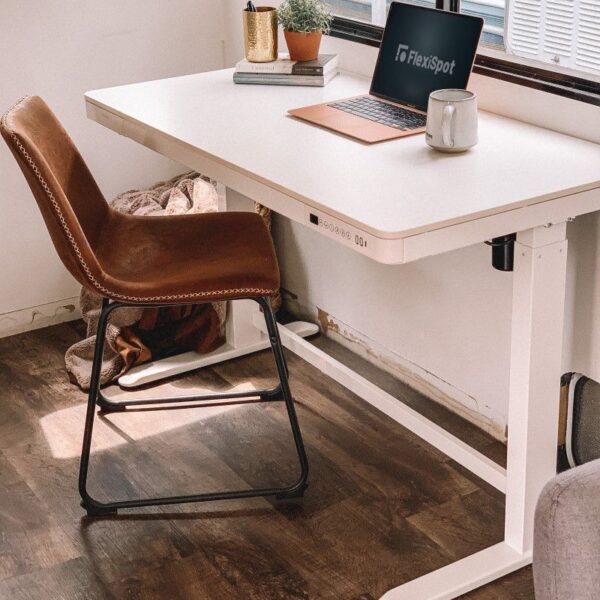 FlexiSpot Standing Desk Discount Price
The Comhar All-in-One Standing Desk is already a very affordable standing desk, but you can save even more! It ships FREE to the lower 48 states and has a 30-day risk-free return policy! The FlexiSpot desk also comes with a 5-year warranty for peace of mind.
AND now through 4/24/22 ONLY, you can get it for $160 off! Normally $499.99, it's currently marked down to $339.99, no coupon code necessary.
Get yours HERE!