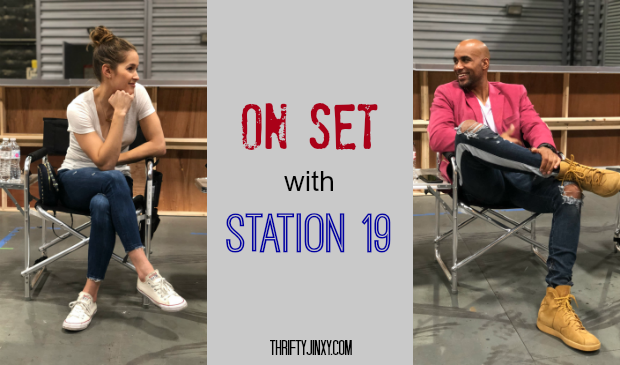 Ok, Shonda fans, this one's for you! Last week I had a chance to visit the set of the newest Shondaland series, Station 19. Yes! Not only did we get to explore the set where the show is filmed, but we also had a chance to visit with Showrunner & Executive Producer Stacy McKee, as well as actors Jaina Lee Ortiz (Andy Herrera) and Boris Kodjoe (Captain Robert Sullivan).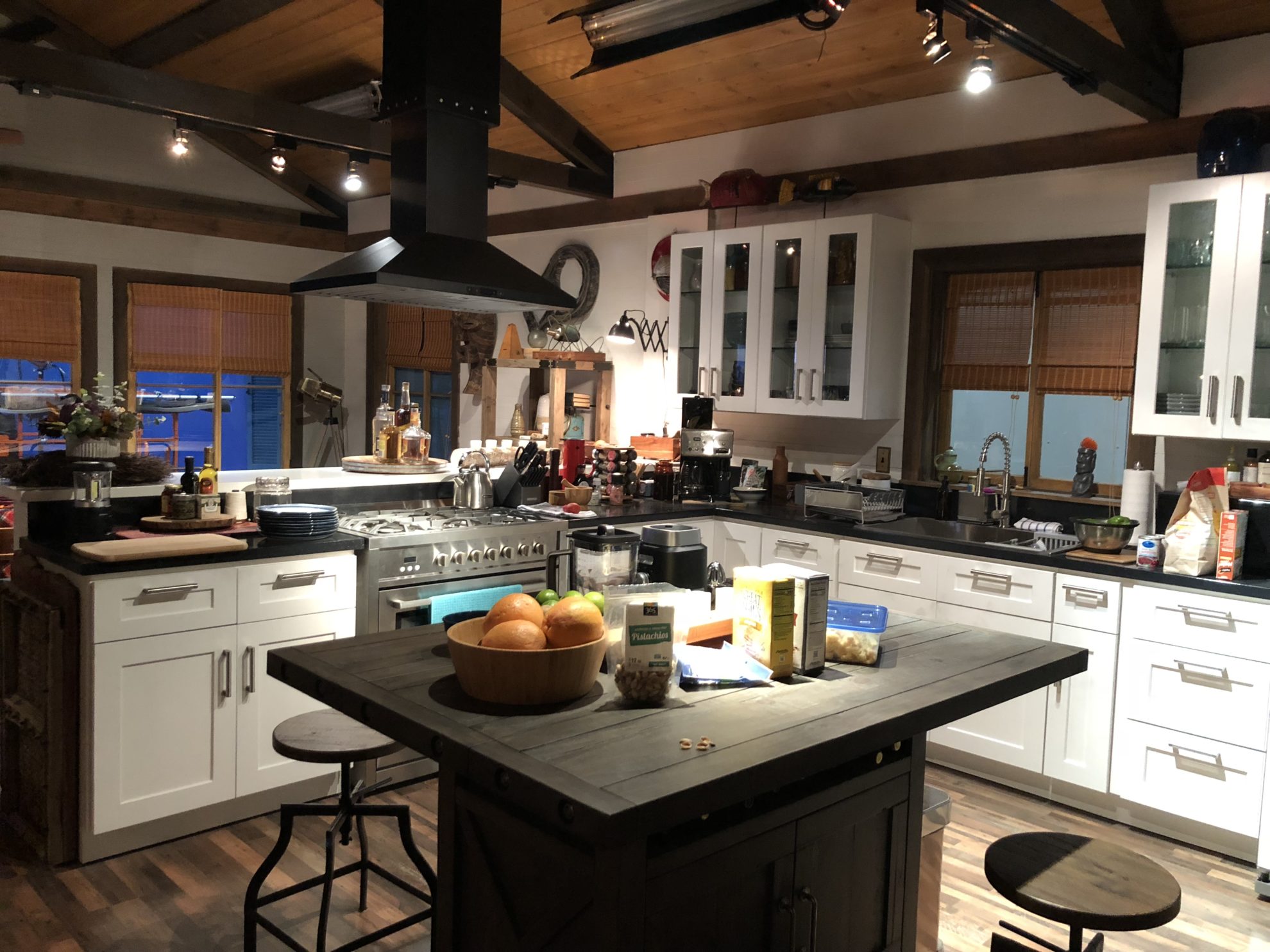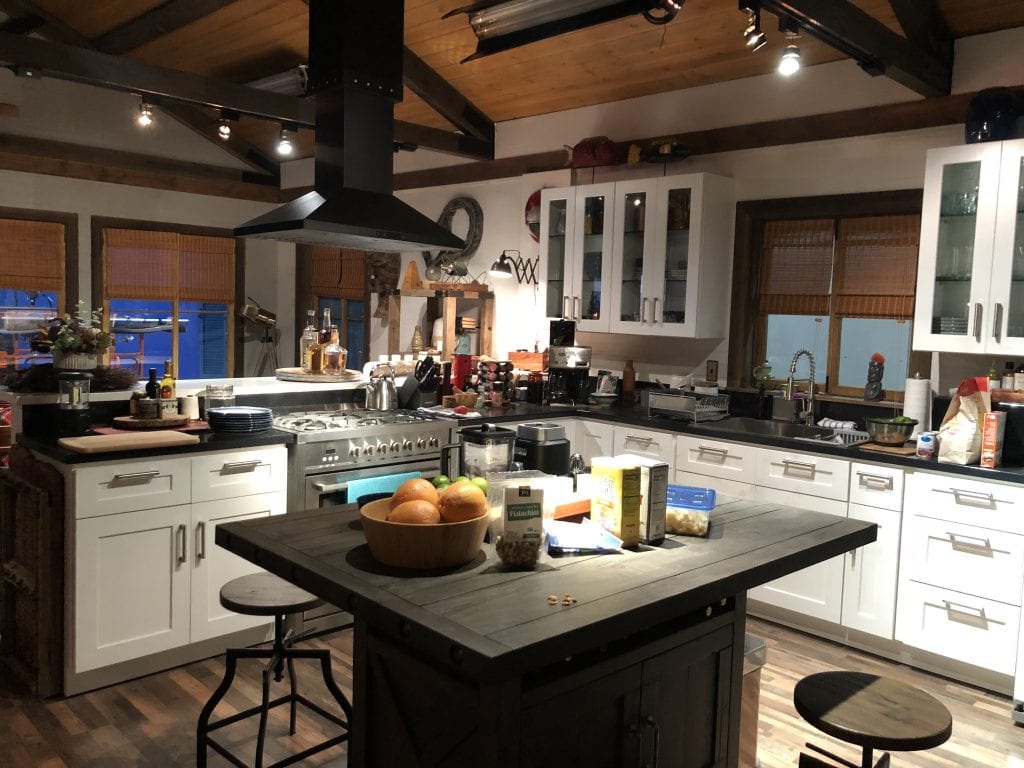 Let me just say that the set of Station 19 is pretty amazing. It feels just like you're walking through a real firehouse and the other locations you see on the show each week.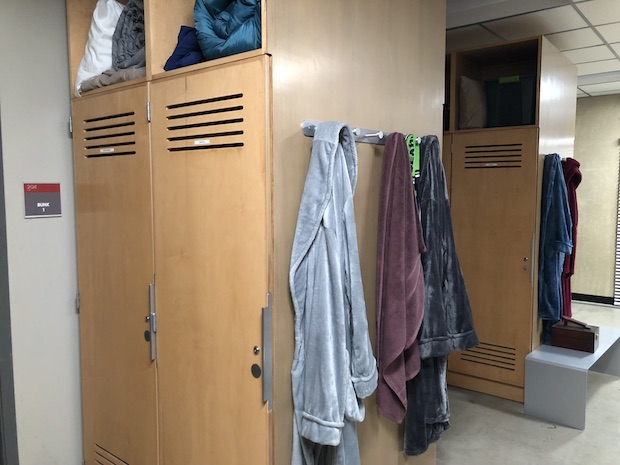 I started to feel at home and almost expected to see firefighters walking out of the locker room at any time! Of course there's even a whole firetruck right on set and every detail in place, right down to envelopes with mail sitting on a desk.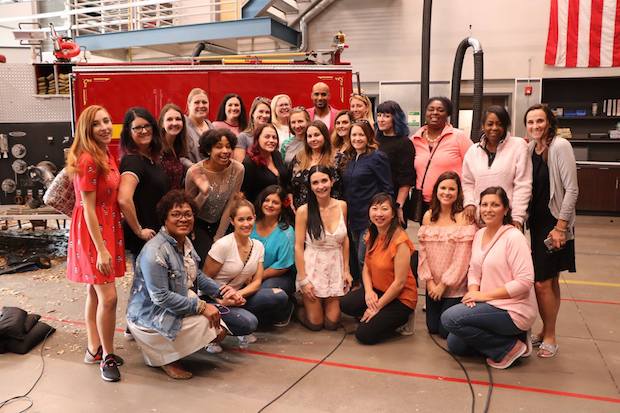 Before poking around he set, talking with Stacy McKee and the actors gave us a lot of insight both into the origins of the show and how they got involved with it. Below is a fraction of what they each had to say.
Stacy McKee
Stacy set the stage by telling us a bit about herself and the beginnings of Station 19, saying "I wrote on Grey's Anatomy for 500 million years. I started on Season One and moved up the ranks and finished there on Season 13 in order to come over here and create a spinoff about firefighters, which is kind of amazing. It seems like a really natural sort of extension of the Grey's universe because it still involves medicine and in the background of all the Grey's episodes, you see all of the first responders scooting into the breezeway, dropping off patients and then really quickly we dispense with them and get them out of the scene so we could focus on the surgeon."
"But what about if we got back in the ambulance and drove away with them and then started to see what their life was like? What if there was a fire station 3 blocks down from this hospital that we've been seeing for 13 years and they have a whole life that's been going on this whole time too? What if we just shine a light over there? That was really the beginning gestation of the idea. It's also something really appealing to me. It's like Grey's in that it makes you laugh, it makes you cry, it makes you feel things and it was really appealing to me to show those same types of emotions, and the same type of humor but to do it in a world of first responders."
"In this day and age, I feel like the world can be tough. There's a lot of difficulty when you wake up every morning. When you open up your news, there's stuff that's hard. [For the show] to focus on a group of people whose only job is to help other people – doesn't matter who you are, doesn't matter what color you are, what your religion is, doesn't matter what your politics are – It doesn't matter. All that matters is that if you are a person who needs help, these characters will help you. And to me, that was just remarkable. I wanted to put that little piece of joy out into the world. It's so unifying and universal. And it seems like this was the right moment to tell stories like these."
Jaina Lee Ortiz
Stacy told us that Jaina was the very first person cast for the show. As Stacy was in her office trying to finish an outline of the show she got a call from Shonda saying, "We've met our Andy". Jaina said, "the second I heard Shonda Rhimes is doing a spin off, I said, 'Yes. I don't care what it is, just put me in.' Luckily, I found out it was about firefighters. I went and met two female captains and I was like, 'Oh my gosh, these ladies are bad-ass'. And they could do everything. They could be moms and work and still have a life and balance. And so just, it's been – I can't even – it's been a dream, it's… Pinch me!"
Jaina was so committed to the part that she actually took the firefighter test. She explained, "I actually came home and I said, 'Mom, how much do you weigh?; I told her, 'You need to be at least 165 pounds so that I can drag you out of a building' – because that was part of the test, dragging a dummy that was 165 pounds, and it's hard, it's really hard. But being on the show has forced me to stay in shape just in case she [Stacy] throws a sexy, nude scene at us."
Boris Kodjoe
Boris has come to Station 19 a bit later. He said, "I wanted to be a part of the show from the first episode as well. And, unfortunately, that didn't happen. So I had to wait patiently in the wings until it was possible. Code Black was cancelled on a Friday and I think I met with Stacy on a Monday and it was pretty much done Monday night." (Stacy added, "We were ready to pounce.")
Boris said, "Shondaland is a universe that I wanted to be a part of ever since [Shonda Rhimes] appeared on the horizon. And for some reason, it never worked out, so that was a huge draw for me as well. And then meeting Stacy and Betsy [Beers, Shonda's producing partner] just did the trick.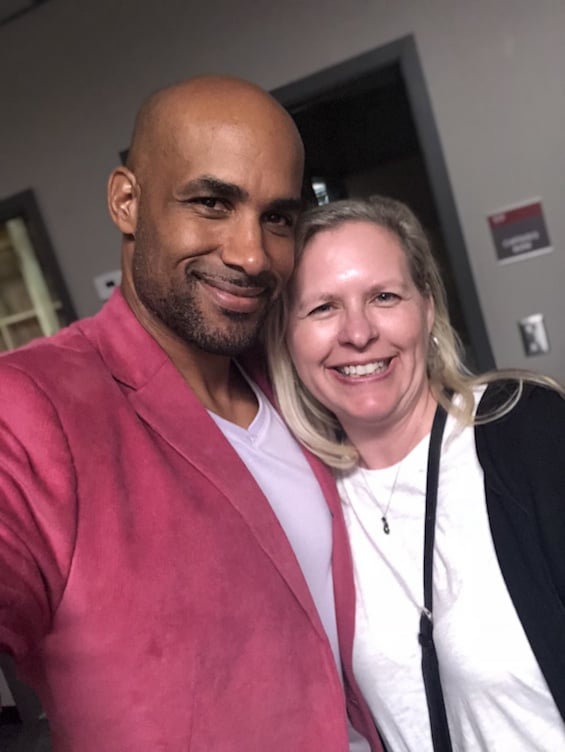 I love great writers and to put myself in the hands of someone like Stacy is an absolute pleasure and honor because you know that every single episode you don't think it can get any better and then you open a script and the script is better than the script that you read before. That's always an amazing surprise and it's so much fun to go to work because not only do you get to speak these words but also work with people like Jaina and people who have been so embracing of me.
And here is the exclusive Boris Kodjoe video I mentioned earlier. Hear from him yourself! – –
Be sure to tune in TONIGHT, November 8th, 9:01–10:00 p.m. EST, for the latest episode "Last Day On Earth", with guest star Dermot Mulroney. In tonight's episode, just when Ryan agrees to talk it out with his dad, Greg Tanner makes an unexpected visit to Station 19, leaving Ryan and others confused. In an effort to connect with his crew, Captain Sullivan enlists the help of an unlikely source for some bonding tips.
STATION 19 airs Thursdays at 9|8c on ABC (Also available streaming and on demand)