We have been the lucky recipients of lots of my Mom's homemade goodies recently. This one was extra special because it was a request I made of her and she came through! I love jams that are made with just the "good stuff" – basically berries and sugar and something to hold them together. That's what this jam is – nothing but wholesome goodness. So, we have to thank Mom for the easy strawberry jam recipe.
There are lots of ways to eat this jam – on muffins, in cookies, PB&J sandwiches, or my favorite – just spread onto a thickly sliced piece of toasted whole wheat bread. It's so good!! And mom swears it is really easy to make. Mom doesn't lie, so we will take her word for it!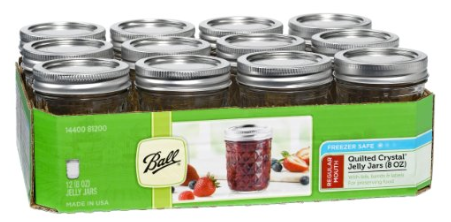 Easy Strawberry Jam Recipe

3 cups fresh mashed strawberries
1-1/2 cups white sugar
1 pkg SureJell or other fruit pectin
3 tbsp lemon juice
Put strawberries in a heavy bottomed pan. Mix Surejell with sugar and add to berries. Add lemon juice. Cook to full rolling boil. Reduce heat and continue cooking to 220 degrees on candy thermometer (about 20 minutes) stirring occasionally so mixture does not stick to the bottom of the pan. Spoon off foam if there is any. Pour into hot sterilized half-pint jars and cover immediately. Listen for the "pop" to tell you the jar has sealed.