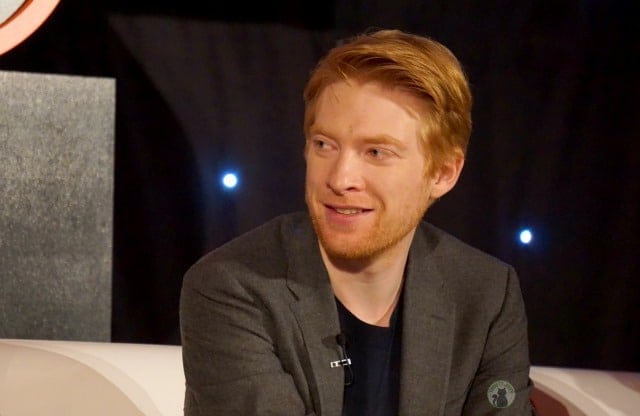 You would never expect General Hux to enter a room with a joke, but that's exactly what Domnhall Gleeson did to start our interview about his role as General Hux in STAR WARS: THE LAST JEDI. As he was entering to a big round of applause from the group of 25 bloggers he said, "You know I'm not Cate Blanchett, right? I know, I know.. I used to get called Cate all the time when I was nineteen. 'Cause I look like her."
Domnhall then went on to make us laugh many times during our 20 minute interview. This guy is funny and real!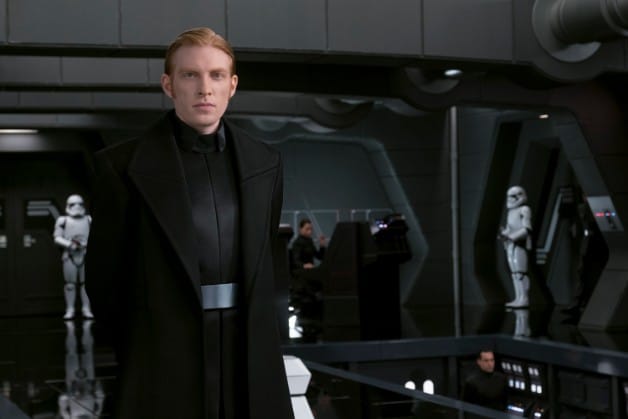 Why Domnhall Didn't Watch The Last Jedi Until Premiere Night
"They had a screening for the cast, but I decided I would rather see it with like two thousand people who don't know what's going to happen – just the feeling in the room. At the Force Awakens, that premiere was insane. I was there with my dad and my friend Lawrence. Like what the hell is going on. Like, whoops and cheering and big gasps and everything. I didn't want to miss out on that being my first experience with the film."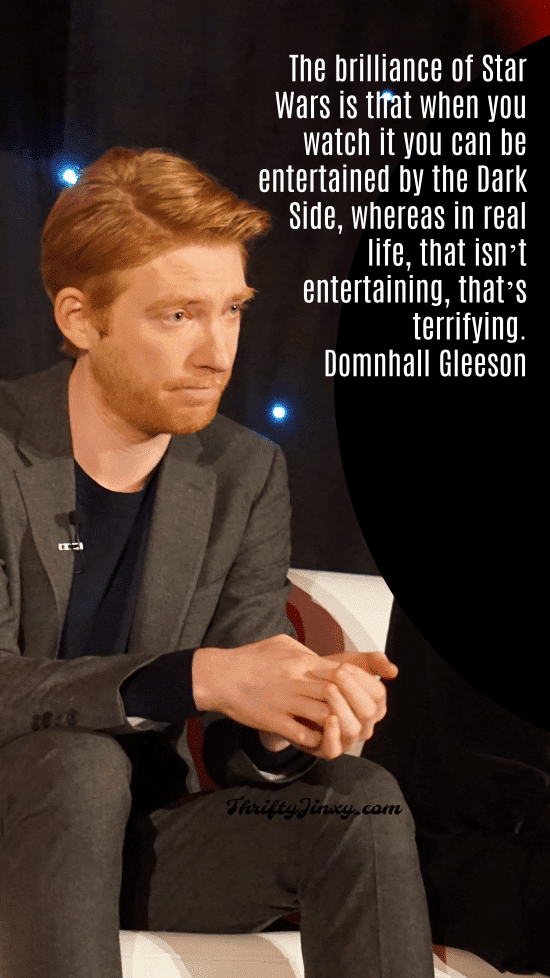 Domhall Gleeson's Harrison Ford Fanboy Moment
"When I went to one of the premier things last time round, Harrison Ford was there and they were giving out these plastic light sabers to the fans, and I picked a green one 'cause I'm Irish. And then, we were at the thing and just Harrison Ford's like the coolest man in the world. So I was talking to my agent and I was kind of waving the thing around, and I saw Harrison Ford was looking over at me, and I was like, OH. I got my photo with him. "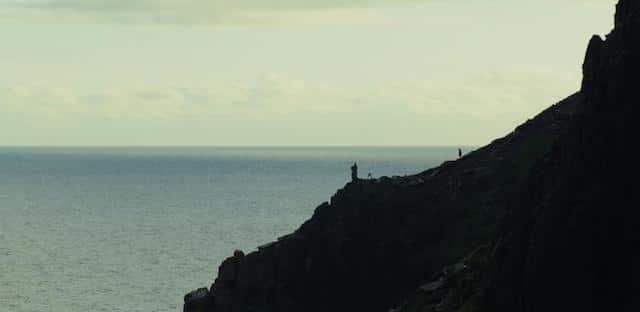 About The Last Jedi Filming in Ireland
"I love it. And I love that the people who went there had an amazing time. I love that they got good weather. I love that they were all the way up and down the west coast. Ireland is my home. I think it's the best place in the world and I'm just happy for people to see it. It's an intensely beautiful place, and they got to see it in intensely beautiful weather, which is ridiculous. That never happens. So when they came back and they were all talking about what a good time they had in Ireland, even though I had nothing to do with that, I have to say I was pretty, pretty proud."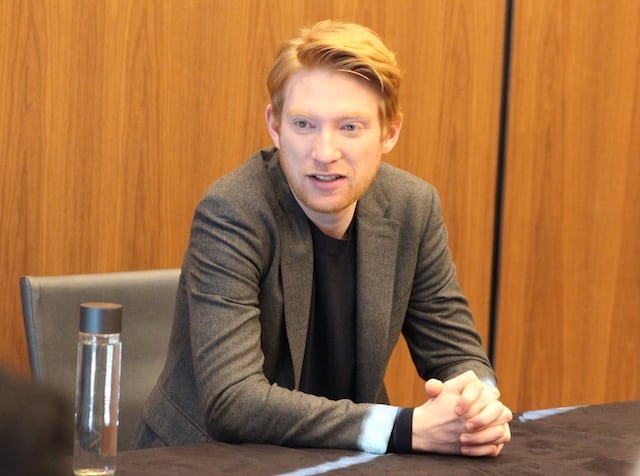 About Captain Hux in The Last Jedi
"In The Force Awakens, he goes from a very good place to a very bad place in terms of his standing in things and with Snoke. I think it's pretty obvious he wants his place on the throne. He wants to be in charge of Kylo Ren whenever Snoke goe. But he's in a really much worse place at the end of the first movie than he was at the beginning in terms of achieving that goal.
And that's where we basically start the second movie. So, in terms of an arc, you're just starting the character in a much worse place – a much more desperate place, much more uncomfortable place, and I think that's a good place to put somebody like Hux. Taking a step back from him and thinking objectively, you want Hux to suffer. That is what you want for somebody like that, who behaves like that, and who carries himself like that. And I liked creating somebody that that would end up being the feeling you would have for him. So we start with a place where we're ready to see him suffer."
Star Wars: The Last Jedi General Hux Force Link Figure 3.75 Inches

Funko POP Star Wars: Episode 7: The Force Awakens Figure – General Hux

LEGO Star Wars – General Hux minifigure from 75104.

Inside the Mind of Captain Hux
"I think there's a desperation about him, which is very unbecoming. There's a need at all times to make sure that everybody knows that he's important; that they should do what he says, that he deserves his position in things. But he knows that he's not as powerful as Ren, really when it comes to it. If it came to a fist fight, he's dead within ten seconds. And Ren wouldn't have to use his fist – he'd just like force choke him or whatever.
So that's where he is at all times. You just put yourself in a desperate place, and then say, "I'm getting rid of that, and now I'm pretending that I'm powerful", even though something in there is worried that you're not. I think insecurity is where he is. Those are not solid foundations. And that's where we tried to start him from."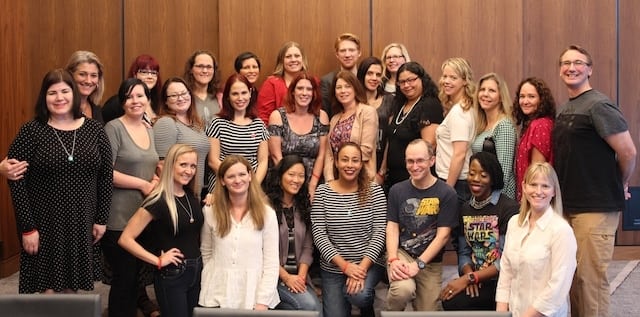 Like STAR WARS on Facebook
Follow STAR WARS on Twitter
Follow STAR WARS on Instagram
Follow STAR WARS on YouTube
Visit the official STAR WARS: THE LAST JEDI website
STAR WARS: THE LAST JEDI opens in theatres everywhere December 15th!