On Valentine's Day, my husband is my #1 sweetheart (of course), but my dog Toby is a close second! He is such a big lovable sweetie that you just can't help but love him. Ask the UPS or the FedEX guys and they will say that we have a ferocious beast who is ready to attack and eat them at any time, but if you come inside and meet Toby, you'll see that he is as sweet as can be. He loves to play and cuddle and really wishes he was a lap dog! So when February 14th rolls around (and maybe for a few weeks leading up to then) he really deserves some special dog Valentine's Day Treats.
I headed to Walmart to pick up a few goodies for Toby. I found a few things I thought he would love including Milk-Bone MaroSnacks, Pup-Peroni Mix Stix and Milo's Kitchen Steak Grillers. Even though Toby is a BIG dog, he usually prefers smaller treats. He is not one to sit and gnaw on a bone for hours. He prefers quick and tasty treats!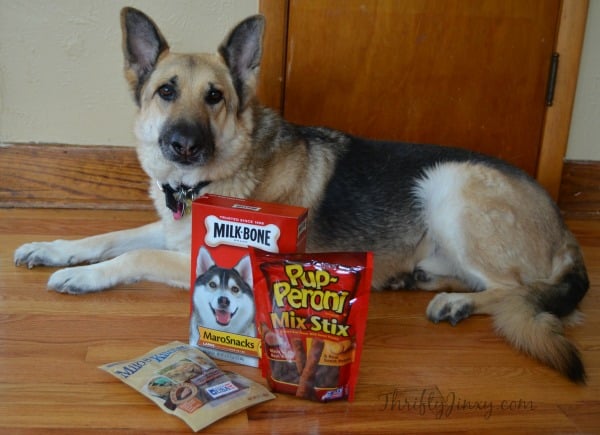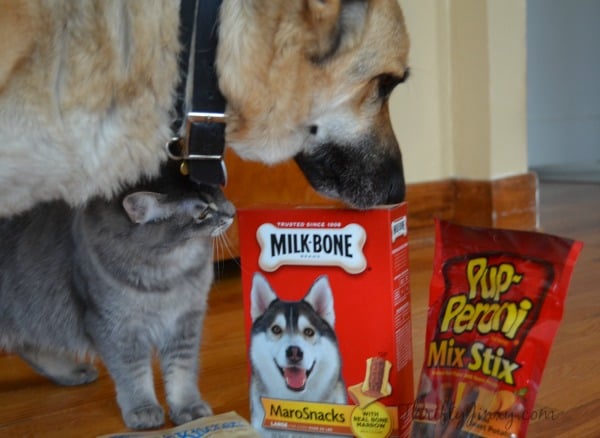 To make Toby's Valentine's Day Treats extra special, I made a cute little basket to put them in. This craft is quick and easy. Since it's likely to be squished by big paws in a hurry, I wanted to make something that looks cute but I won't be upset if – who am I kidding, I mean WHEN – it gets destroyed.
DIY Dog Valentine's Day Treats Basket
Supplies:
Sheet of colored copy paper
Scissors
Clear Tape
Markers to decorate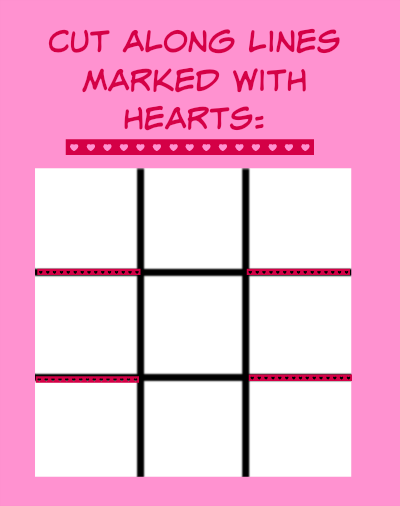 Directions:
Cut the paper into an 8.5″x8.5″ square. Keep cut portion for handle. Fold paper in thirds and crease. Unfold. Fold paper in the other direction in thirds. Unfold. Make four cuts as shown in the diagram above. Fold edges of the paper into the center, overlapping the cut edges on each side. Affix in place with tape. Take the reserved piece of paper and fold into thirds. (If you prefer a thin handle, just cut off one third to use instead. Attach ends of handle to basket. Decorate with markers.
Since it's easier to SHOW how to make this than WRITE how to make it, check out my video:
Once your basket is made, you can fill it with your dog's favorite treats. You could be extra sweet and make extra baskets for your doggy's friends or the doggies that belong to YOUR friends and family. Everyone loves treats on Valentine's Day!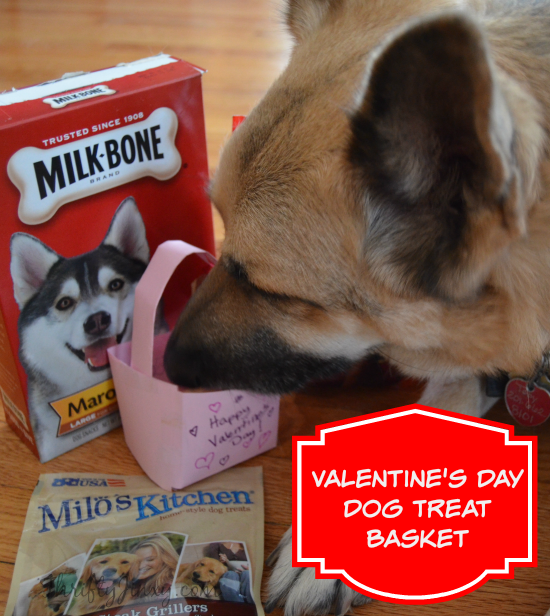 For more information, follow @MilkBone and @MilosKitchen on Twitter and visit Milk-Bone, Pup-Peroni and Milo's Kitchen on Facebook.
Do you do anything special for your pets at Valentine's Day?