Make a fun and festive Halloween decoration with this DIY Crayon Drip Pumpkin Craft Tutorial! Supplies include crayons, super glue and a heat gun.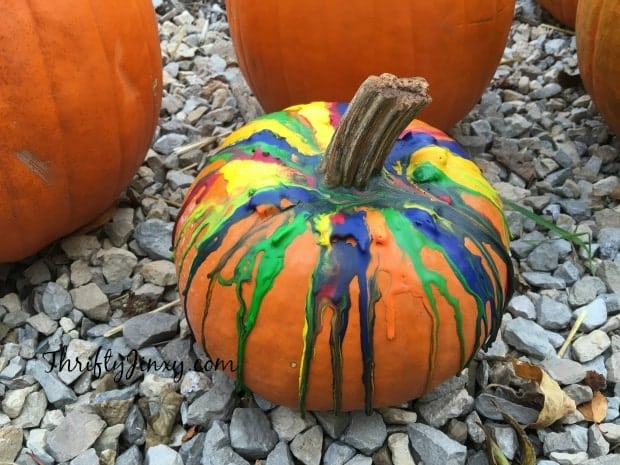 I have been itching to decorate for Halloween for a few weeks already. Now that we are officially into October, it's time to REALLY get started!!
One thing I usually try to hold off on until closer to the 31st is carved pumpkins. Unfortunately, they only have a limited period of time until they start getting squishy and rotten, especially when we have a nice, warm October.
That's where non-carved pumpkin decorations like this DIY Crayon Drip Pumpkin Craft come in!! By leaving pumpkins whole, with no carving or pieces cut out, they last MUCH longer. (To get the maximum life out of your pumpkin, use these four simple tips about How to Make Your Pumpkins Last Until Halloween.)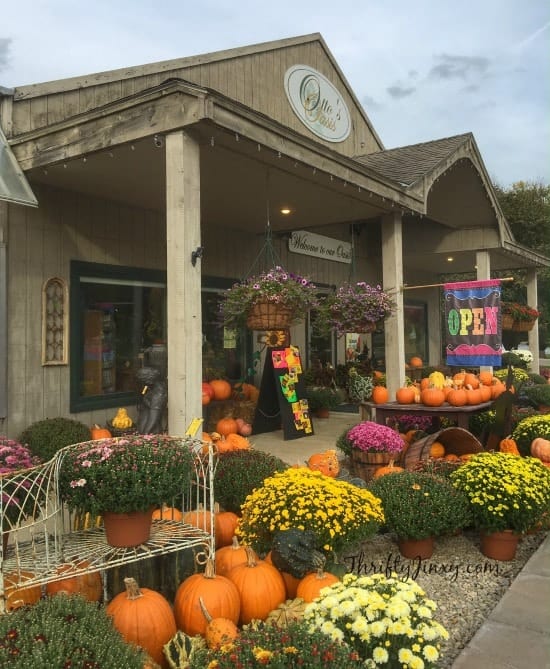 But lasting long isn't the only benefit of these crayon drip pumpkins! They make a fun and unique Halloween decoration AND they are super fun to make!
I made my pumpkin at Otto's Oasis in Charles City, Iowa. It's a full service florist where they also have an amazing greenhouse to grow an abundant variety of plants throughout the year. If you happen to be in the area, you can visit them this Saturday, October 8th, for pumpkin decorating during Witchfest from 10am and 2pm. (Cost $8)
If you're not lucky enough to head to Otto's Oasis, I have a tutorial to make your own crayon drip pumpkin at home.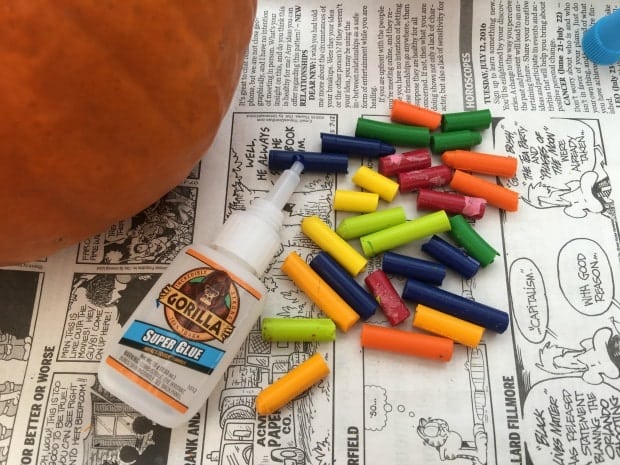 DIY Crayon Drip Pumpkin
Supplies:
Pumpkin
Old Newspapers
Crayons
Super Glue
Heat Gun
1500 Watt Dual Temperature Heat Gun
Gorilla Super Glue
Crayola Classic Color Pack Crayons
&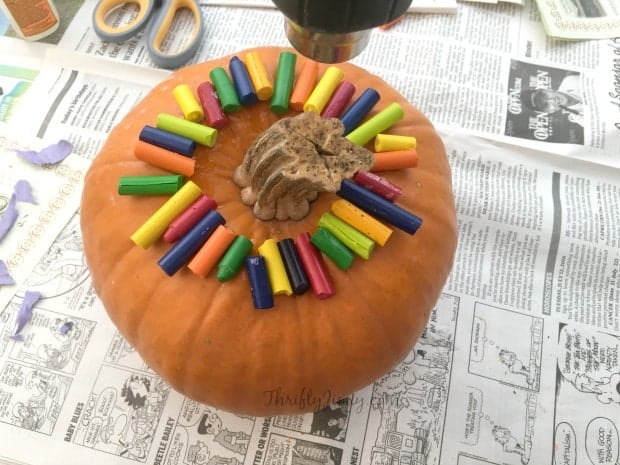 How to Make a Crayon Drip Pumpkin:
Cover work surface with newspaper.
Remove paper wrappers from crayons.
Break crayons into 3-4 pieces.
Using super glue, attach crayon pieces around the top of pumpkin.
Let dry.
Using heat gun, point hot air on crayons to melt. For best drip coverage, aim gun from center of pumpkin toward outside.
Allow wax to fully cool before handling.