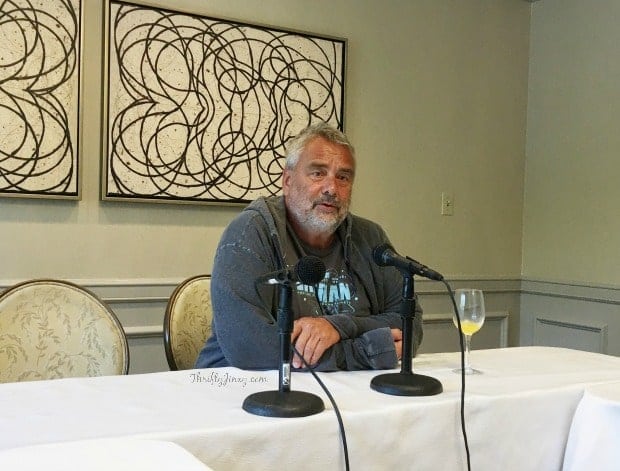 Several weeks ago I had the chance to travel to LA to screen Valerian and the City of a Thousand Planets and attend the film's press junket. I personally had a lot of fun seeing the movie (I can't yet share a review, but CAN tell you that you will LOVE it!), meeting the film's stars Dane DeHaan Cara Delevingne, and putting myself in the movie via a green screen photo. But, the highlight of the event was having the chance to interview the legendary director Luc Besson, known for The Fifth Element, Lucy, Léon: The Professional, La Femme Nikita and others.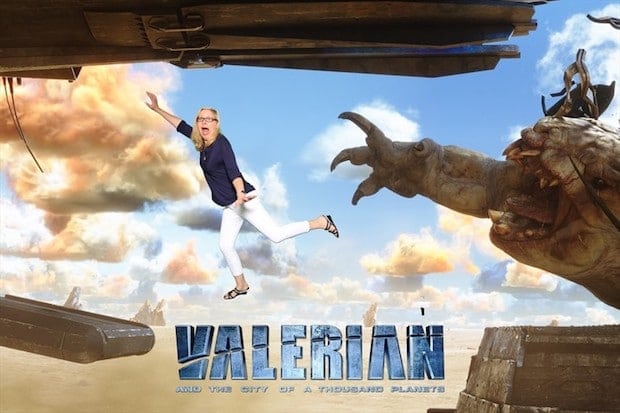 Speaking with Luc was a treat! He is a warm and funny man and his passion for this project is apparent. He was also thoughtful and willing and eager to answer our questions about the monumental task of creating this incredible movie. Here are some of the highlights: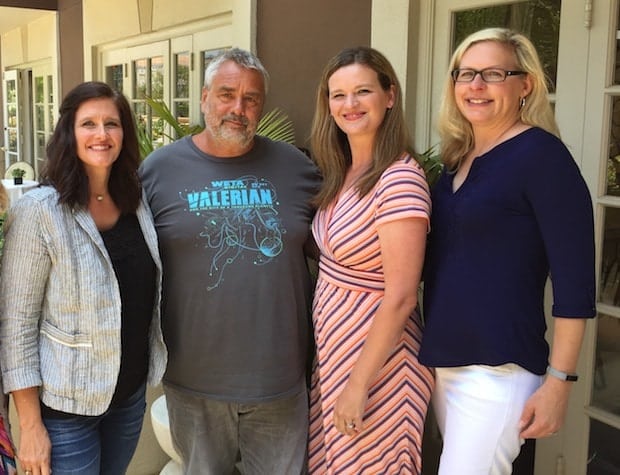 The Importance of Being Humble
Luc Besson said, "First, when you start with this kind of film, you have to be very modest because there's a lot of big huge sci-fi films around called Marvel, DC Comics. So, you have to be humble and say, "Okay, how I can get in?" One big factor is time. The second one is take the time to talk with people, see how they did that." Luc said he talks with a lot of creative people about their experience working with big studios on other films and one thing he found out because of the short time frame from when they greenlight the film until they release it, they prefer to hire a lot of creators for a very short time frame – like eight weeks. The issue is that each creator does only the ONE thing assigned to them and that's it. Luc explained, "And if they say, 'What about if we just..' –no, no, no. Don't think. Do the thing. 'Okay.' And they continue." He also added, "All these guys are nerds. You know, they don't talk so much. To make them talk, I have to make them drink. And, at the end, you feel that they want to participate more. They have ideas."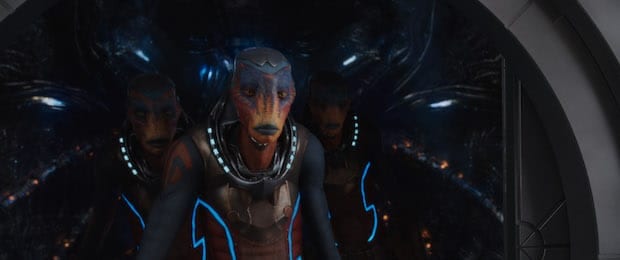 The Search for Creative Ideas
At the beginning of the development of Valerian, Luc sent a letter to creative and design schools around the world explaining they were going to make a sci-fi film, but not stating which one. He said the letter requested, "If you want to participate, send a space ship, a world, and an alien." They received 2,000 submissions and he chose 15. Luc said, "I hired five for an entire year. They don't have the script. They don't know each other, and the only person they have contact with is me by Skype once a week because one was in China. Another one was in Brazil. The only person they have seen for a year is just my face here like this. And we have this little private conversation every week where I try to protect them because I want the full creativity of these people. They are not here to think, 'What will be in the film?' I just want them to go 360. GO. You don't need to give a certain number of drawings per week. I don't care. Just talk. Let's go."
As an example, Luc would request and alien and say where he lives, what is his function, what are his qualities and what is his purpose in the film. "But, I never describe it. I just say who he is. And I let them come back with any shape they want. Sometimes they come with so much crazy s*%t that I want to call the hospital and say, 'You should check on this guy.'" It then took Luc almost two years to decide which aliens to use in the film. He started with 200 and had to narrow it down to only six.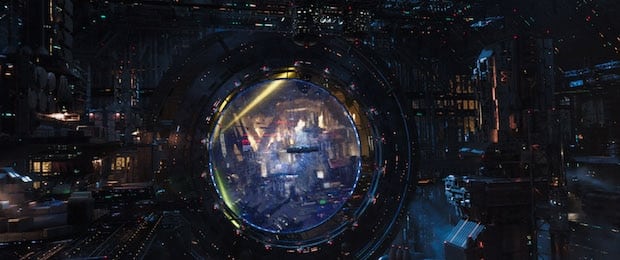 The Source of Inspiration
Many film makers have been inspired by Luc Besson, so we wondered who or what has inspired him. He answered, his "inspiration always comes out from movies for me. My mom, my tree–I have a tree that I love–inspired me a lot." The tree at his family house in Normandy, a hêtre pleureur (weeping beech) is over 300 years old. "It's amazing" said Luc.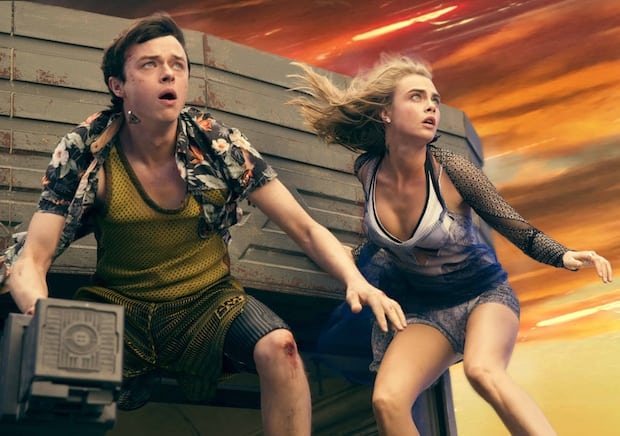 About Casting the Perfect Actors
Luc said, "If you find the actress or the actor who is perfect for the role, that's unbeatable. If you choose someone because he's known or because you think he's going to make money or things, three years later, you never know. Some movies recently flopped with big, big names – and they signed three years before, and they thought it was working. So, don't even think about it. Just take the best person for the part." Luc explained there are "29 albums of Valerian, and I started reading it when I was ten. So, basically, I know very well Valerian and I know very well Laureline. So, if I've seen one, I can tell. I was convinced about Dane in one minute, one minute. His smile, his blue eyes, the tone of his voice. And he's kind of like charming, a little bit, which is perfect for the role because he's not the typical hero."
About Valerian and the City of a Thousand Planets:
The visually spectacular new adventure film from Luc Besson, the legendary director of The Professional, The Fifth Element and Lucy, based on the ground-breaking comic book series which inspired a generation of artists, writers and filmmakers.
In the 28th century, Valerian (Dane DeHaan) and Laureline (Cara Delevingne) are a team of special operatives charged with maintaining order throughout the human territories. Under assignment from the Minister of Defense, the two embark on a mission to the astonishing city of Alpha—an ever-expanding metropolis where species from all over the universe have converged over centuries to share knowledge, intelligence and cultures with each other. There is a mystery at the center of Alpha, a dark force which threatens the peaceful existence of the City of a Thousand Planets, and Valerian and Laureline must race to identify the marauding menace and safeguard not just Alpha, but the future of the universe.
See VALERIAN AND THE CITY OF A THOUSAND PLANETS – In Theaters July 21
Facebook | Twitter | Instagram