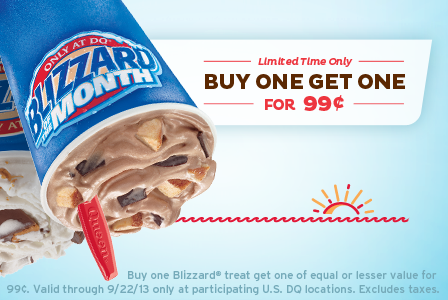 Right now through September 22nd Dairy Queen is offering a great promotion on Blizzards! When you buy one at regular price, the second is only $.99!!
YUM! Blizzards are my favorite ice cream because…I like a little ice cream with my candy! 🙂 My favorite right now is the French Silk Pie!
Head over here for more details on this promotion, and in case you want to drool over all of the Blizzard combos they have, you can check out the menu here.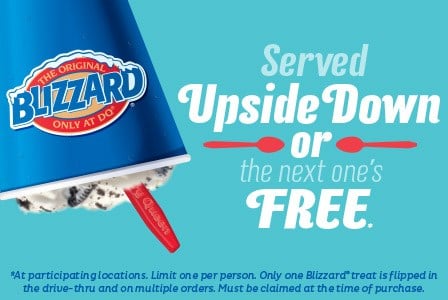 Even once this special promotion is over, DQ always have the deal of SERVED UPSIDE DOWN OR THE NEXT ONE'S FREE! When you order a Blizzard it has to be served to you upside down or the next one's free.
At participating locations. Limit one per person. Only one Blizzard® Treat is flipped in the drive-thru and on multiple orders. Must be claimed at the time of purchase.