There is something new and exciting in the world of Cricut, and that's the all-new Cricut Joy! It's a fun and easy way to create a multitude of different projects, each in 15 minutes or less.
I'm already a huge fan of crafting with my Cricut Explore Air 2. This adorable little Cricut Joy is the perfect companion to it when I want to do a quick and easy project.
One thing that makes it so quick and easy to use is that you can make mat-free projects! With Cricut Joy Smart Materials, no mat is needed! That means fewer steps in your project making it even quicker to complete.
Plus the new smart vinyl comes in extended sizes, with up to 20 feet of repeated cut capability – letting this little bitty machine make big projects.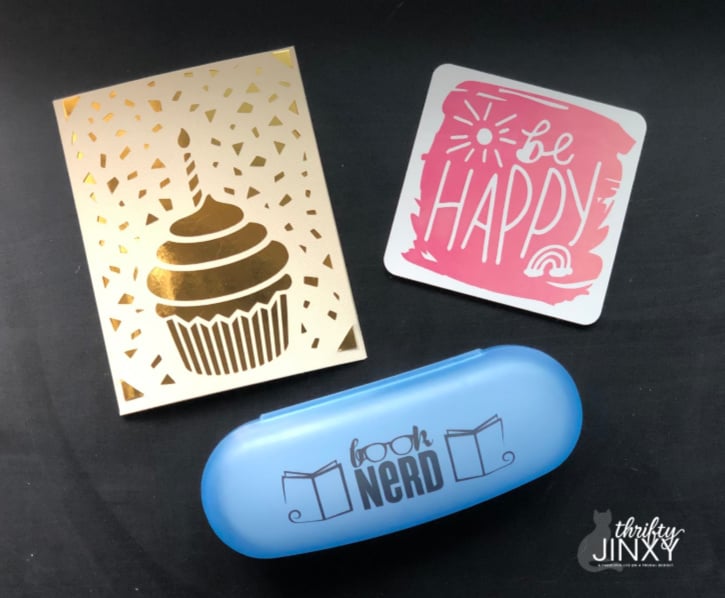 Since the Cricut Joy is so compact and portable, it's easy to store in any room of your house with no craft room needed. Since the design is so attractive, you can leave it setting right out on a shelf.
It's also super portable so you can easily take it with you, especially since you don't even have to pack a mat. And since the Cricut Design app is so easy to use right from your Smartphone, there's no need to bring along your laptop.
It's time to move on to some Cricut Joy projects! I've been finding lots of small things to make with the Joy, especially for gifts! My most favorite thing to make so far has been cards! The Cricut Joy exclusive blank insert card sets make it SO EASY to create a beautiful and professional looking card in only a few minutes.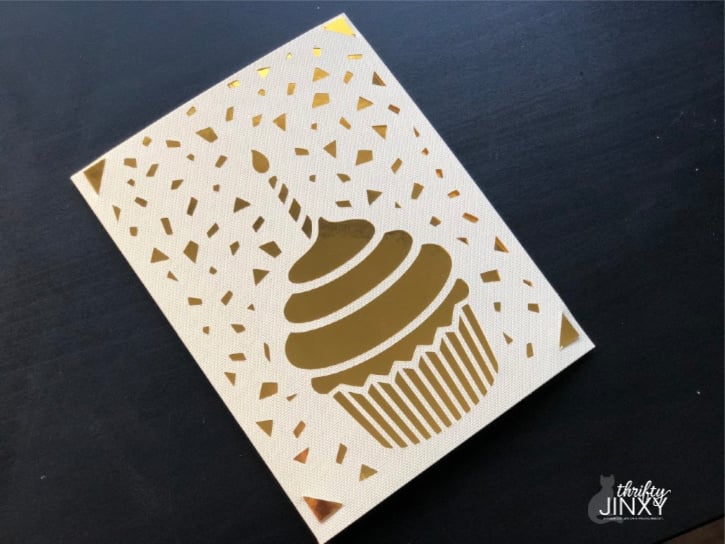 Cricut Joy Birthday Card
Since I loved the cupcake card pictured on the package of the Cricut Joy Card Mat, I just HAD to find and make it. You can find the Cupcake Birthday Card project here.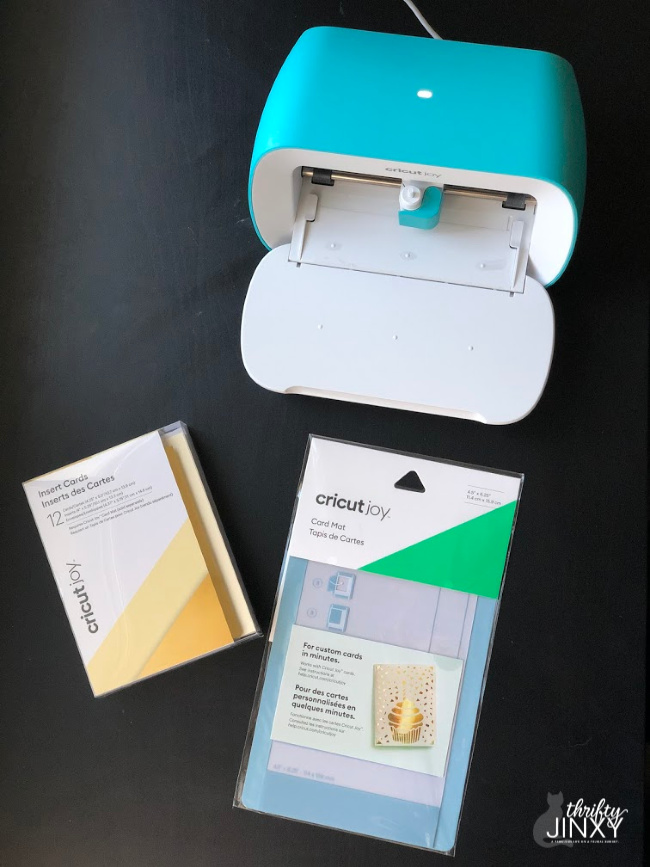 Materials Needed:
Cricut Joy
Cricut Joy Insert Cards, Cream/Gold Metallic
Cricut Joy Card Mat
Scraper
How to Make a Card with Cricut Joy:
Access the Cupcake Birthday Card project in Design Space. Make sure the blade is inserted in your Joy. Open your card and, starting from the left, slide one side of the folded card under the plastic divider. Ensure that it is flush with the top of the mat and press front of card onto mat adhesive.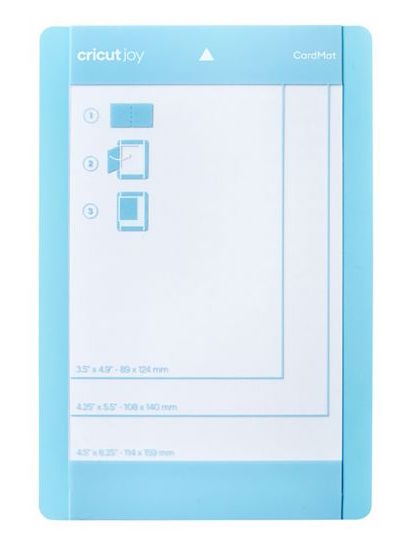 Place the card and mat into the Joy, cut, and remove from machine. Use the scraper to scrape any remaining pieces off the mat.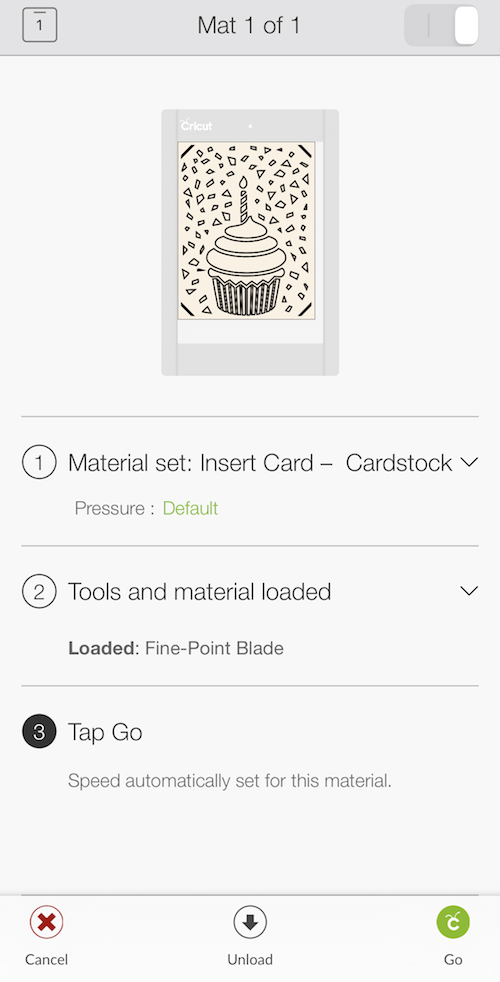 Tuck the card insert into the corner notches of the card. You're done!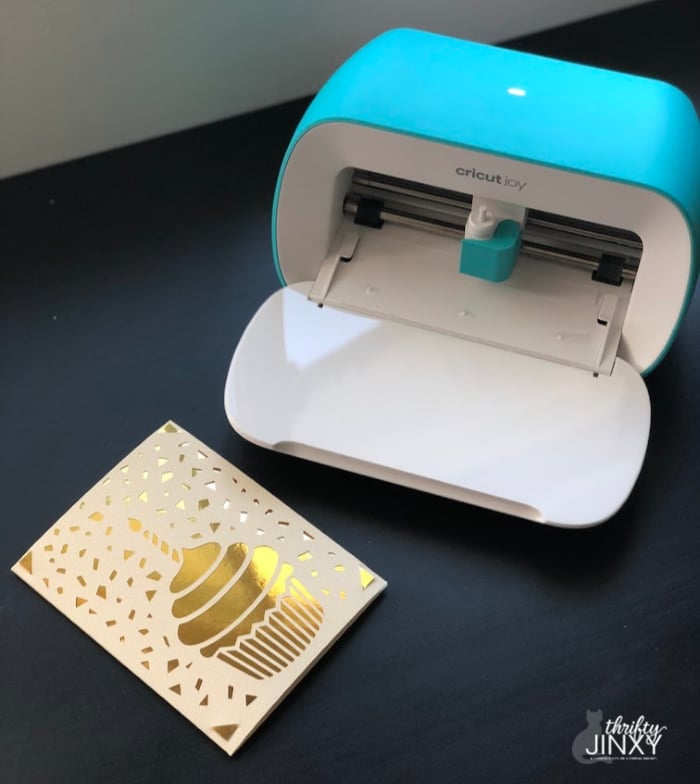 I just love the way the card turned out and how simple it was to make it. ALL of my cards are going to be Cricut created from now on!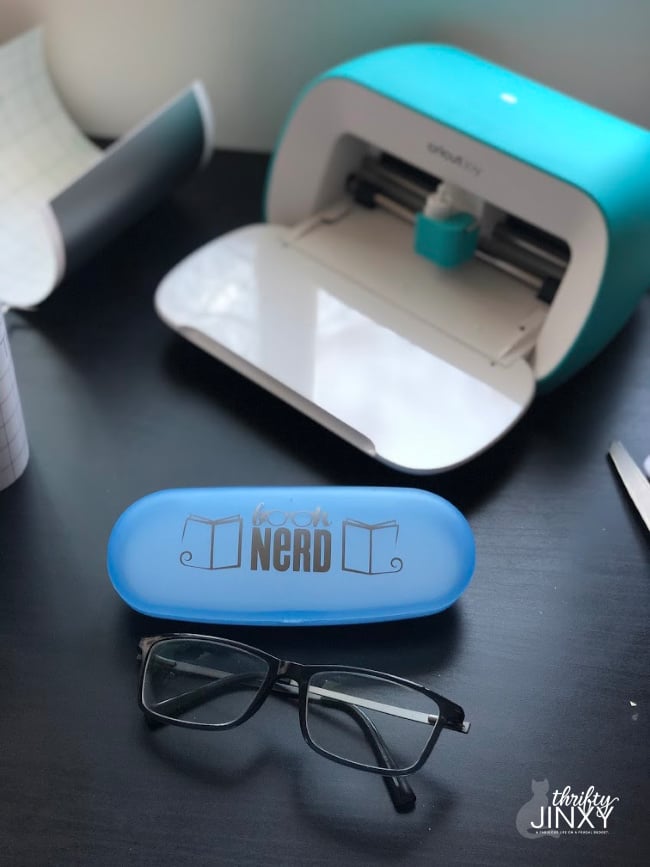 Book Nerd Glasses Case
Now that I had a card, I figured I should make a little gift to go with it. To make this fun Book Nerd Glasses Case, I just used a case from the dollar store. The design, which I saved HERE, is flexible enough to be used on any case.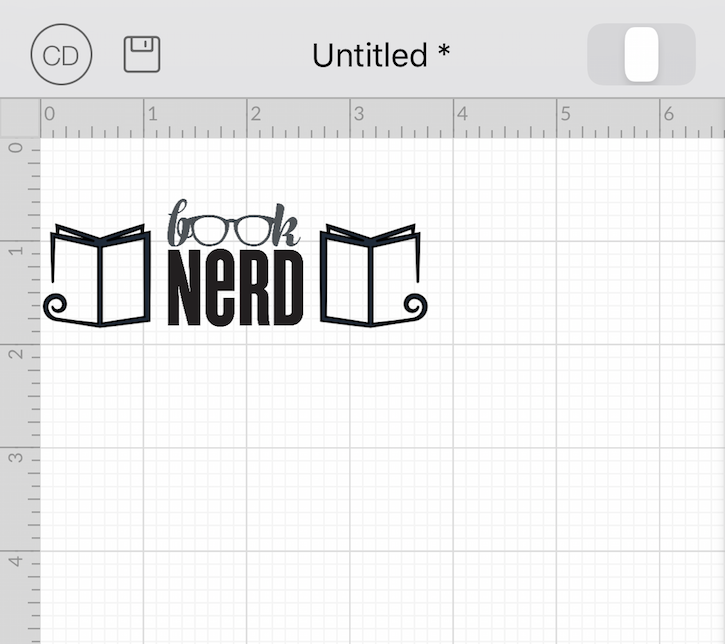 Materials Needed:
Cricut Joy
Smart Vinyl (your choice of color)
Glasses Case
Transfer Tape
Cricut Weeder (Helpful but not obligatory)
Scraper
Book Nerd Design
How to make a glasses case with Cricut Joy:
Open up my Book Nerd Design in Design Space. Select MAKE IT, then from the pop-up window, select Without Mat, Done, and then Continue. Hit Browse All Materials and select smart vinyl.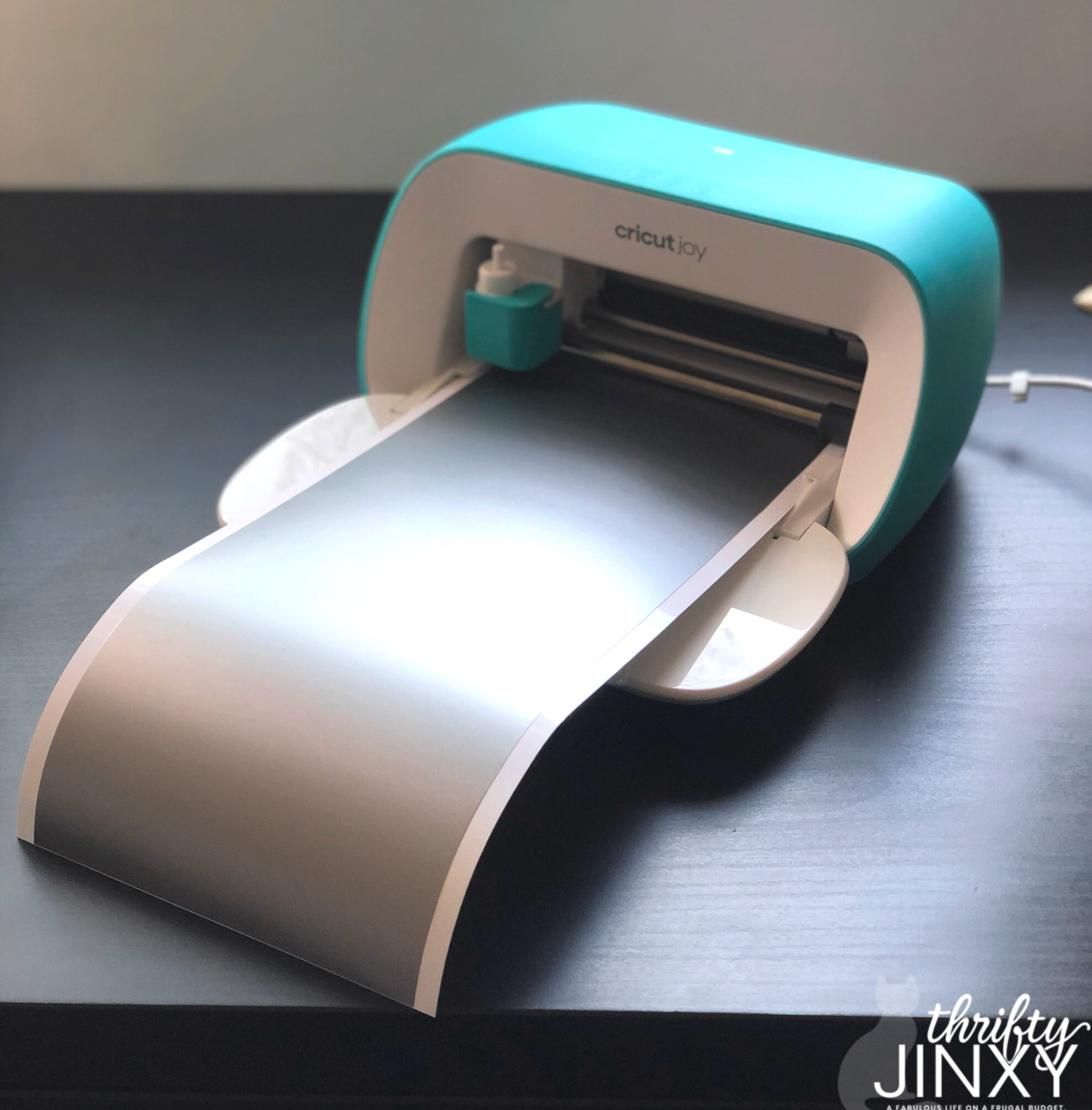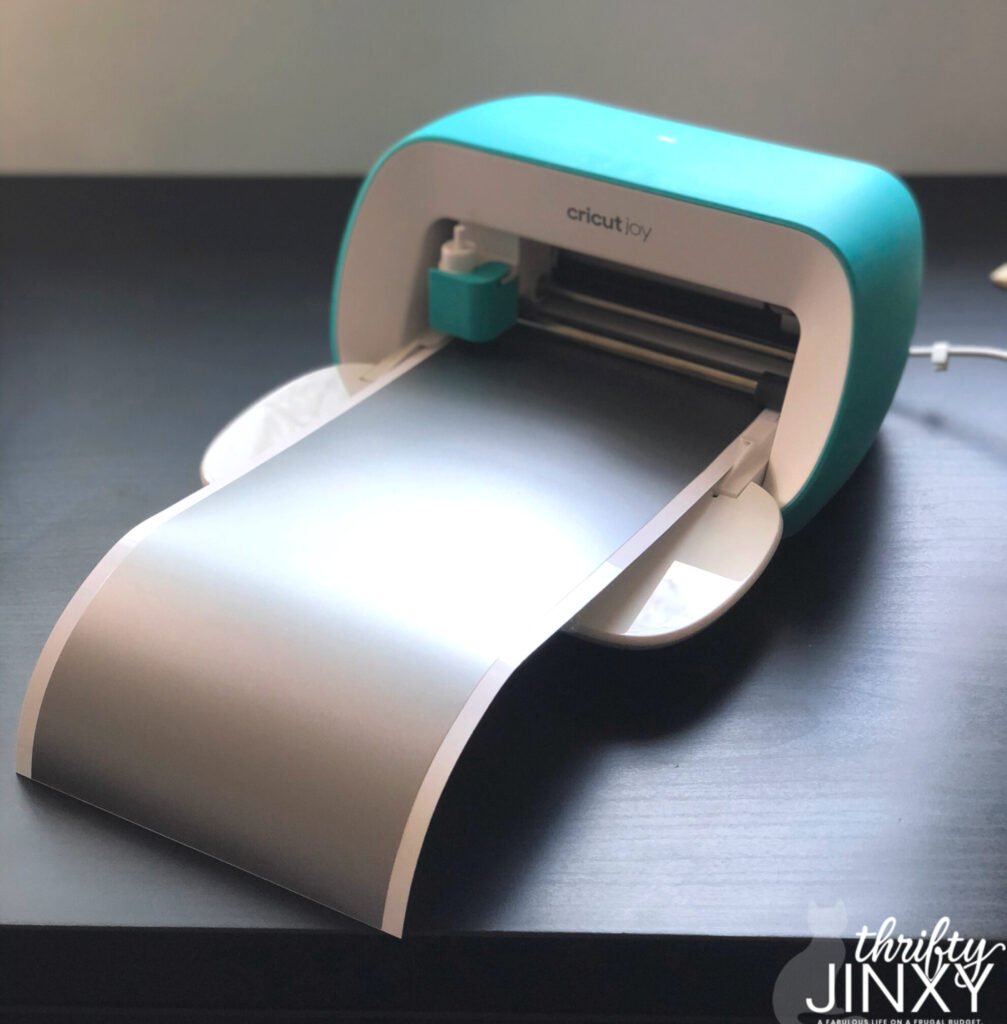 Insert vinyl into your Cricut Joy, under the guides, until the rollers grip the vinyl. Select Go to cut.
Once you have finished cutting, peel the backing away from your design and weed out the remaining material.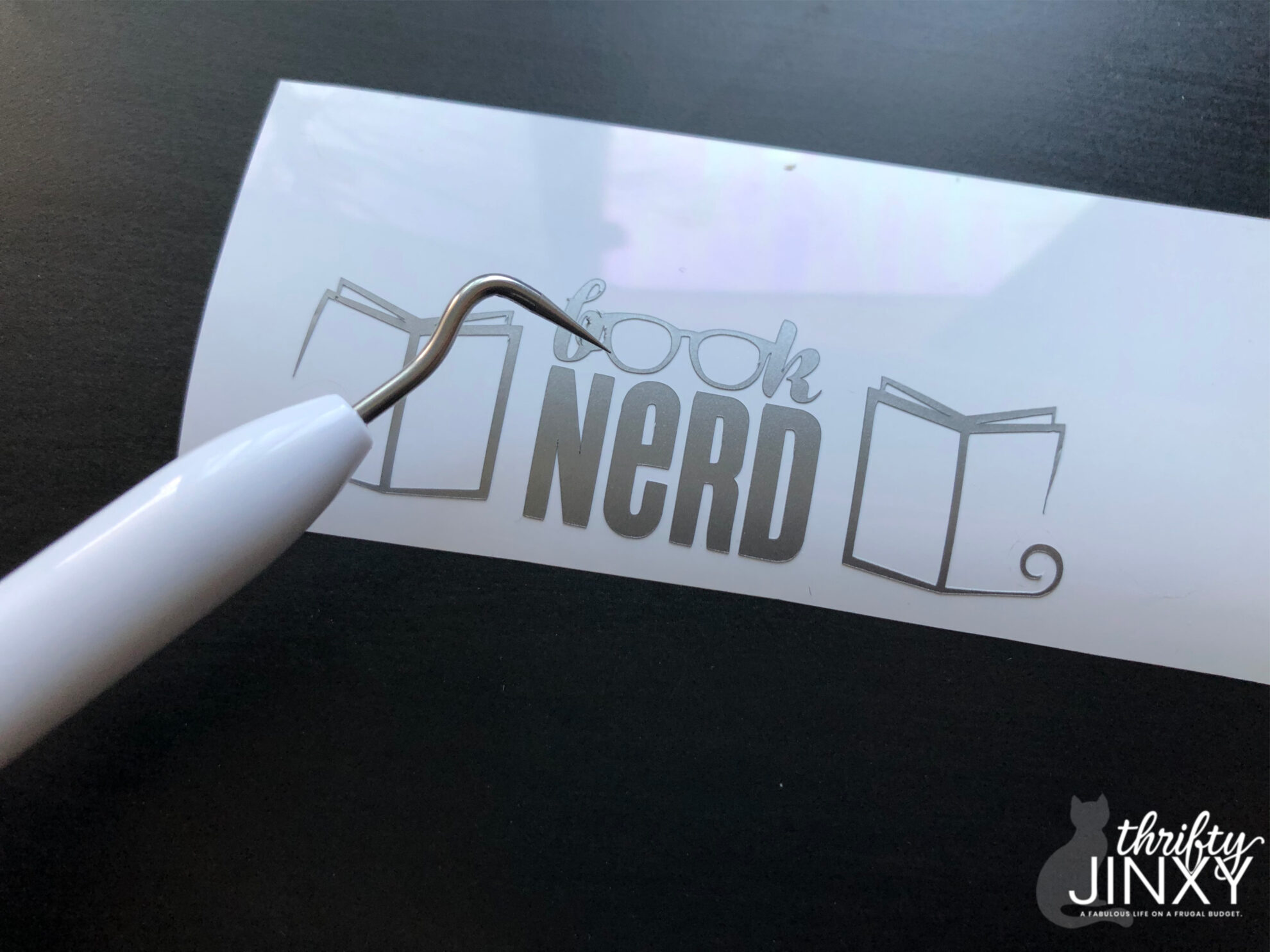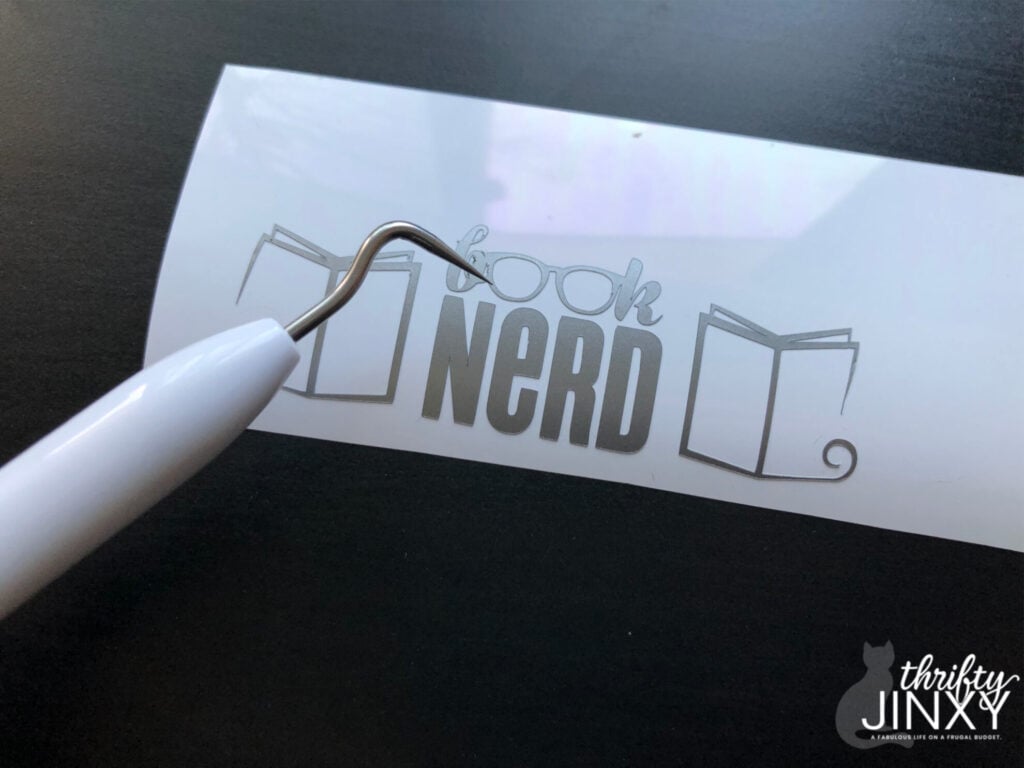 To prepare your case for application, clean the area where you'll be applying the vinyl using a cotton ball moistened with rubbing alcohol. Let dry.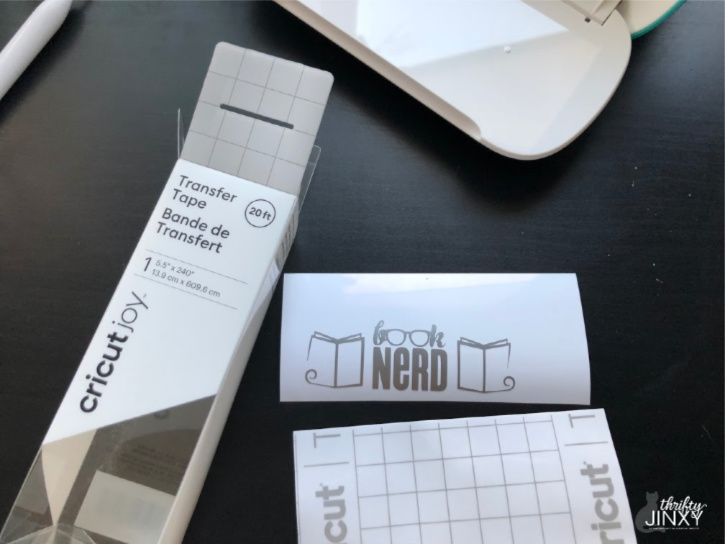 Cut a piece of transfer tape slightly larger than your design. Remove the liner from the transfer tape and place it adhesive side down over design, starting in the center and then moving to the edges.
Use a scraper or other hard smooth tool to rub the tape firmly onto the vinyl. Peel the vinyl liner away at a 45-degree angle. If you're missing any pieces, rub the tape onto the vinyl again and remove.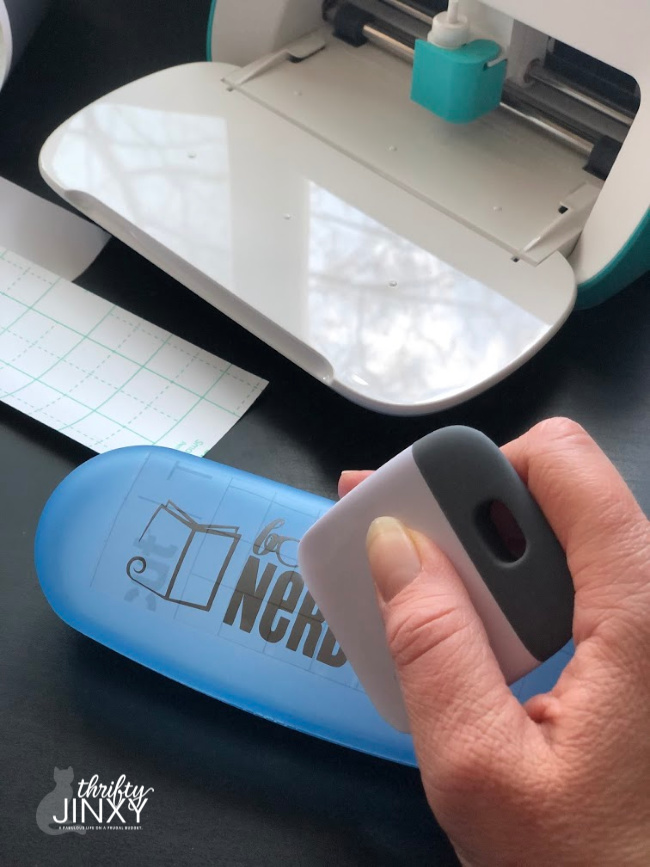 Press the transfer tape onto the case , again starting at the center and moving out to the edges. Use the scraper to press down.
Peel the transfer tape away at a 45-degree angle.
Cricut Joy Infusible Ink Coaster
Now that I made two things for other people, I decided to make something for myself. My cat broke the ceramic coaster on my desk, so I needed a replacement as this Be Happy Infusible Ink Coaster project is perfect!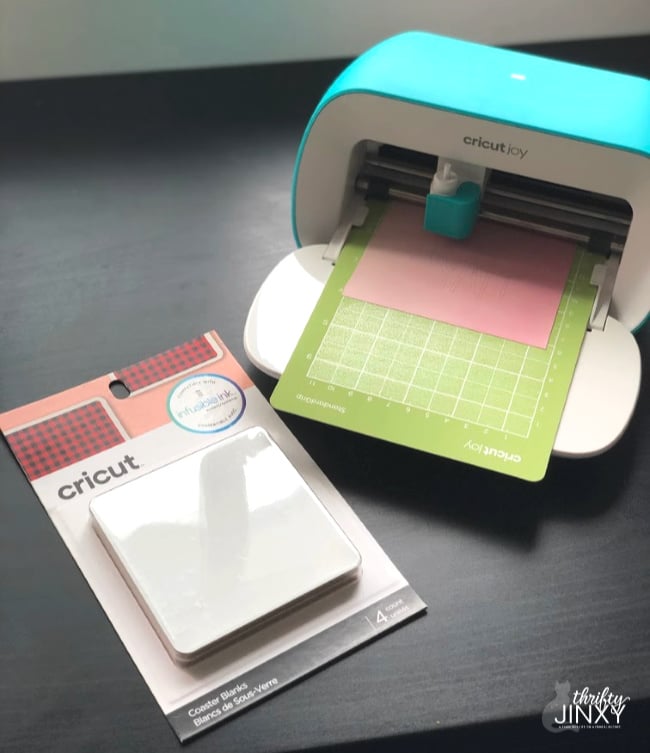 Materials Needed:
Cricut Joy
Cricut Joy Infusible Ink Transfer Sheets
Cricut Joy StandardGrip Mat
Infusible Ink Coaster Blank
Cricut EasyPress 2
Cricut EasyPress Mat (Helpful but not obligatory.)
Sheet of plain cardstock bigger than your design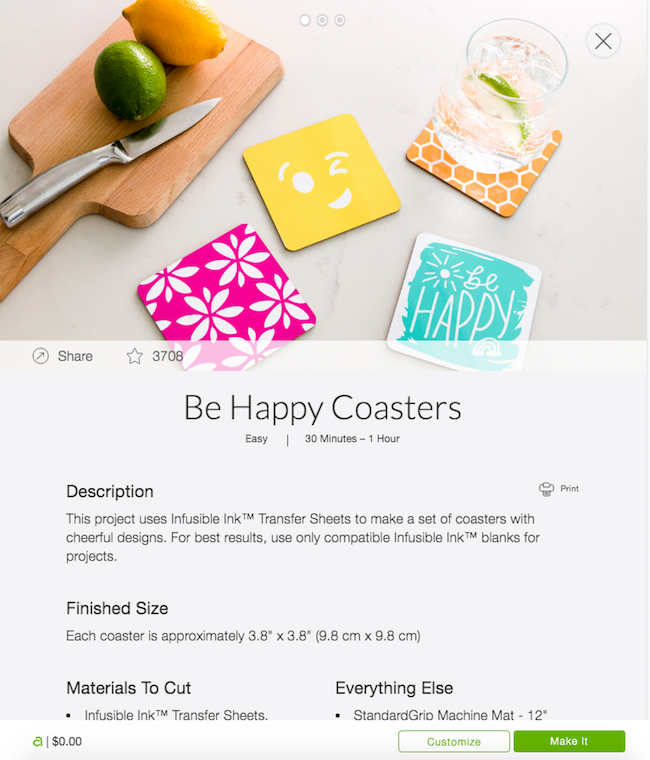 Place your Infusible Ink Transfer Sheets on the mat ink side up (backing down) and load into your machine. Grab the Be Happy Coaster project from Design Space, select Make It and make sure you Mirror your design. Select Browse all materials, then Infusible Ink Transfer Sheet. Press Go on your Joy.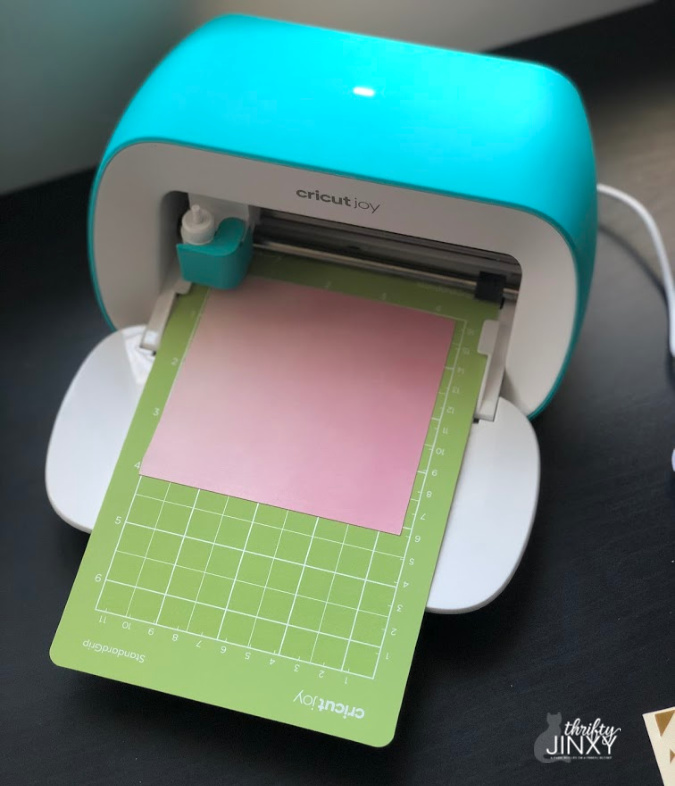 Once it's cut, remove from machine, cut away unused area of sheet. Lightly roll the design to "crack" it and make it easier to weed. A tweezer may be helpful for weeding.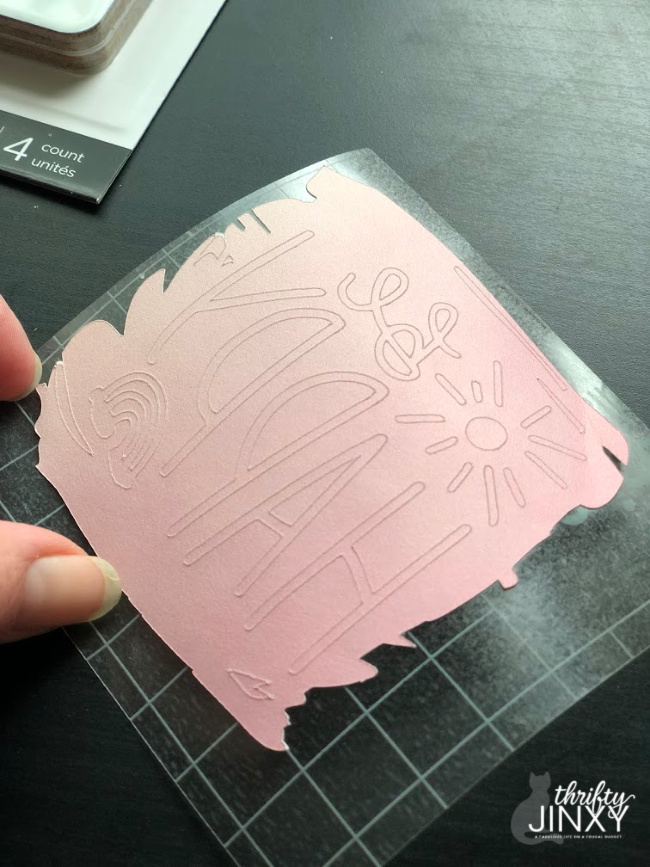 Wipe coaster with a lint-free cloth and place design on it face down, with clear liner on top. Place cardstock on your EasyPress mat to protect it, place coaster on cardstock with design facing up. Cover coaster with included butcher paper.
Now it's time for the Cricut EasyPress 2. To get the correct temperature and time setting I referred to the EasyPress Heat Guide. For infusible ink transfer sheets on coasters, set the temperature to 400° and the timer to 60 seconds and preheat.
Once it's at temperature, place the EasyPress on top of the butcher paper using no added pressure. When beep sounds, slowly lift EasyPress, trying not to move the stack, including butcher paper. Let cool completely before removing butcher paper and liner.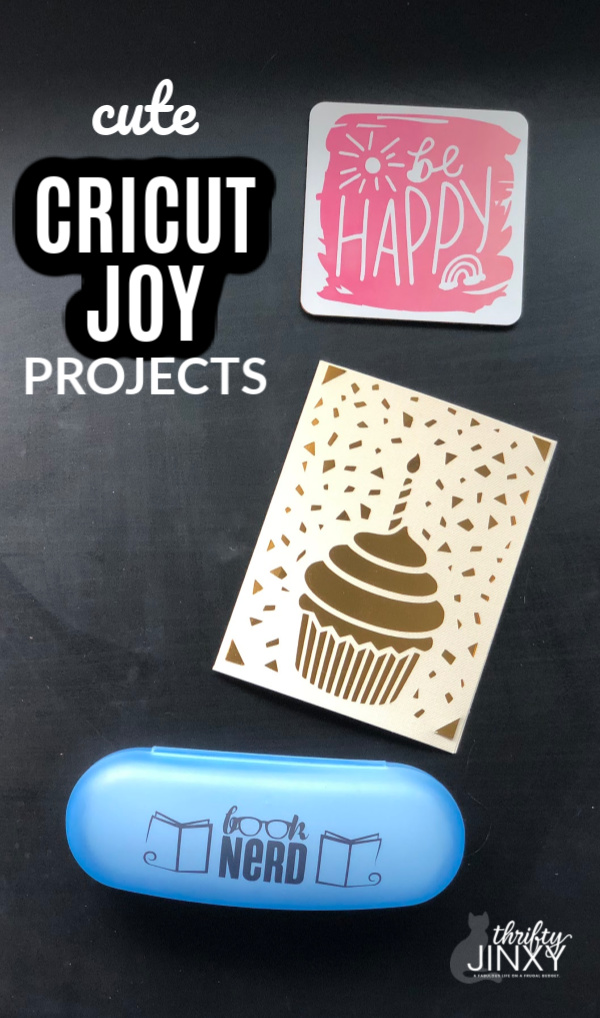 These are just a few of the many, many, many things we can make with the Cricut Joy! What do you think you'll want to make first with yours?
Again, I love the fact that I can make these little projects anywhere in my house because the Joy is so portable. I can bring it to the TV room, get some peace and quiet in the bedroom or even bring it outside to the yard! We have a LOT of possibilities here!
Are you intrigued by the Cricut Joy? Visit Cricut.com to learn more!