One of the most important steps in learning to coupon is figuring out how to organize your coupons. Learn how in Lesson 3 of our Couponing 101 series.
There are several schools of thought on the best way to organize your coupons. The one thing that is agreed upon however is that you MUST organize your coupons.
If you just have a bunch of cut coupons lying around in a pile you will never find what you need and you will never turn those little slips of paper into savings!
I will go over some of the most popular methods of how to organize your coupons and then you have the decision of what organization system is best for YOU.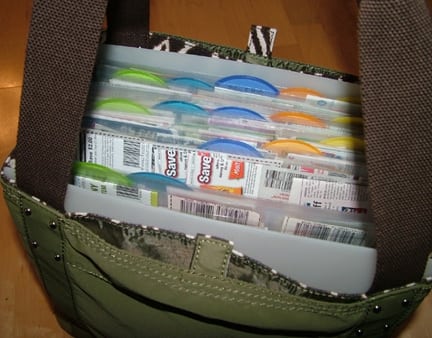 How to Organize Your Coupons
One of the most standard and long-standing methods is the coupon box. This can be as small as a little card file box you buy from an office supply store all the way up to a large box specifically made for couponing.
For years I used the deluxe coupon file from Refund Cents – you can find it over in right margin of their page, which is no longer available. A coupon box like this is divided into categories by type of product, such as baby, pet, frozen, meat, pasta, produce, cleaning, paper products, etc.
This method served me well for a long time. I would always bring it with me to the store and when I was shopping needed a coupon for a particular item or something was on sale that I didn't expect, I would look through that section and pull it out.
The drawbacks to the method is that it took a LOT of cutting and filing all the time and I would have to dig through each section to find the appropriate coupon (although I tried to keep each section alphabetized by brand which helped.
Ultra Pro 25/9 Pocket Page Protectors
Case-it King Sized Zip Tab 4-Inch D-Ring Zipper Binder
&
Another very popular method of coupon organization is the coupon binder method. In this method you use a big three-ring binder with clear baseball card pockets to organize your cut coupons.
Like the coupon box, it is arranged by category, but it is different in that each particular coupon has its own pocket so they are easy to see as you are flipping through the book, which is one of the main benefits.
The drawbacks to this method are that again it takes time and effort to clip and sort and your binder can get very big and heavy if you have a lot of coupons! However, it's technically portable so you can still take it to the store to find coupons as you need them. (But don't be surprised to have a lot of people asking you what IS that big thing you have in your cart.) For more details on how to create a coupon binder, visit Queen Bee Coupons.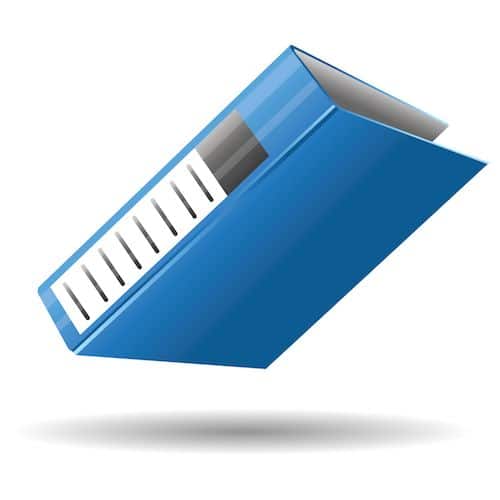 If you don't want to deal with cutting coupons you might not use, another option is to save your complete Sunday coupon inserts and organize them by date.
What I do is take a black marker and write the date of each insert on the front as they are received. I then either just leave them in a big stack (depending on my current state of couponing and how many inserts I have) or else store them in a portable upright file box with hanging folders to divide them by dates.
I often just tuck the whole stack into a shopping tote as well. With this method, when you need a particular coupon you can use an online coupon database, such as the one at Hip2Save and type in the coupon you are looking for. The database will tell you which insert on which date has that coupon.
This method works great if you find a lot of your deals online from bloggers. The deals will usually list the insert and date in which you can find a particular coupon so all you have to do is go to that insert and cut out what you need. (For an example see my Walgreens post and how I list what inserts have the coupons you need.)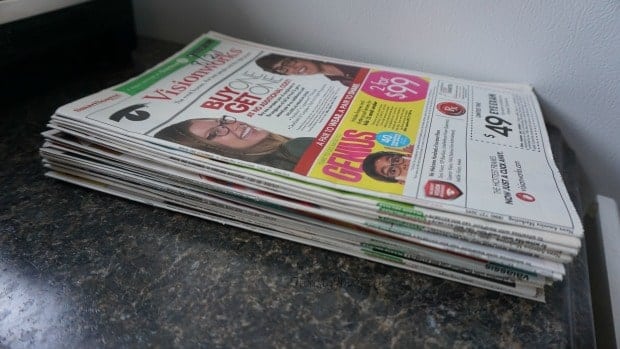 The biggest benefit of this method is that it is easy and you don't spend any time cutting coupons that you may not use in the future. It's also very easy to find coupons for a particular deal.
I also do a slight variation on this method in that each week when I receive my inserts I browse through them and clip out any coupons that I know I will use (or am at least 80% certain that I will use). These are any free item coupons and also coupons for products where we always buy the same brand and buy them often – for example the Lean Pockets my husband likes to take to work. I keep these coupons in a small coupon file in my purse so that I always have them available when I'm at the store.
That being said, the the main drawback to this organization method is that you can't take ALL of your coupons to the store with you and you might sometimes see an unadvertised sale and you won't have coupons for it.
So how will you organize YOUR coupons?