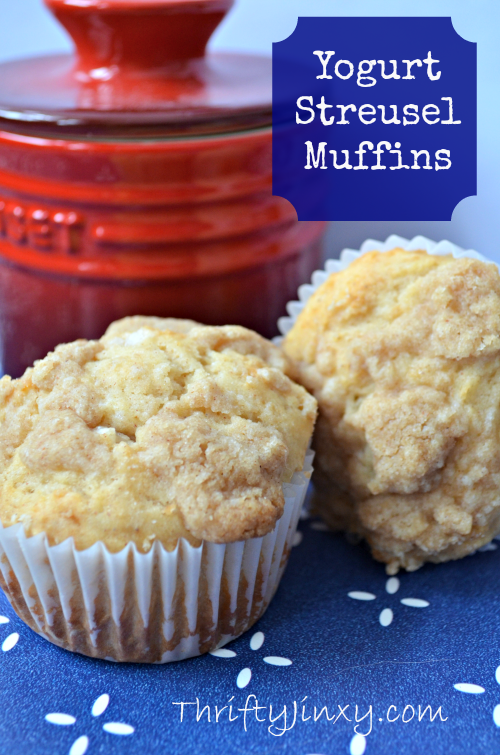 These super yummy muffins get a wholesome boost with the addition of greek yogurt. They make a quick breakfast on the run or a great after-dinner dessert that isn't too sweet and isn't too terribly decadent.
Cinnamon Streusel Yogurt Muffins Recipe
Streusel Topping:
1/4 cup flour
2 Tbsp brown sugar, packed
2 Tbsp butter
1/4 tsp ground cinnamon
Muffins:
2 cups flour
1 tsp baking powder
1/2 tsp baking soda
1 tsp cinnamon
1/2 tsp salt
1/4 cup butter, melted and cooled
2/3 cup sugar
2 eggs
1 tsp vanilla extract
1 cup plain Greek yogurt
Preheat oven to 375 degrees. Line 12 muffin tins with paper liners or grease/spray with cooking spray.
To make topping, mix all four ingredients in a bowl and pinch together to make large crumbs. Set bowl in the freezer while making the rest of the muffins.
To make muffins, whisk together flour, baking powder and soda, cinnamon and salt. Set aside. In a large mixing bowl, mix together butter, sugar, eggs, vanilla and yogurt. Stir dry ingredients into wet ingredients, stirring only until combined.
Pour batter into muffin tins. (It's a thick batter.) Top each muffin with the streusel crumb topping. Press down a bit to make sure they stick.
Bake 18-20 minutes or until golden.