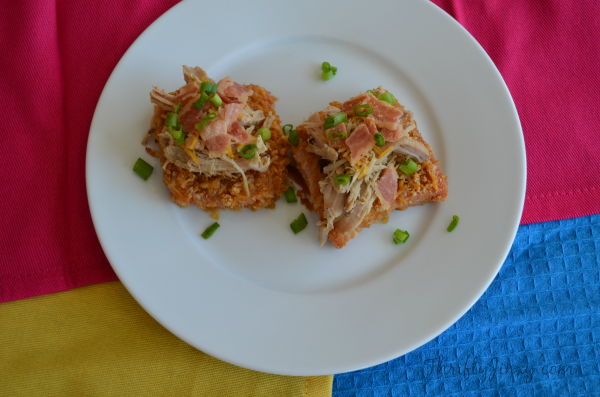 Every family that celebrates Easter has its own traditions. While some years we may do a fresh take on the holiday and start something brand new, it is comfortable and familiar to keep traditions like Easter baskets, church services and egg hunts. And, like with most major holidays, food is a big part of the celebration. There are a lot of differences in traditional holiday meals between my family and my husband's family. I grew up in a central Minnesotan family of German ancestry where both of my grandparents were farmers. My husband's parents were both from Puerto Rico, but they moved to the Bronx, where he was born, and then he grew up in New Jersey.
While there are a lot of differences in our families' traditional Easter menus, one common thread is pork. Even though there are also lots of other things on the menu, we have always had ham to celebrate Easter. In my husband's family the pork of choice is pernil – roasted pork shoulder. As it is one of hubby's favorite foods I have gotten darn good at making it. I do take a sneaky approach, however, and use the crockpot, which is so much easier!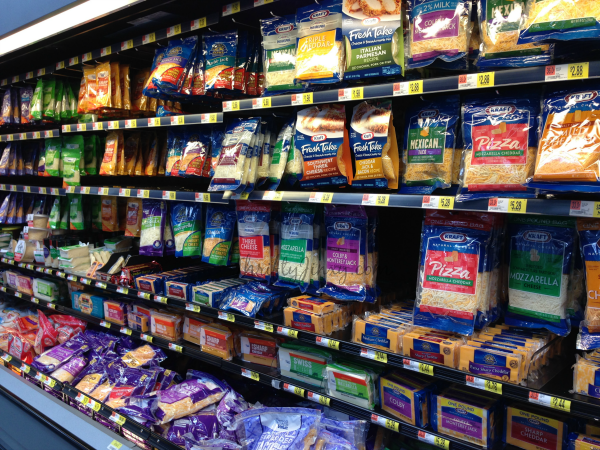 So, to make a blend of traditions from both our families, I decided to create an Easter dish that combined Easter ham AND pernil AND for a kicker decided to add in a third pork – the all-american favorite bacon – to make this 3 Little Piggies Easter dish. To pack the dish with flavor, I headed to Walmart to pick up Kraft Fresh Take. To go along with the theme, I chose the Cheddar Jack with Bacon. Let's go on to the recipe!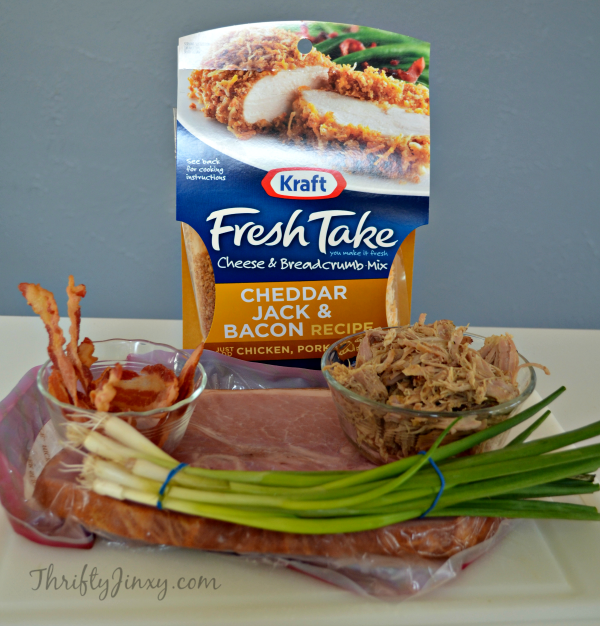 3 Little Piggies Recipe
For Pernil:
3 pound pork loin roast (pork shoulder is more traditional, but this works!)
4 cloves garlic, crushed
1/4 cup orange juice
2 Tbsp lime juice (or juice of one fresh lime)
1 tsp salt
1/2 tsp black pepper
2 tsp Adobo seasoning
2 tsp cumin
1/2 tsp dried oregano
Cut deep slits into the pork and stuff with crushed garlic. Mix all remaining ingredients in slow cooker. Add pork and turn to coat. Cook on low approximately 7 hours until pork is cooked through and easy to shred.
For 3 Little Piggies:
Kraft Fresh Take Cheddar Jack with Bacon
1 ham steak
2 cups cooked pernil
3 slices bacon, cooked and crumbled
2 Tbsp chopped green onions
Heat oven to 375 degrees. Reserve 1/4 cup of Kraft Fresh Take. Cut ham steak into 6 pieces. Coat each piece with Kraft Fresh Take, pressing on bottom and sides to make stick. Place on baking sheet coated with cooking spray. Sprinkle a little extra Kraft Fresh Take on top. Bake 15 minutes. To serve, top each ham slice with a mound of pernil, then sprinkle top with a bit of the reserve Kraft Fresh Take, bacon and green onions.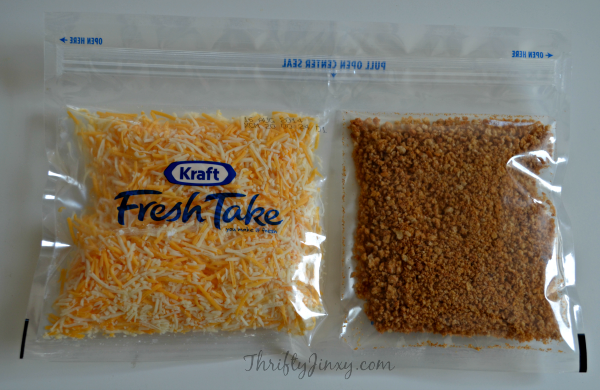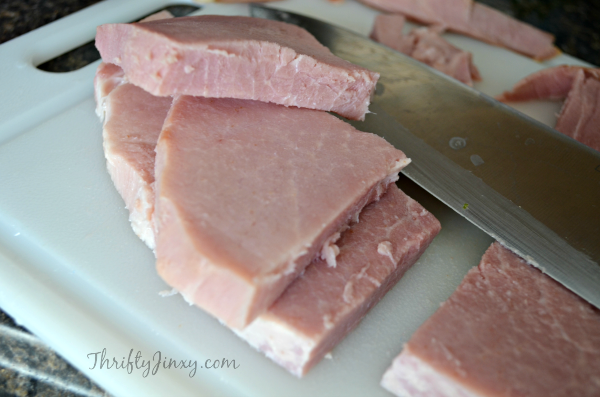 And voila – the finished recipe!! It's great served with asparagus or green peas and we like to have it with white rice on the side – or if we want to get more Puero Rican, then served with arroz con gandules (rice with pigeon peas). I'm thinking it would also make a great party appetizer, perhaps with the ham steak cut into smaller pieces.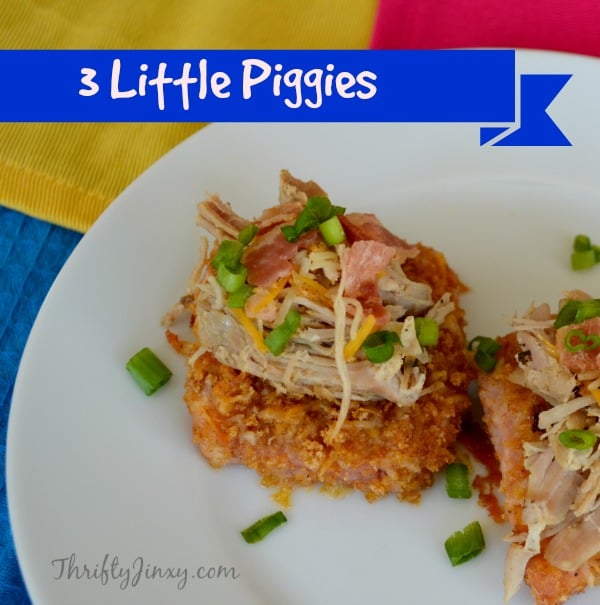 Since the recipe for pernil makes a lot more meat than you'll need for the 3 Little Piggies, I figured I would throw in a third culture (Mexican) and share an easy way to eat some of the pernil in tacos – perfect for lunch or a quick dinner. For this dish I used the Kraft Fresh Take Southwest Three Cheese Recipe.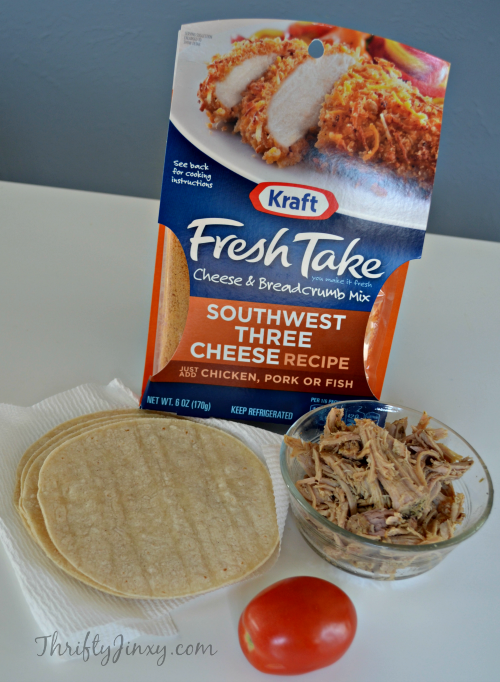 This dish doesn't even quite need a formal recipe! All you need to do is warm some corn tortillas, add in re-heated pernil, sprinkle on a good dose of Kraft Fresh Take Southwest Three Cheese Recipe, and top with diced tomatoes. I love the bit of crunch provided by the breadcrumbs in the Kraft Fresh Take – so good!