Today is the day! Cars 2 has hit the theaters. As the final stop in our Cars 2 week tour, you can make these fun Whitewall Tire Cookies – straight from Luigi's tire shop! You decorate them with ready-to-use fondant, which has the consistency of soft clay — so it's fun for kids to roll and cut. Plus you can wrap it right around the edge of the cookie to give it even more of a real tire shape. But, if you would prefer, you can simply frost the cookies with black icing and then pipe on white icing for whitewall stripes.
Wilton White Decorator Fondant

Ultra Round Cookie Cutter Set

McCormick Black Food Color

Whitewall Tire Cookies Recipe
Ingredients:
• Sugar cookie dough
• Rolling pin
• Flour
• Wax paper
• Round cookie or fondant cutters (2¼,
1½, and 5/8 inches)*
• Baking sheet
• Cooling rack
• White ready-to-use fondant (look in the
baking aisle of grocery, department, or
craft stores)
• Plastic kitchen gloves (for kneading food
coloring into the fondant)
• Black food coloring
• Confectioner's sugar
• Small tube of decorator's icing
NOTE: You can buy a set of three round fondant cutters for under $3 in the cake decorating aisle at craft and department stores.
Instructions:
1. Roll the cookie dough out to 1/4-inch thick on a sheet of wax paper dusted with flour. Using the largest round cutter, cut out circles for tires. Then use the smallest cutter to cut a circle of dough from the center of each tire. Bake and cool the tire cookies according to the recipe directions.
2. Wearing plastic kitchen gloves, knead black food coloring into a little more than half of the fondant. If the fondant gets sticky, dust it with confectioner's sugar.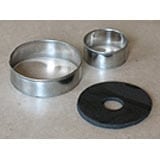 3. Working on wax paper, roll out the black fondant to 1/4-inch thickness, again sprinkling on confectioner's sugar if it gets sticky. Cut out a large circle for each cookie tire. Then cut a small size circle from the center of each fondant circle (to match the center holes in the cookies).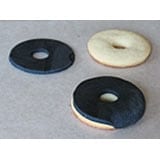 4. Place a black fondant circle atop one of the cookies, lining up the center holes. Gently press the outer edge of the fondant around the edge of the cookie. Repeat with the remaining cookies.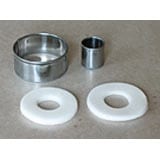 5. For the whitewalls, roll out the remaining untinted fondant. Use the medium and small size cutters to cut out a whitewall ring for each tire. Use the rolling pin to gently flatten and spread each ring just a bit.
6. Top each cookie with a whitewall ring, using a dabs of decorator's icing applied to the underside to hold it.
See all of our other Cars 2 fun and giveaways here.