Keep your Tastefully Simple Dips cool and chilled with this beautifully dip chiller. PLUS, see how easy it is to make and serve delicious Tastefully Simple Dips.
Over the last few months I have been telling you about all the delicious things to eat available from Tastefully Simple. BUT, not only do they offer these yummy things, they also offer some beautiful items to serve that food as well! You'll find Tastefully Simple serving plates, mini loaf pans, skewers and MORE.
These pieces are just beautiful. Many of them are made of a glazed ceramic in rich jewel tones and are absolutely gorgeous. I recently received the Dip Chiller in blue.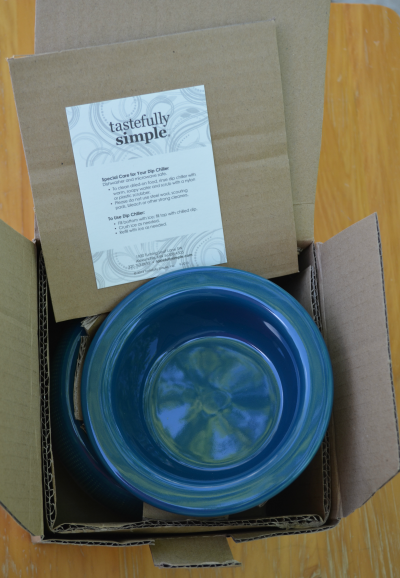 Using the Dip Chiller is very easy. Just fill the bottom section with ice and then place your dip, or whatever you want to keep cool, in the top section. I used crushed ice so that I could fill almost the entire bottom and still nestle the top in snugly.
The ice will then keep your Tastefully Simple dips cool throughout your party – just replenish the ice if it melts! I love that this piece is both stylish AND functional. It's a beautiful way to serve the dip while serving a purpose at the same time!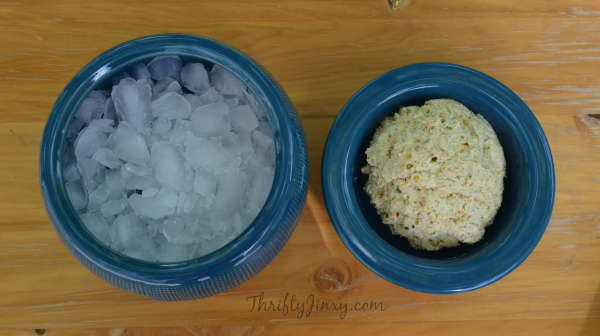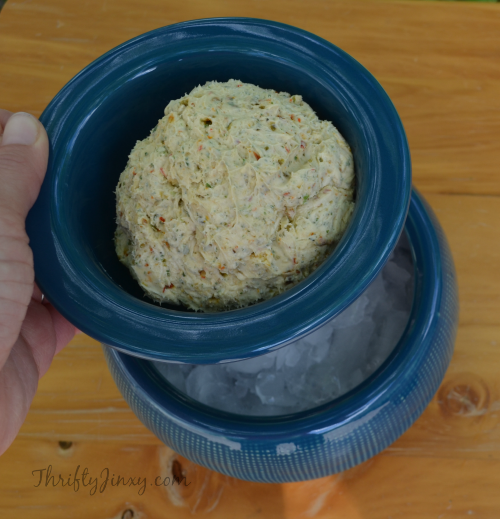 Wondering what that yummy goodness inside the bowl is? It's the Tastefully Simple Va Va Veggie!™ Cheese Ball Mix. It's filled with farmers' market flavors and perfect to serve with veggies and/or crackers.
Making the cheese ball is super easy. Just add it to an 8 oz package of softened cream cheese, chill, and then form into a ball. It definitely scores high on the yum scale!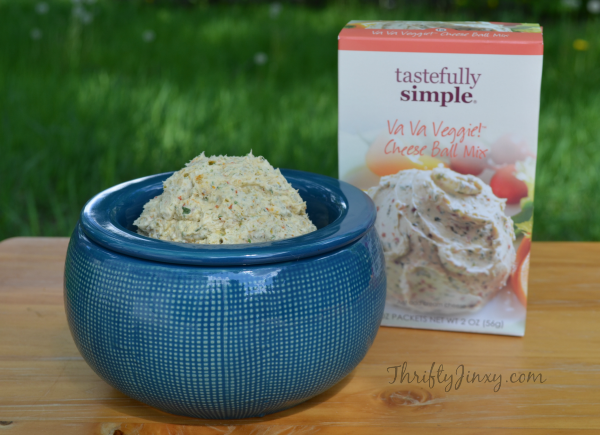 I totally love the way the Dip Chiller looks and am hoping to expand my collection of Tastefully Simple serving pieces. I am thinking they would also make wonderful gifts!
One of the serving plates, a dip chiller or bowl along with a Tastefully Simple dip mix or cheese ball mix would make a thoughtful hostess gift, bridal shower gift or birthday present!
UPDATE: Unfortunately, this specific dip bowl with ice compartment is no longer available from Tastefully Simple but we did find a similar stoneware dip chiller here!