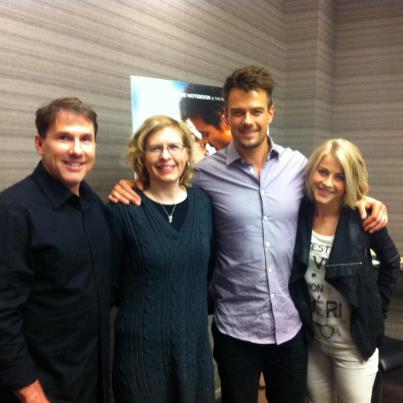 The actual title of this post should be YES! I GOT TO TOUCH JOSH DUHAMEL! (No disrespect, Fergie.) I had a fabulous time in Minneapolis getting to meet Josh Duhamel and Julianne Hough, the stars of the upcoming movie Safe Haven, along with its creator Nicholas Sparks himself!
Safe Haven will be coming to theaters February 14th. You won't want to miss it! (This one is good for the guys too because there is a heavy suspense element to it too.) Here is a little background:
In, Safe Haven, a mysterious young woman arrives in a small North Carolina town and reluctantly finds new love with a lonely widower in Safe Haven, a deeply moving romantic thriller from Nicholas Sparks, the best-selling author whose novels inspired the beloved films The Notebook and Dear John.

Katie Feldman (Julianne Hough) arrives in the tiny coastal town of Southport, North Carolina, looking to make a new, quiet life for herself. She rents a rundown cabin and takes a job waiting on tables in the local café, hoping to keep a low profile. But despite the almost impenetrable emotional walls she has built to protect herself, she is drawn in by the genuine warmth and caring of the tight-knit community, especially the town's grocery-store owner, Alex (Josh Duhamel), and his two young children.

As Katie gradually learns to trust again, Alex and his little brood teach her to experience the joys of love once more. But nothing is as simple as it seems and her newfound happiness is threatened by the terrifying secrets that still haunt her. When a mysterious stranger arrives in town asking questions about Katie, her past threatens to reclaim her. Although every instinct tells her to run, Katie decides to do whatever she must to protect her new life, as she rediscovers the meaning of sacrifice and commitment in a gripping and suspenseful story of hope, survival, and the power of true love.
We sat down for a round table interview at the Graves Hotel in Minneapolis on a single-digit temperature day. Here are some segments from the interview.
Question: I read that you wanted to dig deeper into your characters. How do you go beyond what Nicholas wrote on the page? What do you do to learn more about your character and give your character depth?
Julianne: Obviously, what was written was so great and informative , but for my character and what she has gone through and what she is trying to overcome, I went and visited female shelters and some therapists I actually know and personal experiences, friends' experiences, people if have talked to . Thinks like that.
Josh: For me , I wanted to get inside the head of a guy who is trying to raise 2 kids on his own and what it is like to lose a loved one and having to raise kids. I spoke to my therapist and a couple of other people who have dealt with stuff like this.
I also talked to a friend who was at the screening last night. I was actually apprehensive of asking him to come to the screening because his wife just died of cancer a month and a half ago and he is now raising twin boys. I just talked to him and said "How are you? How are you dealing with all this?" All of this is important to me because for the kids I wanted to have a real specific relationship with both of them because for me that relationship was important. To me those relationships were as important as my relationship with her because in real life we would never be able to just say, "oh my gosh she's beautiful, she's gorgeous" and not be able to think about how this would affect the kids. (Julianne interrupted – "You think I'm gorgeous?" which got a lot of laughs.) I had 2 weeks before we started shooting to sit on the beach in North Carolina writing, reading, boogieboarding and just thinking about it and absorbing this little town we were in and getting to live this character for a little while.
Question to Nicholas Sparks: Safe Haven has been known as your first love story with the twist of also being a thriller. Do you think your future works might contain a thriller element as well?
Nicholas: Sure, absolutely. How that will unfold will of course depend on the story that I choose to write, but basically you have three types of danger that cause thrillers. You have dangerous person, a dangerous place or you have a dangerous thing (like jaws). You want to keep these stories feeling very fresh. And to do that you have to vary them. You want to offer threads of familiarity – North Carolina, two nice looking people, they're flawed – they struggle. They're not sure, but they come together and they realize the way they feel about each other is healing. Just you want those small town threads, but you want to make it different. You don't want people to walk out and say "Gosh, I could have just rented The Notebook last night. " You want them to say Safe Haven is great in its own right and I think that's what we really pulled off. To do that there might be mystery, adventure, danger, all sorts of things.
Josh: I think that with your books too there is a demographic of girls that have sort of grown up with them her (Julianne) being one of them. (Julianne – "Oh, yeah.") And so, there is an evolution of sorts with these bbooks and I think that this one doesn't deal so much with first love but it deals with peope who have already had their first love, it didn't work out for whatever reason and now they are getting a second chance that may have thought they didn't have that before. And it is a little bit scarier than some of the stuff he has done before, which I like because it was different in that way.
Question to Nicholas: Following up on that, did you actually set out to do a story that had the thriller and suspense or did you come up with the character first and then….
Nicholas: No how I wrote that, it was very interesting. Once I had the idea, the first character I created was Kevin Tierney and I wrote him start to finish 60 pages, 70 pages, whatever it was – one voice over a 5 or 6 day period. It was labeled in sections 1 through 8 and that way I stayed in this crazy person's voice. And so I wrote him and then I set out to write a love story between Katie and Alex. And I would get to a certain point and said "OK, section one of Kevin will go here and I'll call it now chapter 14 or whatever. So I never start a novel unless I am very clear on themes, pacing, development, the ending. I had it all mapped out. I know exactly what the end will be because what you are trying to do is move the viewer through all the emotions of life. So if you see Safe Haven you will see love, anger, betrayal. Josh – that way you don't have to write yourself out of any holes. Nicholas – that's right. Because if you get to the end and you realize "oh my gosh, I forgot anger. Or I forgot love or loss, because there . You have to cover it all. You want people laughing and crying . Josh – you shouldn't give away so many of your secrets.
Question to Julianne: Toward the end those scenes were scary. Was that really hard and how did you prep for that?
Julianne: I don't want to say that it wasn't hard to play, but it was really fun. Because I'm a very active, athletic person, so to do these fight scenes it was so much fun for me. It's like choreography for dancing. It's like you have your certain routine basically – your fight routine. Plus David is probably one of my closest and best friends now because of the movie, so there was a safety there with him. We would be like laughing hysterically between takes and then we would get it going again. So, I enjoyed it, – the athleticism part I enjoyed, but being in it, that's a hard thing to experience and go through. I was very fortunate though that I liked the guy and he liked me . We also had a great director where you could be vulnerable, but not exposed. It was just good.
Question to Nicholas: Are you as romantic in real life as the books that you write?
Nicholas: I try to be. My wife likes romantic things. And Happy wife, Happy life is the old rule so you do those things. What does your wife think of all your success? Not too much. I mean she doesn't make it a big deal, nor do I. For the most part, when I'm at home, which is where I work, I'm not a famous author of any kind. I'ts just, "What did you do today?" – "Well, I wrote." – "Oh, ok." That's just what it is. Because it's not like you write a book in a day. I wrote something. I wrote a section of chapter 14. So, it's not a big deal. I'm a husband. I'm a father. I think it's always befuddling to her when I head out into public though. Julianne – He is being VERY humble right now.
Question: How has being in the entertainment industry changed from your original expectations of before you got in?
Josh: It's not nearly as glamorous. It is a lot harder work than I think people realize. The movie making and everything else is nothing. It's this –it's the interviews. That was a joke. But really, it's not as glamorous as it seems but at the same time there is something I always wanted – some kind of an outlet creatively because that's the only thing I was ever really good at – whether it was writing or drawing or anything art-related. If it involved crunching numbers I couldn't do it . But I never knew what this would bring and I think that you have expectations, you dream about what it would be, but nobody leaves this business without also being very humbled and I have had a lot of humbling experiences in this business too. It's easy to fall into certain traps and you learn as you go. At the end of the day it's just literally the reason I love it is because I need to be creative. Other than that, my life hasn't changed that much after coming full circle. Because at first you think it's going to be premieres and everything that comes with it, but at the end of the day it's like you say… You just literally go home, find someone that you love and do what everybody else does and live a regular life.
Julianne: You know, I don't know. I think the one thing is that I have always wanted to just entertain in general and just be an actress and be a dancer, be a singer and you think it is glamorous and you want to go to these parties and the premieres and everything . I remember somebody telling me you will get to that point where it now becomes work and I'm like "That's not true. This is incredible." And it's true and now it's like I love doing the actual creative process, but sometimes the life that comes with it, it does become a little bit of work and you just want to go home and play with your dogs and cook and do those things. So, sometimes it's constantly being on even if you're having a rough day. Not to say that I don't love being on and being around people – I do love that. I think now too everybody is not mysterious in the entertainment world. Everybody is so accessible, so it's almost like to keep up you have to be accessible and there is a lot more that comes with that. But I do love what I do too and it's so worth everything. Josh – I wonder if there is too much accessibility with all the Twitter and stuff. I'm constantly going back and forth on that. Because I have a Twitter account. I wonder… Julianne – But if you take it out though, then it's like you're not keeping up. Josh – There is a fine line between staying in the game and becoming overly accessible because part of what – people aren't going to be hungry for it if they get all they want. So you have to maintain some air of mystery, but you still have to be accessible.
I am really thrilled to have taken part in this interview. Julianne, Josh and Nicholas were all so personable, down-to-earth and really a pleasure to talk with. I know if I was on a whirl-wind promotional tour I would be a bit cranky and not too excited about talking to random bloggers. But none of them appeared that way in the least bit (even though Josh joked about it) and have definitely earned a place on my "super nice celebrities" list!