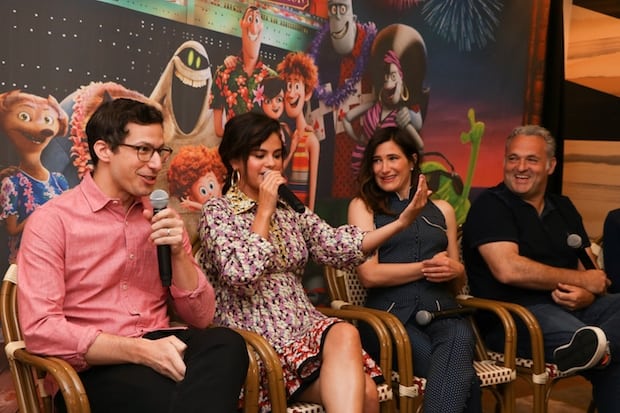 We're super excited that HOTEL TRANSYLVANIA 3: SUMMER VACATION is coming to theaters THIS Friday, July 13 – – Yes, that's Friday the 13th! A few weeks ago I had a chance to attend the Hotel Transylvania 3 press junket in Los Angeles to get some inside scoop on the movie and attend a press conference with members of the cast including Selena Gomez, Andy Samberg, Kathryn Hahn and Director Genndy Tartakovsky.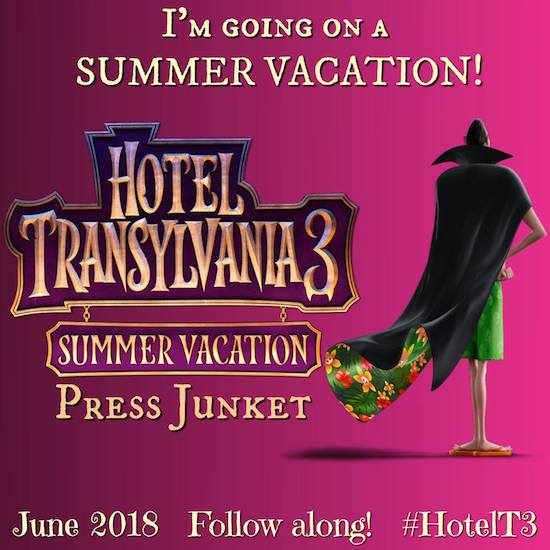 The cast members were all very fun and as animated as their characters. Selena Gomez was her usual adorable self and Andy Samberg was was hilarious! (Although I have to admit Andy was pretty adorable too and Selena had a few super funny remarks.) Kathryn Hahn is a new member of the cast for this latest HT3 sequel and, in my opinion, a great addition! Kathryn said, "This is my first big animated anything and so it has been a ball. I'm just excited my kids an see something I've done."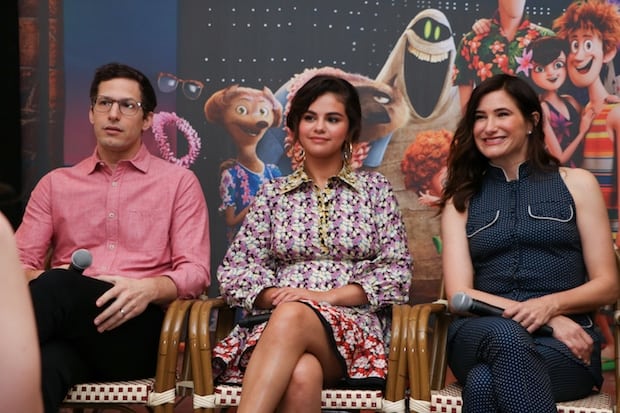 There are lots of fun parts of the interview including discussion of the movie's kraken scene (which none of the cast had actually seen yet), their opinions of the new Hotel Transylvania 3 costumes, how Joe Jonas came to be in the movie, the cast's favorite "feel good" songs, the challenges and benefits of voice acting, why El Chupacabra is in Hotel T3 and El Coco is not, and lots more. This press conference was streamed live on Facebook, so you can see the whole thing below:
HOTEL TRANSYLVANIA 3: SUMMER VACATION is in theaters THIS FRIDAY! Plan ahead and buy your tickets here! For more of the latest Hotel Transylvania news, follow along on Twitter, Facebook and Instagram!
About HOTEL TRANSYLVANIA 3: SUMMER VACATION, in theaters July 13:
In Sony Pictures Animation's Hotel Transylvania 3: Summer Vacation, join our favorite monster family as they embark on a vacation on a luxury monster cruise ship so Drac can take a summer vacation from providing everyone else's vacation at the hotel. It's smooth sailing for Drac's Pack as the monsters indulge in all of the shipboard fun the cruise has to offer, from monster volleyball to exotic excursions, and catching up on their moon tans. But the dream vacation takes a dangerous turn when Mavis realizes Drac has fallen for the human captain of the ship, Ericka, who holds a mysterious secret that threatens them all.
Be sure to come back later this week as we'll have our review of the movie, a fun Hotel Transylvania craft and more!