It certainly doesn't feel like Spring with the single digit temperatures we have been having in Minnesota, but I got a glimpse of warmer days to come when I attended the Macy's Spring Fashion Event in Minneapolis last week.
The fashion show was hosted by Jamie Krell, Style & TV Correspondent for TODAY show, E! and EXTRA. She walked us through the the 5 Spring Essentials to make any wardrobe look fabulous this year.
I put my fashion photography skills to the test (ok, don't judge – I'm still working on it!) and want to share my favorite look for each of the five Spring fashion trends. It was hard to pick just one outfit for each of the trends – there were some amazing pieces!
1. LACE – Tracy N. Kensie Khaki Trench Coat. Kensie Seafoam Lace Dress – I love the bright, fresh color of this dress – it really epitomizes Spring!
2. PEPLUM – Paola Lanvin Black with Cream Ruffle Collar Blous. Lanvin Cream Peplum Skirt. I personally didn't think that peplum would continue to hold out, but it's back for spring in skirts, dresses, sweaters and shirts.
3. PRINTED PANT/DENIM – Kim Rachel/Rachel Roy Black Jacket. Rachel/Rachel Roy Patterned Camisole. Rachel/Rachel Roy Red Patterned Pant – I think this was my favorite look of the entire show. I love the cute, but casual and super comfy look of it. (And I have to add that this model was gorgeous! She made every outfit she wore look fantastic.)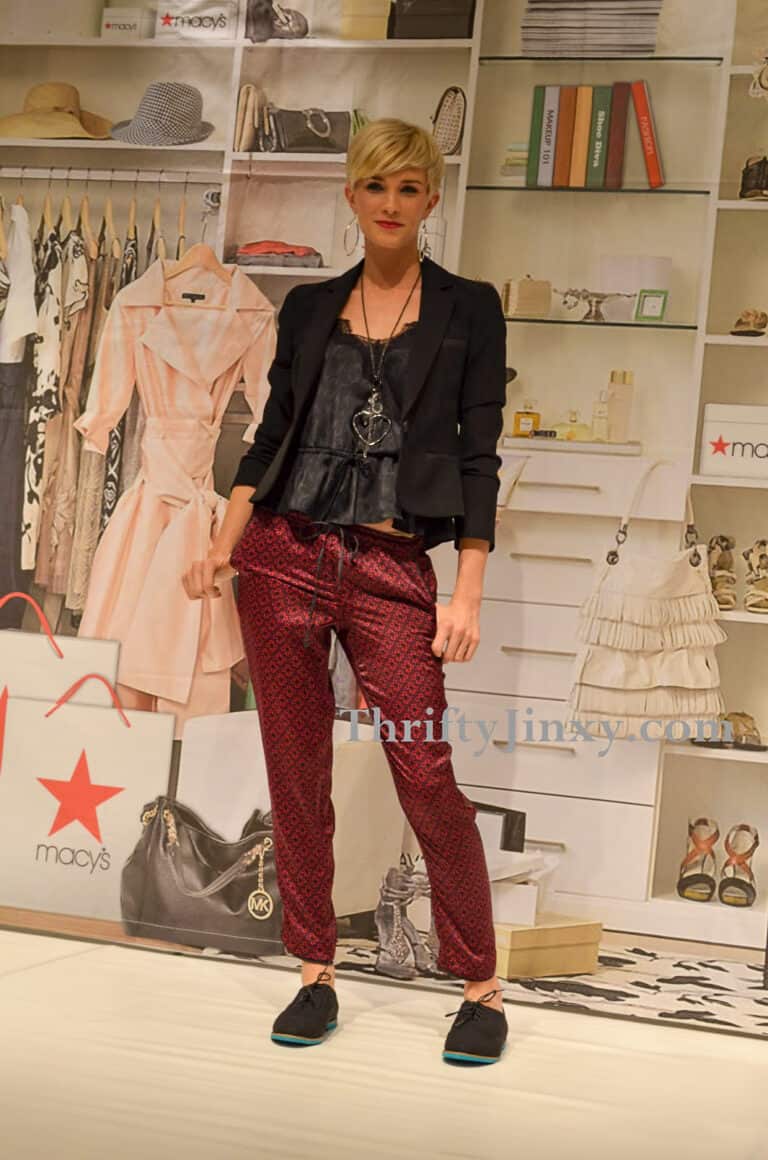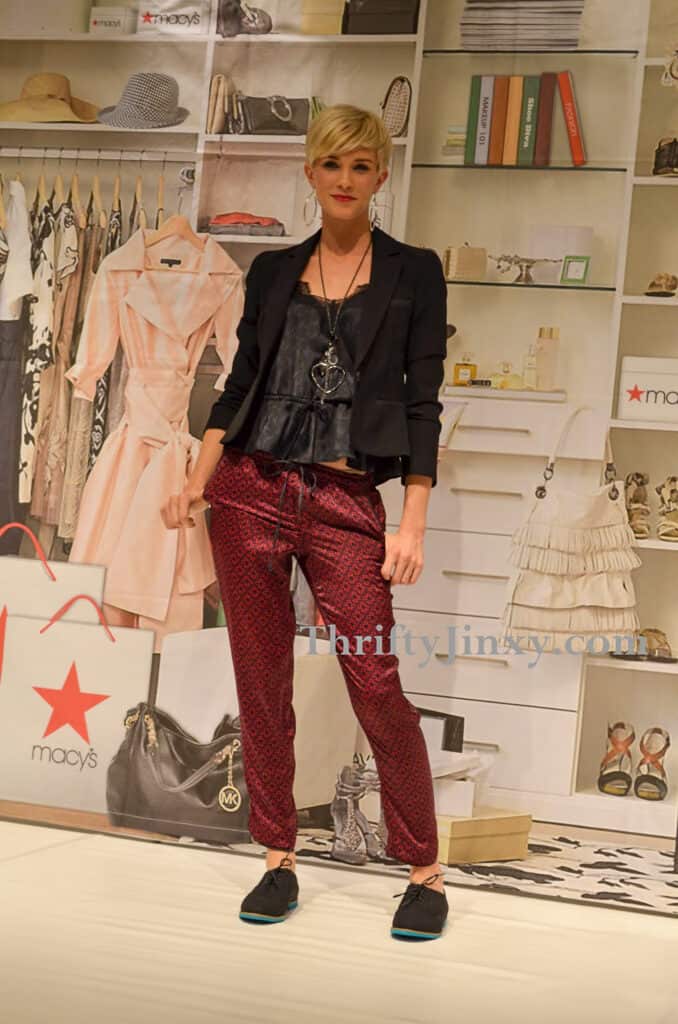 4. DRESSES – Tracy R. Missoni Chevron Stripe Dress – This dress is so striking! It's a bit of a budget buster, but a classic look that will stay fashionable for years.
5. THE PULLOVER – Alyssa Marc by Marc Jacobs Red Patterned Jacket. Rachel/Rachel Roy Grey Short Sleeve Sweatshirt. Marc by Marc Jacobs Red Multi Sleeveless Blouse. Hudson Navy Jean. – This layered look would be perfect for our chilly and unpredictable northern Spring. It's easy to add or remove layers as the temperature dictates and would like great in any state of layering.
After the show there was more fun to be had. Stations were set up to learn how to create the perfect Red Lip and the perfect Smoky Eye. There was also a do-it-yourself bun bar for hair.
And besides satisfying our fashion bug, we also got to satisfy our sweet tooth with a yummy yummy buffet of candy and cookies. Can you say sugar rush?
There are more Macy's Spring Fashion Events going on around the country in the coming weeks. Check the Macy's Spring Fashion schedule here to see if your city is included.
TELL US: Which trend for Spring are you most excited about?
Disclosure: I am a member of the Everywhere Society and Everywhere provided me with compensation for this post about the Macy's Prom event. However, all thoughts and opinions expressed herein are my own.