This delicious Zootopia Sloth Chocolate Recipe is flavored with cinnamon and a tiny pinch of cayenne pepper.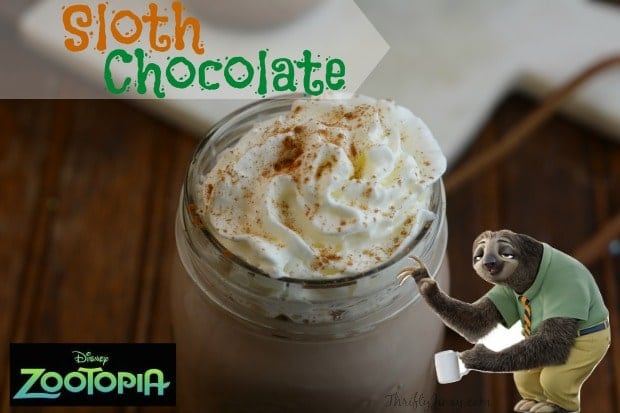 Hooray! Disney's Zootopia arrives in theaters this week! I'm so excited for all of you to see it. I caught an advanced screening last week and, while I don't want to give anything away, I will say that YOU WILL WANT TO SEE THIS MOVIE!! I'll be back on opening day, March 4th, with a full review, but in the meantime you can check out this clip if you haven't yet seen it:
In honor of Flash the Sloth, we have created this "Sloth Chocolate" recipe. It's similar to the chocolate served in Central America where non-Zootopia-dwelling sloths make their home. While it's meant to be a hot drink, it actually tastes good cold too – – which is a good thing because at the speed he moves Flash's cup would always be cold by the time he drank it.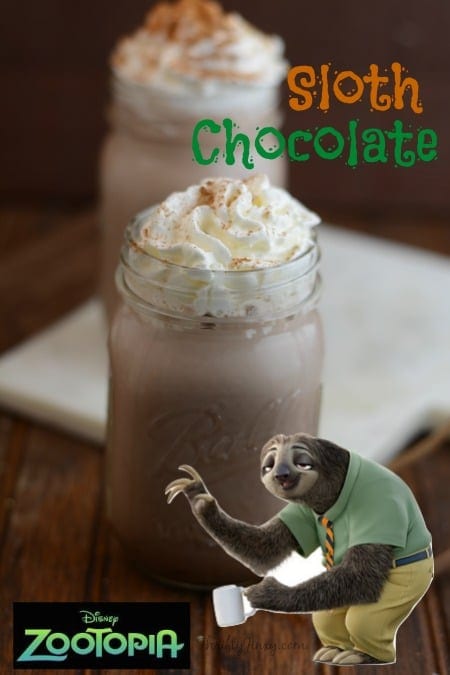 Zootopia Sloth Chocolate Recipe

Ingredients:
2 cups whole milk
1 Tbsp light brown sugar
3/4 cup semi-sweet chocolate chips
1/2 tsp. vanilla
1/8 tsp. cinnamon
Tiny pinch of cayenne pepper
Directions:
Bring milk and sugar to a simmer over medium heat.
Turn heat to low and stir in chocolate, vanilla, cinnamon and cayenne.
Return to simmer, stir with a whisk until chocolate is fully melted and mixture is heated through.
Serve with cinnamon stick for stirring. (optional)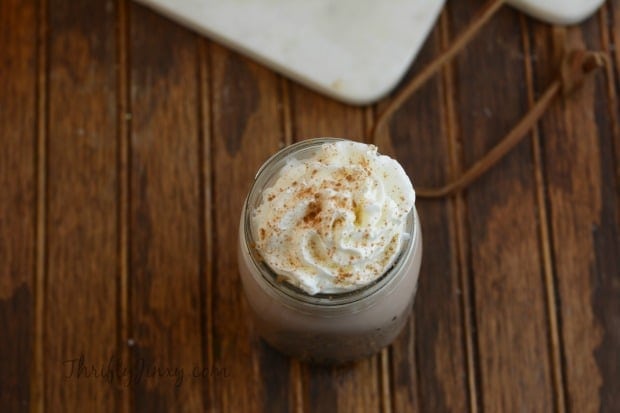 The modern mammal metropolis of Zootopia is a city like no other. Comprised of habitat neighborhoods like ritzy Sahara Square and frigid Tundratown, it's a melting pot where animals from every environment live together—a place where no matter what you are, from the biggest elephant to the smallest shrew, you can be anything. But when rookie Officer Judy Hopps (voice of Ginnifer Goodwin) arrives, she discovers that being the first bunny on a police force of big, tough animals isn't so easy. Determined to prove herself, she jumps at the opportunity to crack a case, even if it means partnering with a fast-talking, scam-artist fox, Nick Wilde (voice of Jason Bateman), to solve the mystery.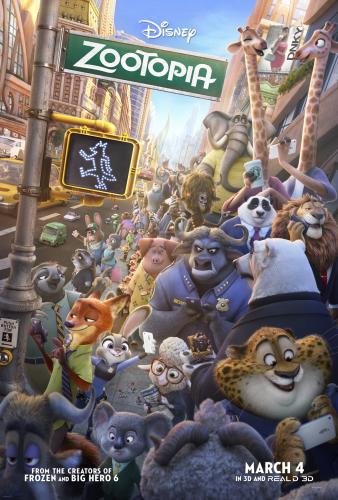 Like ZOOTOPIA on Facebook: https://www.facebook.com/DisneyZootopia
Follow ZOOTOPIA on Twitter: https://twitter.com/DisneyZootopia
Follow Disney Animation on Instagram: https://instagram.com/disneyanimation/
Visit Disney Animation on Tumblr: https://disneyanimation.tumblr.com/
Visit the official ZOOTOPIA website here: https://movies.disney.com/zootopia
ZOOTOPIA opens in theaters everywhere on March 4th!