It's here! This week Kubo and the Two Strings will finally be in theatres. It has been exciting seeing all the build-up to opening day for Kubo. I keep seeing more and more glimpses of it on TV and Little R has already spotted the movie poster in the theater more than once. Lucky me got to see the full film last month and I can say that it is a BEAUTIFUL movie. It's actually a bit hard to believe that the whole thing is made in stop motion. It is a painstaking process where an animator can take a full week of work to create only 2 seconds of film. Seeing the entire movie pulled together is almost beyond belief.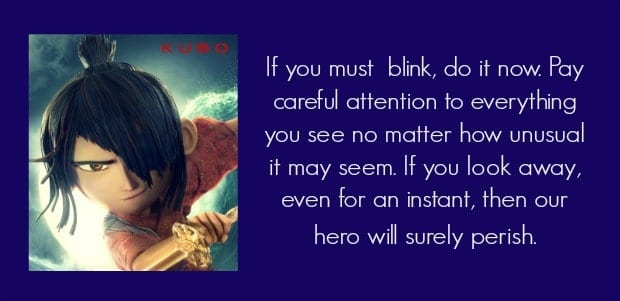 Kubo and the Two Strings is an epic action-adventure that tells the story of one boy and his quest to reunite his family. The movie begins with a dramatic and awe-inspiring glimpse into the very early life of Kubo as his mother whisks him away to safety from an almost certain doom. It then goes on to show us the everyday childhood of Kubo as he makes a living as a storyteller in the village square, uses his shamisen instrument to bring his own origami sculptures to life. But, soon everything changes when Kubo mistakingly summons a spirit from his past which quickly changes his world.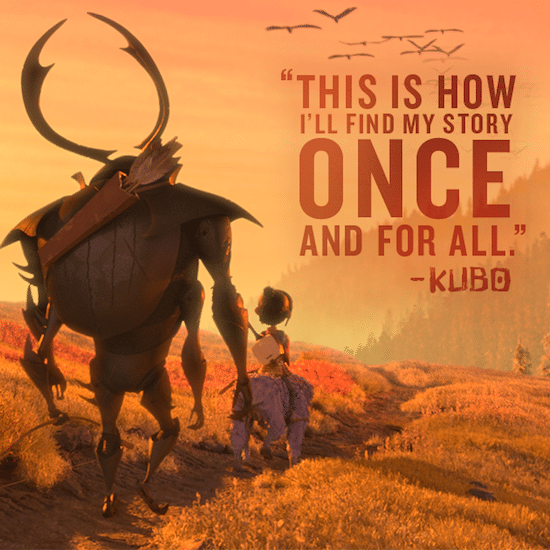 Kubo then sets out on his quest to both save his family and to discover more about his father, a great samurai warrior. Throughout the journey Kubo discovers both his own strength and secrets about his own family that change his outlook on the world.
It's hard for me to tell you too much about Kubo and the Two Strings without giving away secrets that you will want to discover on your own! What I can tell you is that I was blown away with the visual magic they created on the screen, the excitement of the adventure (I seriously JUMPED out of my seat at one point), and the touching story of family.