Freshly ground spices can add a BIG boost of flavor to your food. Learn how to use a spice grinder and see how much fresh ground spices in your recipes elevates your meals.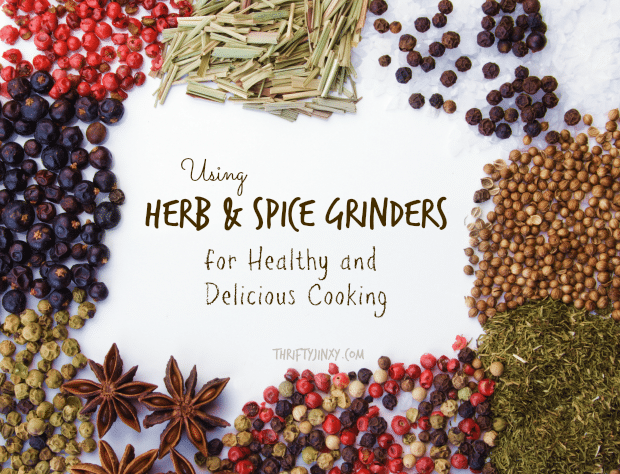 If you're trying to eat healthy and have done any reading on the topic, you have probably heard the advice to add flavor to your food by kicking things up a notch with herbs and spices.
If you want to add make your spices and herbs really make an impact, opt for freshly ground by using spice grinders. Jars of ground spices just do NOT compare to the flavor of freshly ground.
With online sites offering fresh spices to grind and inexpensive herb and spice grinders for convenience, you have lots of ways to improve recipes and add the nutritional value that fresh products can bring to your table.
Using Spice Grinders
With a wide range from the inexpensive natural stone mortar and pestle for grinding spice and herbs to the ultra-modern electric grinders with bells and whistles such as durable, stainless steel blades, nonslip rubber bases and heavy-duty motors – you can find a big variety of herb and spice grinders to meet your needs.
You'll be amazed at how using spice grinders for herbs and spices can add zest and extra taste to any recipe. The flavors seem to burst through when using fresh ingredients for your favorite recipes.
An added benefit is that with the extra flavor from your freshly ground spices, you can eliminate many of the fats like butters and oil and not even miss them.
Secura Electric Coffee And Spice Grinder With Stainless-Steel Blades

Golden Bell 4 Piece Spice Herb Grinder, 2-Inch – Black

Bazaaranatolia Turkish Grinder, Spice Grinder, Salt Grinder (Silver)

Epica Electric Coffee Grinder & Spice Grinder

KitchenAid BCG211OB Blade Coffee and Spice Grinder Combo Pack

Kuhn Rikon High Performance Ratchet Grinder, Black

HoneyGuaridan CG-8120 Electric Grinde

Ohuhu Spice Grinder / Herb Grinder

Bru Joy Portable Coffee Grinder and Spices Mille

&
Most of us have used the pre-filled pepper and salt mills popular in supermarkets today. That's just a small sample of the burst of taste you can realize from purchasing whole spices and fresh herbs and using spice grinders. And if you want to save money, buying whole peppercorns and grinding them in your own grinder will save you money too!
Compare Fresh to the Jar
Jars of herbs and spices on your cabinet shelves become stale and don't provide the same zest that freshly ground can deliver. Even if they are stored in tightly sealed containers and kept from direct sunlight, they can use their flavor in a hurry. If you don't yet have a grinder, pulverize a stick of cinnamon with a heavy object like a frying pan and then compare the smell to that of a jar of cinnamon in your cabinet. You'll likely convert to grinding your own at that moment.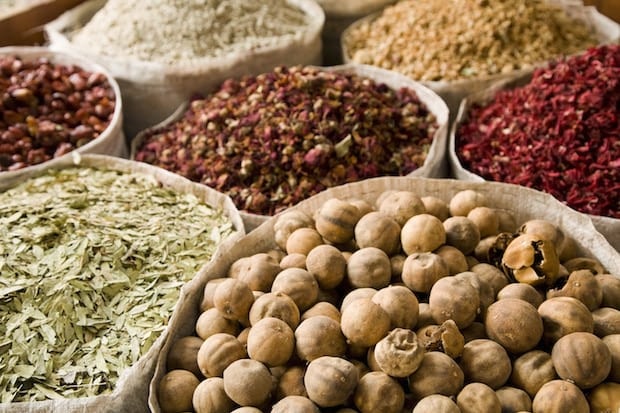 Save Money
Another benefit of a grinder is that you can grind small amounts of herbs and spices for a particular recipe without having to buy an entire jar that will deteriorate over time.
You can purchase many fresh herbs and spices online for use with a grinder and save money over purchasing jars from an expensive supermarket. The bulk section of your supermarket or natural foods store will often let you buy just a tiny handful of product.
I know I have spent only a few cents when I just needed a bit of spice for a recipe. It's a seriously great bargain!
Zip Grinders – Large Spice & Herb Grinder – Four Piece with Pollen Catcher – 3.25 Inches Tall

Zip Grinders – Large Herb Grinder – Four Piece with Pollen Catcher

Zip Grinders – Large Spice & Herb Grinder – Four Piece with Pollen Catcher

&
One popular herb and spice grinder is the zip grinder, which comes in various sizes and uses glide rings with diamond-shaped teeth to improve the grinding process and consistently provides a smooth consistency.
One nice thing about zip grinders is that they do make nice little small ones like those above that take up only a few inches of space in your kitchen drawer.
Greenco Marble Mortar and Pestle

JAMIE OLIVER Mortar and Pestle, Unpolished Granite

Home Basics Mortar and Pestle Bamboo

Vasconia 4-Cup Granite Molcajete Mortar and Pestle

&
Check out all types, sizes and prices of herb and spice grinders online and choose one that's best for your lifestyle. The old mortar-pestle version is a good choice for beginners.
It feels good to pulverize the herbs and spices and smell the incredible aromas. A mortar and pestle can also be beautiful. They are available in so many different materials from marble or granite to bamboo or natural wood.
Any of these choices can add a decorative accent to your kitchen while still being functional.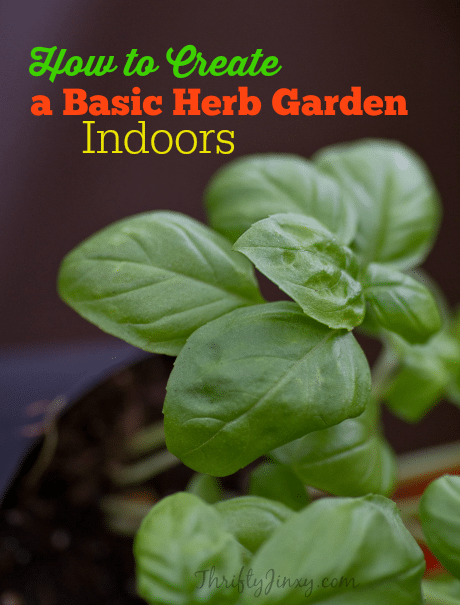 Grow Your Own
If you have space for an herb garden, you may want to try your own hand at growing herbs and spices. Most are easy to grow and you'll have the added satisfaction of knowing that what you're consuming is chemical-free and that you grew it yourself. Follow our tips on How to Create a Basic Herb Garden Indoors.
Have fun with your herb and spice grinder and find new ways to use them fresh in all of your recipes. Bon appetit!