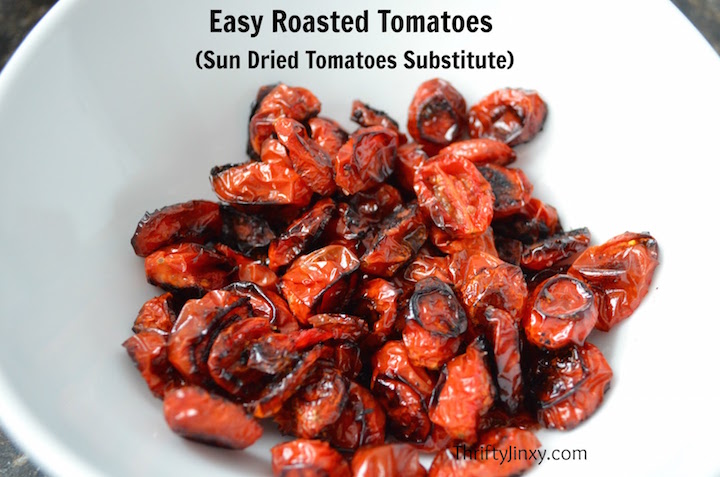 Fresh tomatoes can be expensive, especially during the winter, so it's a shame to have to throw out the ones that are past their prime and have started to get all "wrinkly".
A perfect way to use them – and a DELICIOUS way – is to roast them. Tomatoes actually get sweeter as they age and, so as long as there are no signs of spoilage, "old" tomatoes can be very yummy.
These roasted tomatoes are similar to sun-dried tomatoes and can be used in place of them in many recipes. They're also great in sandwiches or with pasta. (Oh, and you can also use "new" tomatoes for this recipe.)
How to Make Roasted Tomatoes in the Oven:
Preheat oven to 350 degrees.
Wash tomatoes.
For cherry or grape tomatoes, cut in half. For larger tomatoes cut in slices.
Place in a large bowl and drizzle with olive oil to coat and sprinkle with salt and pepper. (For garlic tomatoes, you can also add crushed garlic at this point or else use garlic salt in place of "regular" salt.)
Spread oil coated tomatoes on a cookie sheet or shallow jelly roll pan. For grape or cherry tomatoes, place skin side down on sheet. Roast in oven for 60-90 minutes or until browned with charred skin.