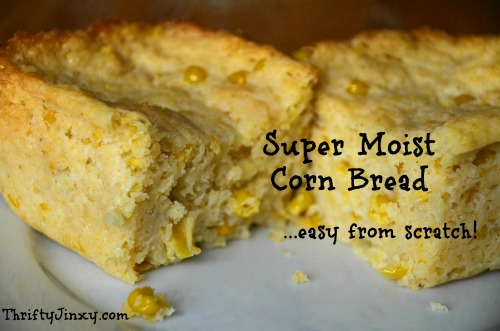 My mom has always made the best corn bread.  It is super moist and has nice whole kernels of corn in it.  It's perfect alongside chili or soup, and also makes a great breakfast all by itself.  Mom always made her cornbread with a starter of a Jiffy box mix, but this recipe starts from scratch with not much extra effort.  I also made the recipe as 4 mini loaves using my awesome new Sweet Creations Mini Loaf Pan.  Read more about this pan below.

Super Moist Corn Bread Recipe

1 1/3 cup all-purpose flour
1 cup yellow cornmeal
1/3 cup granulated sugar
2 tablespoon baking powder
1/2 teaspoon salt
1/4 cup vegetable oil
1 16 oz. can cream style corn
1 16 oz. can whole kernel corn, drained
1 c. Greek yogurt or low fat sour cream
3/4 c. butter, melted
Preheat oven to 350 degrees. Coat loaf pans with butter. Mix the the dry ingredients thoroughly. Then add oil, corn yogurt/sour cream and melted butter. Mix mixing lightly but thoroughly. Pour batter into 4 mini loaf pans. Bake for 40 – 45 minutes, or until top is just beginning to brown.  (Alternatively, you can pour into a 9×13 cake pan and bake approximately 40 minutes.)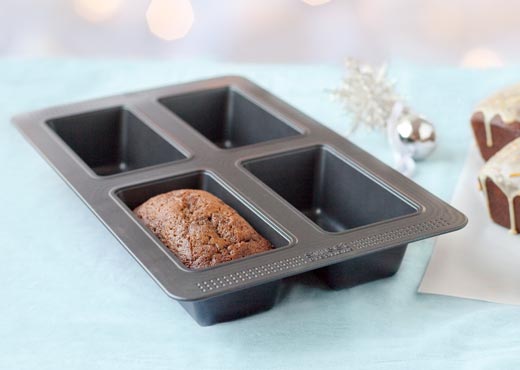 As I mentioned, I made my loaves using the  Sweet Creations Mini Loaf Pan.   I have always wanted to be able to make little loaves – both because they are so cute and also because they are great for making gifts!!  This pan was nice and heavyweight with a nonstick coating that looks like it was built to last.  I can't wait to make meatloaf in it tonight….I'll share that recipe with you later!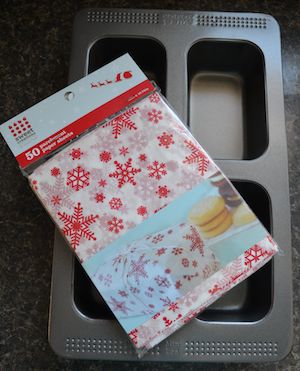 NOTE:  Little loaves make a great gift! For winter holidays, they look extra special wrapped in this White Snowflake Parchment Paper!