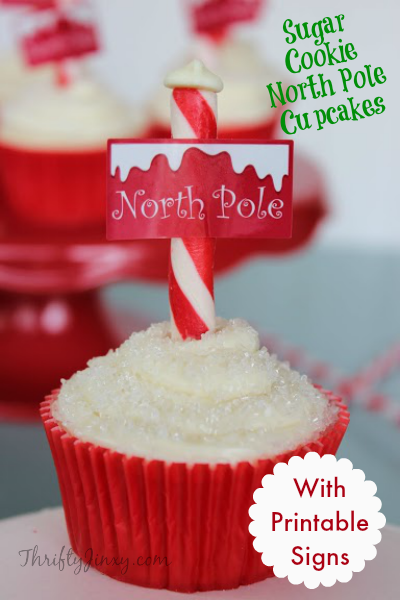 Ho! Ho! Ho! You can celebrate Santa's home with this super cute Sugar Cookie North Pole Cupcakes Recipe. The delicious sugar cookie cupcake is topped with easy-to-make homemade vanilla frosting.
Then comes the fun part – decorating!! You'll only need a few simple supplies, which we list below, including the printable North Pole signs that we have for you for free! Print through the link below.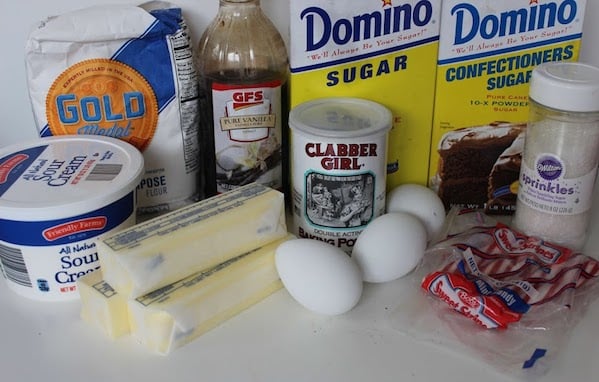 Sugar Cookie North Pole Cupcakes Recipe

(Yield about 24 cupcakes)
INGREDIENTS
Cupcakes:
3 cup Flour
1 tsp Baking Powder
1/2 tsp Salt
1 cup softened Butter
2 cup Sugar
3 Eggs
2 tsp Vanilla
16 oz Sour Cream
Frosting:
1 cup softened Butter
3 tbsp Milk
1 tsp Vanilla
4 cup Powdered Sugar
Decorations:
12 Peppermint Sticks
1/4 cup White Sparkling Sugar
Printed Labels
White Chocolate Chips (Optional)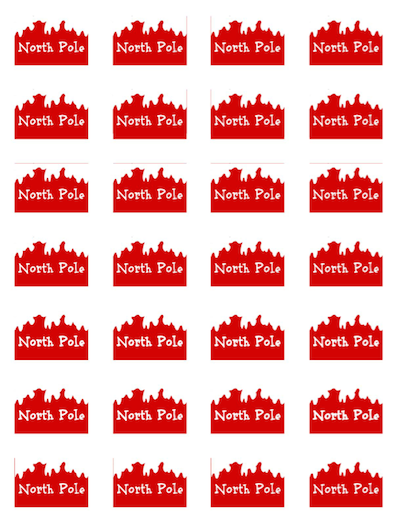 Red Foil Standard Bake Cups
Gilliam Old Fashioned Candy Peppermint Sticks
Wilton White Sparkling Sugar
How to Make North Pole Cupcakes:
Preheat oven to 350.
Line muffin pan with paper liners
Cream butter and sugar in mixer until fluffy.
Beat in vanilla and eggs one at a time.
Add baking powder, salt and flour gradually until mixed.
Add in sour cream and beat until blended.
Fill cups to nearly full.
Bake 25-30 minutes or until a toothpick inserted near the center comes out clean.
Allow to cool completely.
Cream butter in a medium bowl
Slowly add in the powdered sugar, and milk as needed, until everything is incorporated and frosting is right consistency.
Transfer to piping bag or zippered bag and clip corner to pipe.
Frost cupcakes.
Sprinkle with sparkling sugar, inset peppermint sticks and attach labels. For a finishing touch, you can add one white chocolate chip to the top of your peppermint stick "pole" using a dab of frosting.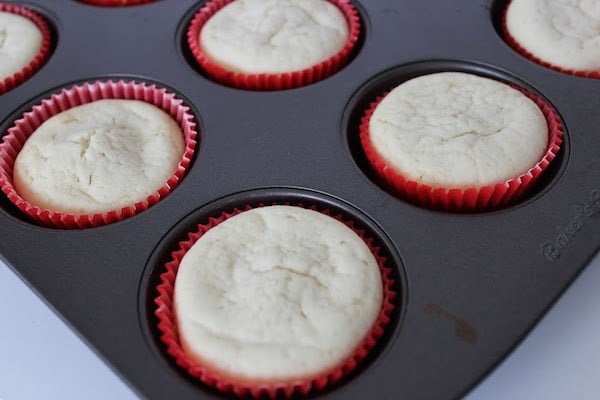 Yield: 24 Cupcakes
Sugar Cookie North Pole Cupcakes Recipe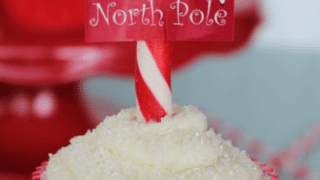 Ingredients
Cupcakes
3 cup Flour
1 tsp Baking Powder
1/2 tsp Salt
1 cup softened Butter
2 cup Sugar
3 Eggs
2 tsp Vanilla
16 oz Sour Cream
Frosting
1 cup softened Butter
2 cups Sugar
3 eggs
2 tsp vanilla
16 oz sour cream
12 Peppermint Sticks
1/4 cup White Sparkling Sugar
Printed Labels
Instructions
Preheat oven to 350.
Line muffin pan with paper liners
Cream butter and sugar in mixer until fluffy.
Beat in vanilla and eggs one at a time.
Add baking powder, salt and flour gradually until mixed.
Add in sour cream and beat until blended.
Fill cups to nearly full.
Bake 25-30 minutes or until a toothpick inserted near the center comes out clean.
Allow to cool completely.
Cream butter in a medium bowl
Slowly add in the powdered sugar, and milk as needed, until everything is incorporated and frosting is right consistency.
Transfer to piping bag or zippered bag and clip corner to pipe.
Frost cupcakes.
Sprinkle with sparkling sugar, inset peppermint sticks and attach labels. Top poles with white chocolate chip. (Optional)