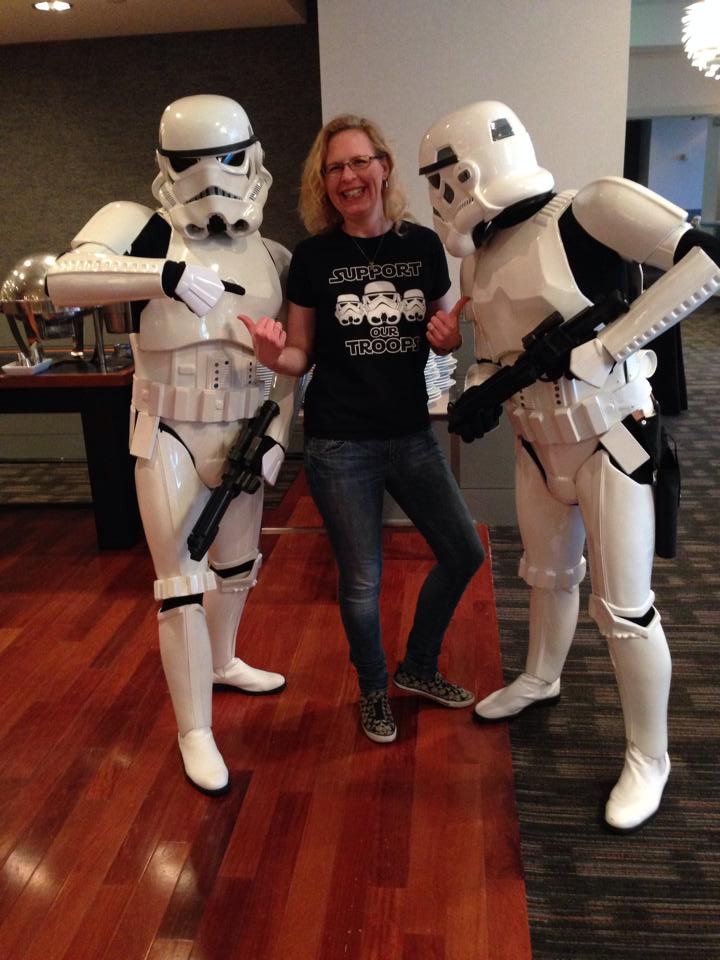 This Sunday I celebrated STAR WARS DAY (May the 4th) in a big way!! I was thrilled to be part of a celebration of all things STAR WARS, in honor of the upcoming release of the all-new animated series STAR WARS REBELS! On hand to help us celebrate was Vanessa Marshall, voice of Hera, the pilot, commander of the Ghost starship.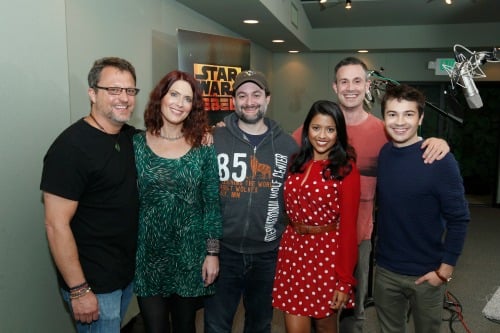 Vanessa shared with us a behind-the-scenes look at working on STAR WARS REBELS. She is a bit of a Star-Wars-geek herself, so it is great to see her excitement in discussing not only STAR WARS REBELS, but everything that is part of the Star Wars universe.
Working with her on the cast are BEN DISKIN, TIYA SIRCAR, VANESSA MARSHALL, TAYLOR GRAY, and FREDDIE PRINZE JR., pictured above.  Vanessa had nothing but WONDERFUL things to say about the cast and described how they have each fallen into their roles within the group, similar to a family.
We also had a chance to see a sneek peak of STAR WARS REBELS.  This new series looks to be a hit with kids (it's much less dark than The Clone Wars).   I loved the characters, my favorite being Chopper, the cranky but still heroic droid.  That guy has a real personality!
About the show:
"Star Wars Rebels" continues the epic tradition of the legendary Star Wars saga with all-new exciting, action-packed adventures.   It is a dark time in the galaxy, as the evil Galactic Empire tightens its grip of power from world to world.  As the series begins, Imperial forces have occupied a remote planet, ruling with an iron fist and ruining the lives of its people.  The clever and motley crew of the starship Ghost is amongst a select few who are brave enough to stand against the Empire. Together, this ragtag group will face threatening new villains, encounter colorful adversaries, embark on thrilling adventures and become heroes with the power to ignite a rebellion.
Scheduled to premiere in the fall as a one-hour special telecast on Disney Channel, it will be followed by a series on Disney XD channels around the world.
For the latest news on #StarWarsRebels, follow @DisneyChannelPR and @StarWars on Twitter.