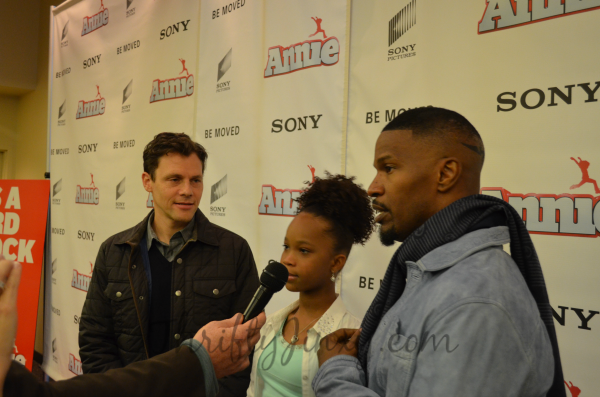 It seems we have been waiting a looooong time for ANNIE to finally arrive in theaters, which it will do next week on December 19th. The new version of the classic stars Jamie Foxx, Quvenzhané Wallis and Cameron Diaz. I had a huge treat early this fall when Sony Pictures invited me to a special press event in Minneapolis to meet Jamie Foxx, Quvenzhané Wallis and director Will Gluck.
There were two reasons this event was extra special. The first is that it was the first screening in the world of ANNIE. The second is that it included a HUGE surprise for members of the local Big Brothers, Big Sisters of the Greater Twin Cities. While the kids all thought they were just going to see a very early screening of the movie, they were actually treated to an introduction by Jamie Foxx, Quvenzhané Wallis and Will Gluck themselves! Check out this short video clip from ET.
Before the screening, two of my local blogging buddies Marybeth of BabySavers.com and Kim of MommySavers.com and I had a chance to meet Jamie, Quvenzhané and Will and ask a few questions.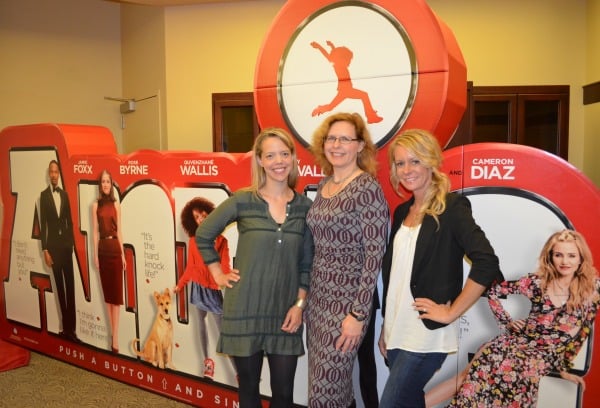 Jamie spoke about why he wants to give with events like this. He said that by having kids see someone like Quvenzhané they can see themselves in her and teach them that no matter what your dream is, you should never give up on it.
Quvenzhané told us what it was like working with Jamie and (with only a "little" prompting from him) told us, "He's funny…….and handsome…..and really nice." She also said that when she found out she got the role of Annie she jumped up and down and started screaming right on the side of the road where they got the call.
Will Gluck summed things up by saying the reason Annie makes a rest story is because it has a great message about trying to find your families – no matter what you think your family is.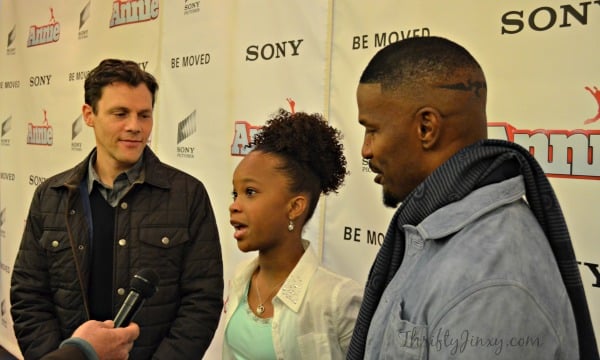 Academy Award® nominee Quvenzhané Wallis (Beasts of the Southern Wild) stars as Annie, a young, happy foster kid who's also tough enough to make her way on the streets of New York in 2014.  Originally left by her parents as a baby with the promise that they'd be back for her someday, it's been a hard knock life ever since with her mean foster mom Miss Hannigan (Cameron Diaz).  But everything's about to change when the hard-nosed tycoon and New York mayoral candidate Will Stacks (Jamie Foxx) – advised by his brilliant VP, Grace (Rose Byrne) and his shrewd and scheming campaign advisor, Guy (Bobby Cannavale) – makes a thinly-veiled campaign move and takes her in.  Stacks believes he's her guardian angel, but Annie's self-assured nature and bright, sun-will-come-out-tomorrow outlook on life just might mean it's the other way around.
ANNIE will be coming to theaters every December 19th 2014.