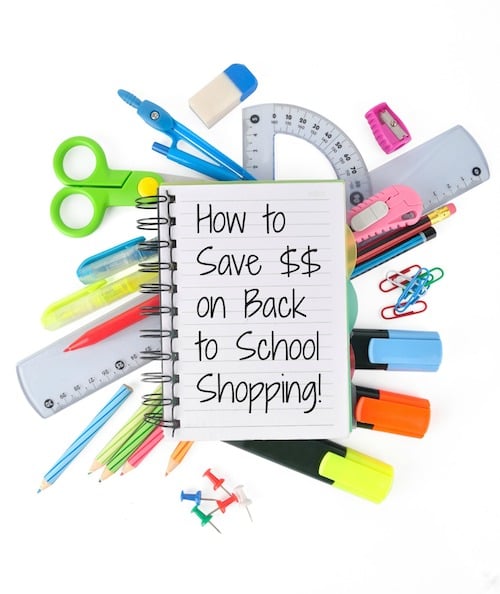 With all the things kids need for school it can put a real damper on your wallet.  Check out these tips for how to save money on back to school shopping and find some ways to keep costs down and save a few bucks on all things back to school!
Hold Off – If your child can wait till after the 1st week of school to get that new lunch box then WAIT!  You can catch some great after sales after the school year starts!
Shop Around – Keep your eyes open for all the weekly sales ads.  One store may offer you 50 cent folders and another 10 cent crayons.  Go over the list of things you need and find which stores are offering the best deal for each product. To save on gas money try shopping at a store that does price matching!
Stick to the List – Before school starts or the first few days of school the teachers give out the list of all the supplies your child will need for the year.  Stick to this list.  There are tons of other cute items that tempt you to get them but stay away.  They will most likely not get used and be a waste of money.
Tax Free Weekends – If you're lucky, you live in a state that doesn't charge sales tax on clothing, like ours here in Minnesota.  If you're not so lucky, there are many states that offer tax free days close to when school is getting ready to start back up.  Shopping on these days can help save quite a bit on those school supplies and clothes.  Check out the Sales Tax-Free Holiday Dates here
Check the Quality – It is easy to just grab the cheapest folder but if you don't check the quality then you will likely be back in a few months picking up a new folder.  Be sure to get the best deal on price and quality so your not using money to replace poor quality products all year long.
Clothes – Check out thrift stores for polo shirts and other school clothes. Stores like Gap Kids, The Children's Place and Old Navy often rotate their merchandise.  Ask when each store when they mark down their items so you can get the deals.  You could also set up a clothes swap with other moms in your area.  Chose a time, date and location for a group of moms to get together to trade their kids gently used school garments.  Set a rule like bring 5 items take 5 items to make it fair  for each person.  Don't forget to check out yard sales for some good deals as well!
Take your time when doing your back to school shopping.  Spread it out.  Don't rush to do everything in one day and stress yourself out.  Carefully plan your trips based on sales and coupons and relax.  It is always a good idea to by extras of the items you know you will need to replace later in the year.  Buy them now while they are on sale and save yourself from having to pay full price to replace them later!
What other tips do you have for your back to school shopping?
Disclosure: This post contains affiliate links that help support our site with no additional cost to you. See our complete disclosure policy here.