The Marvel Cinematic Universe has Lots of fans. Rachel McAdams has LOTS of fans. In one week those two fandoms will come unite as Rachel joins Marvel as Dr. Christine Palmer in Doctor Strange, in theaters November 4th.
I first loved Rachel McAdams in Mean Girls and more recently in Spotlight (SUCH a great movie). And, when I first announced I would be interviewing her, I heard from a LOT of fans of The Notebook. Plus, I could go on and on listing all the other movies she has been in, but lets get on to the interview!
Our group of 24 bloggers and I were all very excited to meet Rachel and I think she was excited to see that we were so excited. It put a big smile on her face as she walked into the room to a big round of applause. We got right down to questions and this is a bit of what Rachel had to say….
About Joining the Marvel Cinematic Universe

Rachel said teaming up with Marvel was everything she had hoped for and more. "I assumed I would be working with the crème de la crème, and I was. It was just great to be in such great hands…. Everything was so well done, so beautifully thought through and well-crafted. And they didn't even make me pretend that much with green screen."
Was Rachel a Marvel Fan Prior to Joining Doctor Strange?

Rachel's answer to this question echoes the reason I think Doctor Strange will appeal to a lot of people, especially women, who haven't already become a fan of Marvel's movies. Rachel said, "I hadn't read the Dr. Strange comics growing up. I was reading Judy Blume and stuff like that. I've since educated myself. I think the Dr. Strange ones are so different from other comics, which is nice. I love the movies, but I hadn't read a lot of the comics."

How Did Rachel Prepare for her Role As a Doctor? 

Rachel said she is a bit squeamish when it comes to blood and guts, but her mother is a nurse so she grew up around medicine. To prepare for her role, she shadowed surgeons in Toronto and London. There was also a surgeon on set every day. "He taught me to do sutures and was practicing on oranges and raw turkey breasts."
On Wearing Scrubs vs. a Superhero Costume

I loved it and was so comfortable. I got to wear orthopedic running shoes every day." She contrasted that to roles wearing high heels and the discomfort that brings. "I was really grateful for that. I was a little jealous of the levitation cloak, but I was happy to be comfortable." When asked if she had tried on the cloak she said, "No, you couldn't touch that thing. Sacred cloak. No, I just got to look at it."

Which Super Power Does Rachel Wish She Had?

"I would like to be invisible because I'd love to go into people's houses and see their interior decorating." She asked us, "Don't you guys, like when you're driving at night and you can kind of see through the window and you think, 'Oh that looks so cozy in there. I wish I could get a free pass.' Yeah, so that's probably the one I'd pick. I'd be a total creeper." – – – – That answer made me love Rachel even more.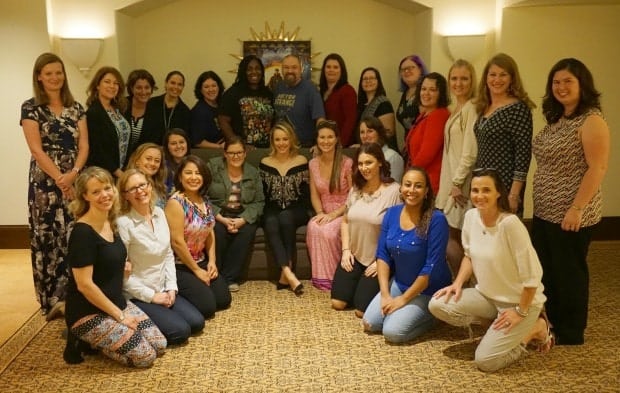 There's only one more week until you can see Rachel McAdams as Dr. Christine Palmer in Doctor Strange, in theaters November 4th. Pre-order your tickets now! Seriously, even if you have never seen or liked a Marvel movie before (I know who you people are), SEE Doctor Strange – you'll love it.
Like DOCTOR STRANGE on Facebook: https://www.facebook.com/DoctorStrangeMovie
Follow DOCTOR STRANGE on Twitter: https://twitter.com/DrStrange
Follow Marvel on Instagram: https://www.instagram.com/marvel/  
Visit the official DOCTOR STRANGE website here: https://marvel.com/doctorstrange
DOCTOR STRANGE opens in theatres everywhere on November 4th!