Stock your fridge or freezer and prepare dinner ahead of time to have this hearty Make Ahead Southwestern Shepherd's Pie any night of the week.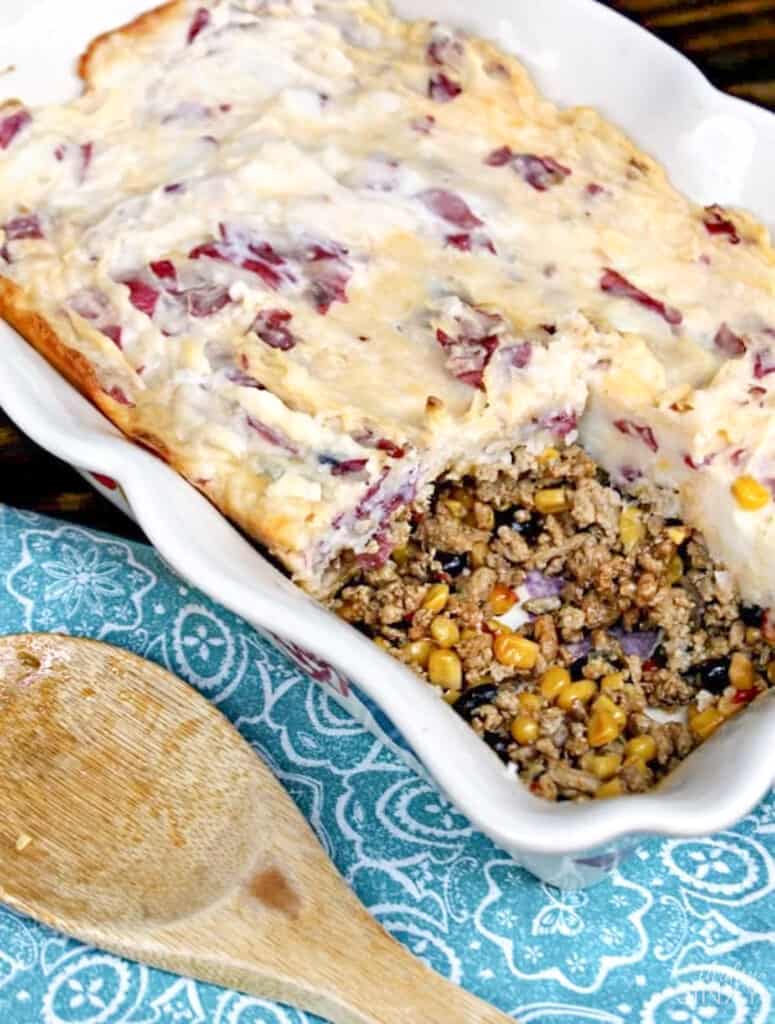 I have a love-hate relationship with the holidays. I love the twinkle of the lights on the tree. I love scoring the perfect gift at a discount. I love having my family around me on Christmas morning.
What I don't love is being torn in a million directions. There doesn't seem to be enough time in the day to shop, wrap, cook, entertain, etc.
A Stress-Free Holiday Season
So, I am on a mission to tackle the holidays smarter, not harder. I am going to make the holidays easy for a stress-free season. For my gift shopping, I am doing most of it online.
There is nothing worse than standing in those long lines at the stores this time of year. Besides, they frown upon you wearing your pajamas while you shop! This way, I hit a few buttons, whip out my debit card and the UPS man brings me my package in a few days.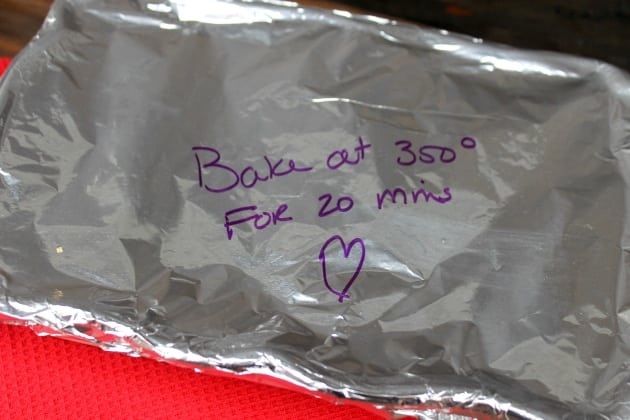 When it comes to cooking and entertaining, I have that covered as well. I plan to do my grocery shopping at my local Knoxville Save-A-Lot. Not only do they have everything I need to make our favorite dishes, but I can save up to 40% everyday!
Now that is a smart way to manage my holiday budget! And with their Save-A-Lot Smart Shopper Club, you will get amazing recipes, clever kitchen hacks and entertainment tips delivered to your in-box!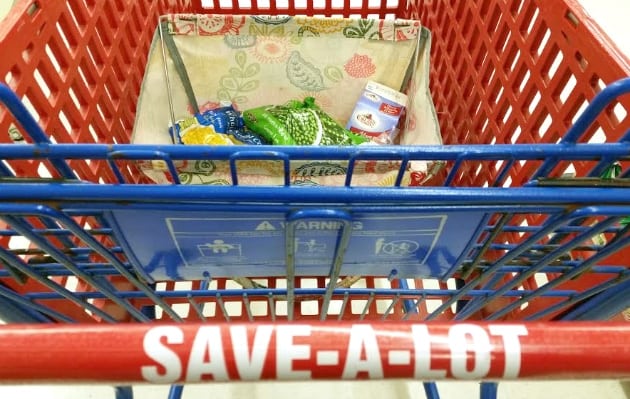 Save Time With Make Ahead Meals
When I was growing up, our house was the hub of activity during the holidays. Mom did a LOT of cooking and baking from Thanksgiving to Christmas. Instead of making each dish individually, mom would make several dishes at once.
Then she would label and date them and refrigerate or freeze them until it was time to serve the meal. She was able to save time with make ahead meals. This gave her more time to spend with her family and friends.
I have followed mom's tradition of make ahead meals during the holidays. I will spend all day Sunday cooking and baking, labeling, dating and freezing.
Then, when we are ready to eat, or have a function to attend, we just grab a dish from the freezer and we are good to go. One of my favorites is my Make Ahead Southwestern Shepherd's Pie Recipe.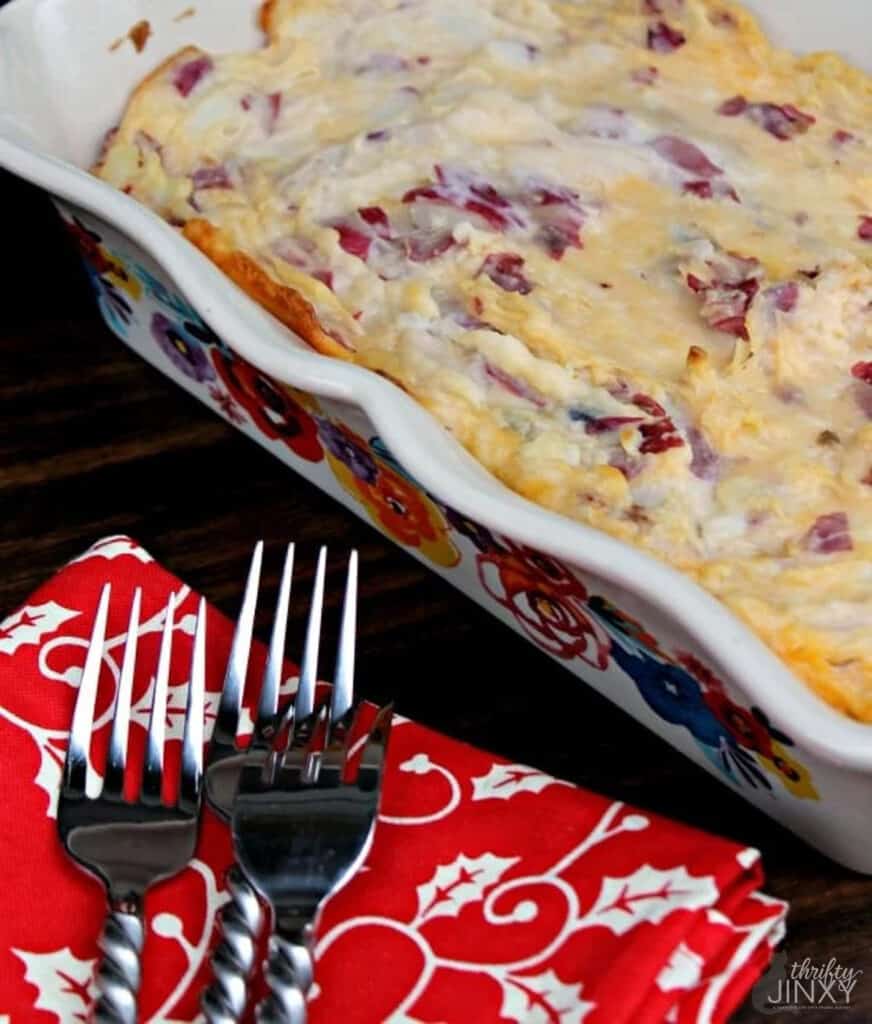 Save Time And Money With Sav-A-Lot
I have so many reasons I love to shop with Sav-A-Lot. The stores are smaller, so I can get my shopping done in less time. The staff is always friendly and often go out of their way to help me.
They offer their own exclusive brand as well as national brands. They offer fresh cut meat in-store every day and high quality fresh produce. You can shop for high quality food and household needs, with prices well below the other retailers.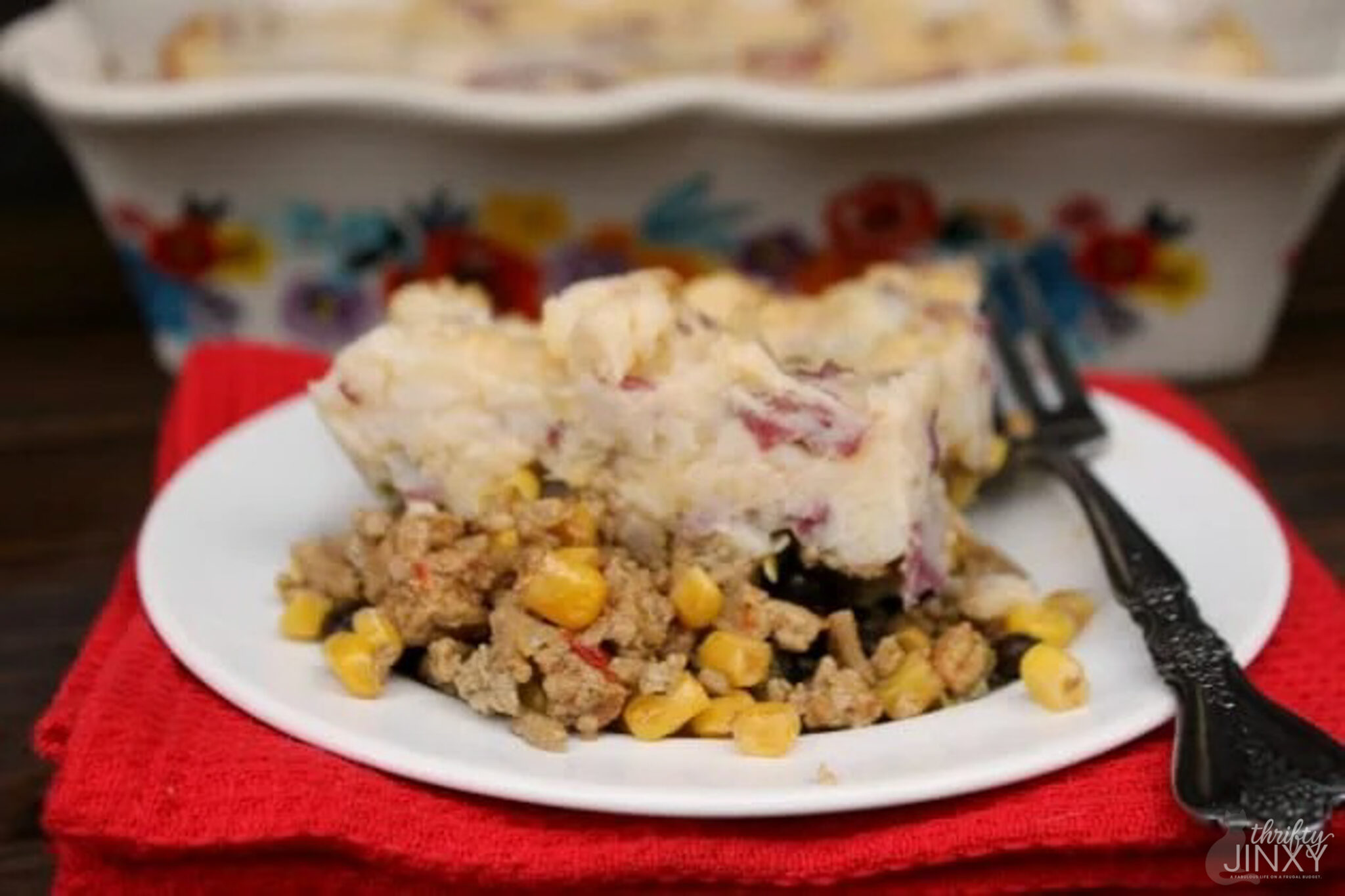 When I was shopping for the ingredients for my Make Ahead Southwestern Shepherd's Pie Recipe, I finished my shopping in 15 minutes and spent less than $15. Because my Make Ahead Southwestern Shepherd's Pie Recipe serves eight, that comes out to less than $2 per person! (of course, prices will vary by location.)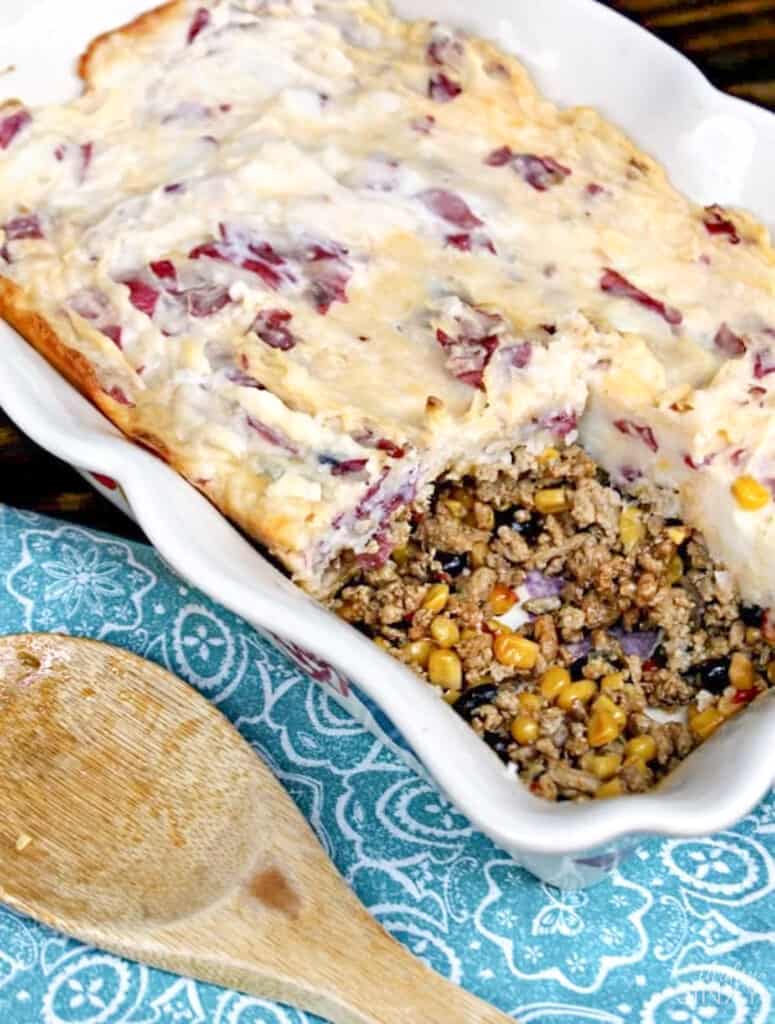 Make Ahead Southwestern Shepherd's Pie Recipe
This Make Ahead Southwestern Shepherd's Pie Recipe is perfect because it is so versatile. You can tweak it to fit your families taste or dietary restrictions.
If you are a vegetarian, just replace the protein with lentils and the chicken stock with vegetable stock. If you want it less spicy, just leave out the taco seasoning.
Not a fan of corn or peas? Carrots and green beans work great with this recipe. Just have fun and don't stress!
PIN IT ON PINTEREST: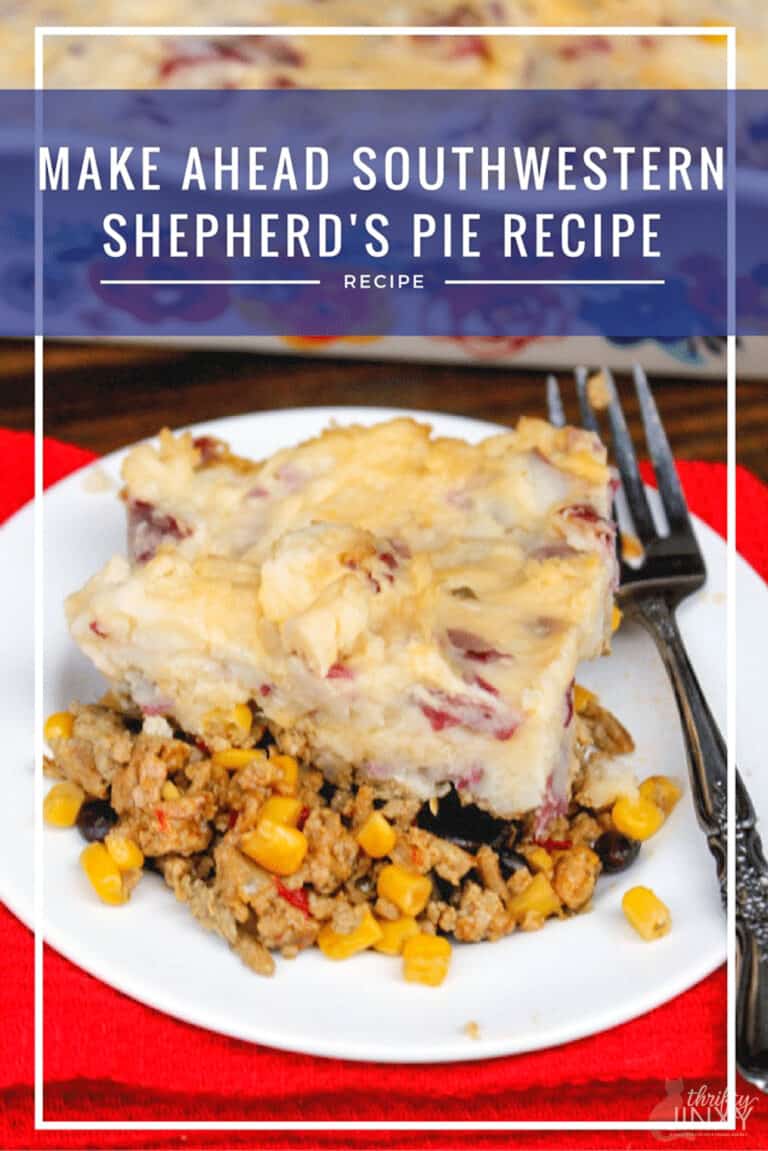 Yield: 6
Make Ahead Southwestern Shepherd's Pie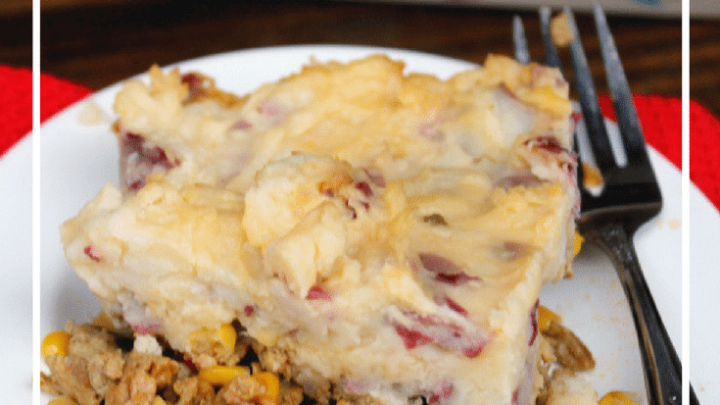 Stock your fridge or freezer and prepare dinner ahead of time to have this hearty Make Ahead Southwestern Shepherd's Pie any night of the week.
Ingredients
1 pound ground turkey, beef or pork
1 pound red potatoes
1 small bag of frozen peas
1 small bag of frozen corn
1 green pepper, chopped (optional)
1 red pepper, chopped (optional)
1 can of black beans (optional)
1 small yellow onion, chopped finely
1 tablespoon minced garlic
1 tablespoon olive oil
1/2 cup heavy whipping cream
1/2 cup chicken stock, divided
One packet of taco seasoning
salt and pepper
Instructions
In a medium pot, add potatoes and cover with water, bring to a boil and them simmer for 20 minutes, or until fork tender. Drain and return to pot.
Add cream, salt and pepper to taste and 1/4 cup chicken stock. Mash to preferred consistency.
In a large skillet or dutch oven, heat olive oil. Add onion and garlic. Cook until translucent. Add ground protein. Cook thoroughly. Reduce heat.
Add remaining chicken stock and taco seasoning. Next, add peas, carrots and black beans and peppers. Cook until frozen vegetables are tender. Remove from heat.
Grease a 9x12 casserole dish. Add meat/vegetable mixture. Top with potatoes. Cover with foil. Keep refrigerated until ready to serve.
Preheat oven to 350. P
lace casserole in oven and bake for 20 minutes, or until potatoes begin to brown. Serve immediately.
Nutrition Information:
Yield:
6
Serving Size:
1
Amount Per Serving:
Calories:

540
Total Fat:

28g
Saturated Fat:

10g
Trans Fat:

0g
Unsaturated Fat:

15g
Cholesterol:

128mg
Sodium:

522mg
Carbohydrates:

38g
Fiber:

7g
Sugar:

6g
Protein:

34g
Nutrition is calculated automatically and may not be accurate.
What is your tip or hack for a hassle free holiday? I would love to hear in the comments below!