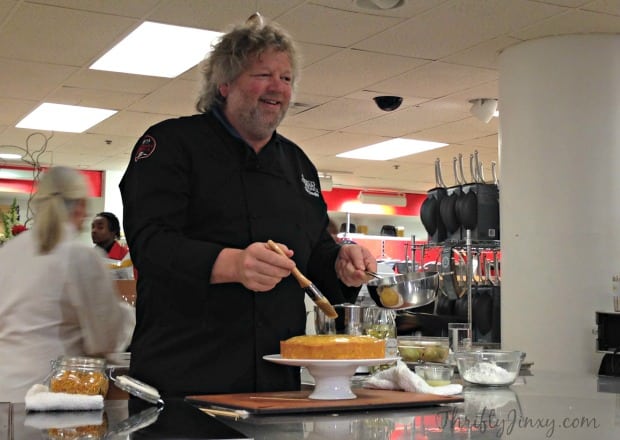 Last week I had a chance to visit with Chef Tom Douglas, a member of the Macy's Culinary Council, before his cooking discussion and demonstration at Macy's Downtown Minneapolis. I was in for a treat, because not only is Tom an amazing chef (which I can vouch for first hand after tasting several of his dishes during the demo), but he is a super nice guy who was a pleasure to chat with.
Tom Douglas is the Seattle based chef known for cooking global cuisine with regional ingredients. Along with his partners Jackie Cross and Eric Tanaka, he owns of many different culinary-based businesses including: Dahlia Lounge, Etta's, Seatown, Rub with Love Shack, Palace Kitchen, Lola, Serious Pie, Serious Biscuit, Dahlia Bakery, Trattoria Cuoco, Brave Horse Tavern, Assembly Hall Juice and Coffee, TanakaSan, and Home Remedy. His company also runs runs a catering business, an event space, and the Rub with Love product line. They even run Prosser Farm which produces organically grown produce for the restaurants. Tom is also a 3-time James Beard Award Winner and the author of four cookbooks.
I spent some time before the Macy's Culinary Council event to talk with Tom Douglas. Here are a few of the things he shared:
Did you cook growing up with your family?
I did, but I was the only one. I found out I was the birth control of my family. My dad was a traveling salesman who left Monday morning and came home Friday night. The bedroom door was always locked on Saturday morning. I started cooking and I would make breakfast. I would knock on the door and get this "Go away " and would knock again. It turned out I stopped having siblings. I have six sisters and a brother, but after that, I was the last sibling.
Which was your fist restaurant?
The first restaurant my wife Jaqueline and I owned was the Dahlia Lounge., which celebrated its 25th anniversary back in November. For years we didn't think it was going to celebrate its 1st anniversary or its 2nd anniversary, but then it came around.
What do you find to be the biggest challenges when starting a restaurant?
There are always different challenges, like the state of the economy. Six months after we opened, George Bush Sr. came out and said, "Yeah, we are in a recession." And we were feeling it already in the restaurant industry. There are the trends of the day – whether fine dining is hot or not. There is also location. We were doing it solo right in downtown urban Seattle with the drug dealers and all the things that go along with that, like putting a stick in the dumpster every night before dumping it to make sure no one was in there – a very urban atmosphere.
It has changed a bit now. Macy's is just two blocks away from my core. All 15 of my restaurants are within 10 blocks of each other. People continued to be afraid of coming down there so we created our own energy field there. Restaurants are like car lots – the more you put around each other, the better the energy field.
Do you still cook for yourself at home after long days working?
I do especially more now than ever because during this season my wife is spending three days at the farm so I find myself being a bachelor three nights a week now.
What do you cook when it is just you?
At least two of those nights I'll eat out, but the third one I will cook. I'm constantly trying things. We're in the food manufacturing business – we have a soup line, a protein line, sauce line, spice rub line – so I find myself constantly running out to the store to pick up things that are in my wheelhouse, like maybe something somebody else is doing to compare our products to other products. My wife hates that. She is organic. She doesn't eat anything trashy. I love a good barbecue potato chip, so that is when I try those things.
What are the things you keep on hand to cook? What are five things you keep on hand?
I have a fridge freezer and one half of the fridge is wine – white, red, rose is a must. Then I keep a small freezer section with things that are quick thaws like lamb racks, spicy Italian sausage, a couple of rabbits, duck fat, veal breast. Right now I also have a beautiful Muscovy duck in there I am trying to figure out when I am going to have. I'm a big veggie guy too – I love veggies – so I am a meat AND vegetable guy. I will make a big pile of whatever like broccoli rabe or another leafy green.
If people are coming over unexpectedly, what do you like to throw together?
I like a big butterflied leg of lamb. I just butterfly it out, put my Bengal Masala spice rub on it, drain some yogurt and put some cucumbers in it so I have a little raita and that is my go-to, quick supper for a gang. That will feed ten.
Find out more about the Macy's Culinary Council here!