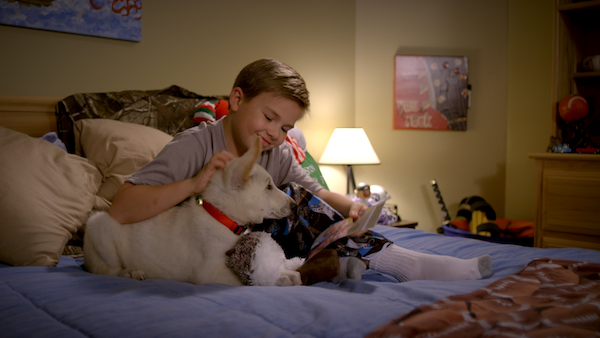 An Interview with A Belle for Christmas Star Jet Jurgensmeyer
I love, love, love Christmas movies! And I know I'm not the only one who does. Yesterday I had a chance to interview young Jet Jurgensmeyer who plays Elliot in A Belle for Christmas, which also stars Dean Cain, Kristy Swanson and Haylie Duff. Jet told me that he also loves Christmas movies and also shared a bit about what it was like making this heartwarming holiday film.
What was your favorite part about filming A Belle For Christmas?
Getting to see my friends because I have worked with Connor [Berry] and Avary [J. Anderson] before. Kristy [Swanson] is a really good friend of my family. Getting to do all sorts of funny scenes in film was fun too. I like everything about it. It's a great film.
How did you get cast in the role of Elliott?
My parents were producers on it so I got the part from them.
How did you prepare for this role? Did your parents help you?
Yes ma'am (side note – I love that he uses ma'am!). They helped me prepare for it. Every part whether it is an audition or call back or going to film, they always help me prepare. The first day of shooting we had to to the crying scene. When I had to do that they just sat me down and talked to me and helped me so I could do it.
What was it like to work with Dean Cain?
It was awesome getting to work with him! It's Superman really. All the kids called him Superdad. Every time I see him, he does this trick where he says "You have something on your shirt." Then when I look down he'll hit my nose. He does it to me more than once when I see him. I need something to tell me not to look down. Every time I will still look down and he'll do it.
Is there anything else funny that happened on set?
The lady that gets the cheesecake thrown all over her was actually my mother, so it was funny getting to have that happen. The plumber was my dad. I think when Kristy sneezes her apple cider it's hilarious.
What is your favorite holiday movie?
My family and I watch Polar Express and have hot chocolate. Ever since I first saw it, I thought I wanted one of those robes. We were someplace and saw a robe that matched the boys' robes in the films, so every time I would watch it I would put on that robe.
What is your favorite holiday tradition?
Just hanging out with my family and friends. I love doing that kind of stuff. Opening presents and getting a bunch of cool presents is one of my favorite parts of chrstimas. When we go to my grandparents for Christmas, we do it from youngest to oldest. I'm second – my cousin, Ben, and then me.
Do you have any other projects coming up?
Starting in November in Alabama we'll be filming Woodlawn, a football movie about Tony Mason, who played for the Miami dolphins in the NFL.
Who will you be playing in the film?
His high school coach's son.
Why do you think everyone should see A Belle for Christmas?
I think it is a really good family movie and its about Christmas – who doesn't love Christtmas movies?!? The dog is so cute in it. It's one that the whole family can love. You just sit down, kick back, relax and watch the movie.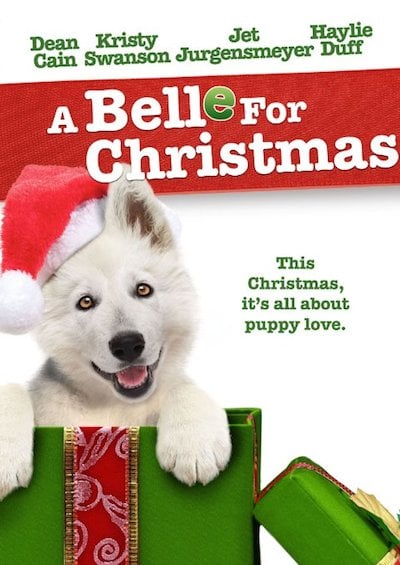 Just in time for the holidays, Anchor Bay Entertainment brings home A Belle for Christmas, an uplifting comedy about family, friendship and a four-legged holiday miracle. The film, starring Dean Cain (The Dog Who Saved the Holidays, "Lois & Clark: The New Adventures of Superman"), Kristy Swanson (Big Daddy, Buffy the Vampire Slayer), Jet Jurgensmeyer (The Little Rascals Save the Day), and Haylie Duff (Material Girls,), will be making it's national retail debut on November 4, 2014.

Dean Cain stars as Glenn Barrows, a recent widower doing his best to raise his young kids Elliot (Jet Jurgensmeyer) and Phoebe (Meyrick Murphy) who really miss their mom. When the Barrows adopt an adorable puppy named Belle during the holiday season, it seems that their healing may have begun. But will Glen's dog-hating, gold-digging new girlfriend (Kristy Swanson) spoil their newfound happiness, or can Elliott and Phoebe pull off a daring Christmas Eve rescue of their beloved new pet? Haylie Duff co-stars in this fun-filled furry family comedy that will warm hearts just in time for the holidays.
Reader Giveaway: One lucky Thrifty Jinxy reader will win their own copy of A Belle for Christmas on DVD. To enter, just complete the entry form below by 11:59pm ET on 11/26/14. Good luck!