This Grilled Corn and Shrimp Salad Recipe makes the perfect summer main dish or serves up nicely alongside your favorite BBQ dishes.
With hot summer days, a yummy, filling cold salad hits the spot for lunch or dinner. What's even better is when you don't have to heat up the kitchen to make it. With this Grilled Corn and Shrimp Salad recipe you make the corn on the grill outside and use pre-cooked shrimp to make a delicious salad that is satisfying as a main dish or can be served alongside your favorite BBQ foods.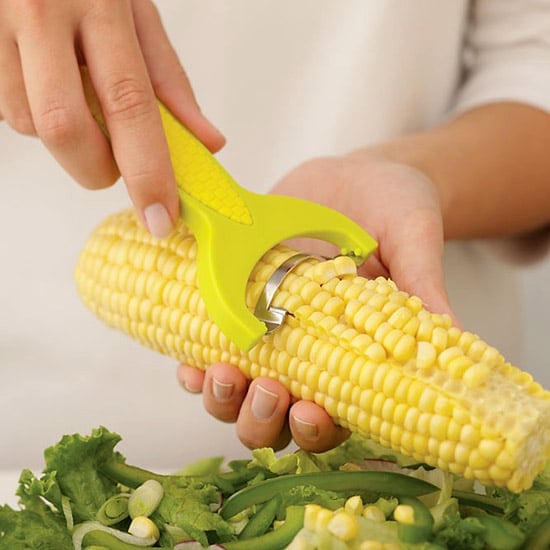 Once you grill the corn for this recipe, you need to remove it from the cob. While you can use a sharp knife to do it, the process is MUCH more quick and easy if you use a corn zipper. It unzips multiple rows of kernels at the one time, cleanly and safely off of the cob. It's safer and more fun than using a knife. Let's get to the recipe!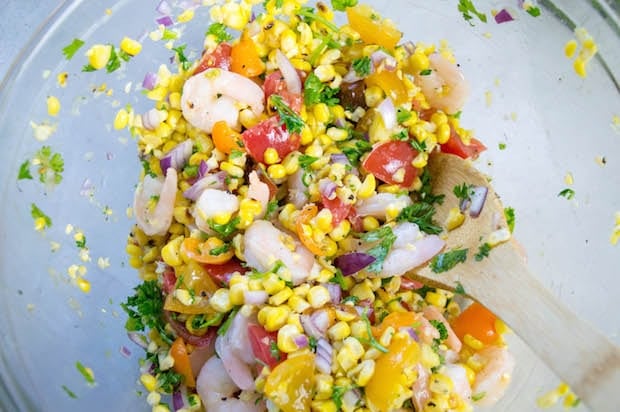 Grilled Corn and Shrimp Salad Recipe

Ingredients:
3 large cobs of corn, husk removed
½ pound medium cooked shrimp, deveined and tails removed
½ pint grape tomatoes, halved
½ -1 jalapeno pepper, seeds removed, finely diced
¼ cup red onion, finely diced
¼ cup cilantro, finely diced
¼ cup parsley, finely diced
½ cup cucumbers, roughly chopped
2 tablespoons olive oil
Salt and pepper to taste
3-4 teaspoons lemon juice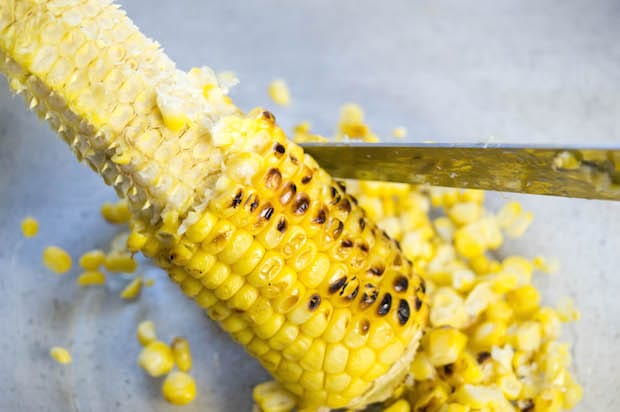 Directions:
1. On a grill over medium high heat, place corn directly on grill. Cook for 10-12 minutes, rotating every few minutes until all sides are a bit charred.
2. In a large bowl, gently scrape sides of corn with a knife or corn zipper, cutting off kernels into the bowl. Repeat process for all three stalks. Discard the center of the stalk.
3. Add in additional ingredients to the bowl. Gently fold all ingredients together. Cover and refrigerate at least an hour before serving, so flavors can fuse together.