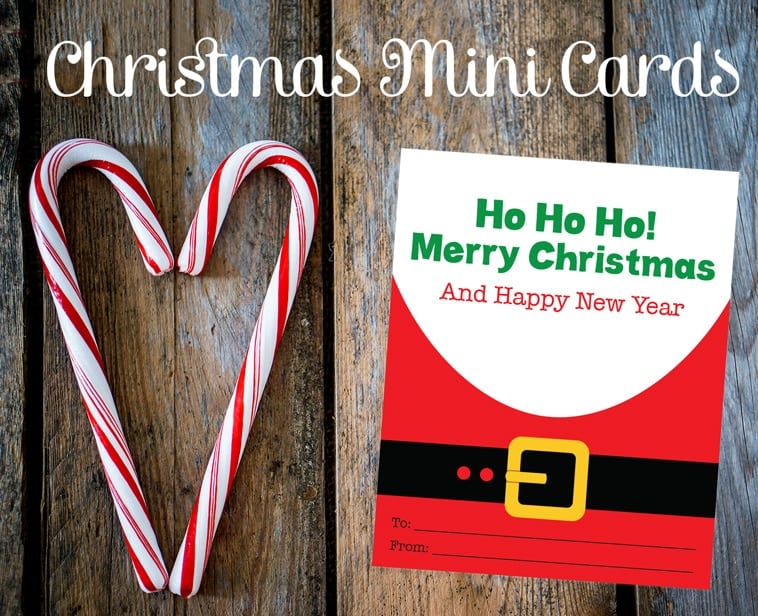 The Christmas season is upon us!! I am one of those people who likes to hold off on all Christmas decorating, celebrating, etc until AFTER Thanksgiving. I understand that stores want to get things on the shelves early so that people start buying and for all those people who decorate on Thanksgiving weekend can have their items purchased already.
But, for ME all that waits until after Thanksgiving – including the majority of what I post here at Thrifty Jinxy. (Although agreements with sponsors sometimes necessitates a bit of early Christmas posting!)
Now that I have given myself the "green light" to start posting all things red and green for the holidays, we are starting with these super cute little Free Printable Mini Santa Cards. They are perfect for classroom exchanges, adding to a gift of homemade goodies, or just for remembering people in your life who help you often – teachers, delivery guys, hairdressers, etc. I love the cute Santa design. There is even a spot to write "to" and "from" making them great to use as gift tags as well.
Just click on the Free Printable Mini Santa Cards image above to print. Any paper will do, but we recommend a thicker card stock to make them sturdy.
For more Santa fun, grab these free printable Santa gift tags!