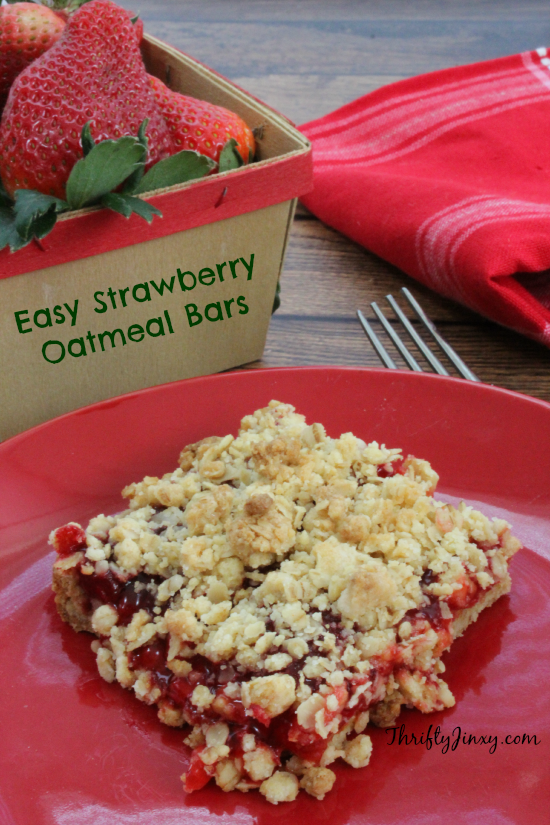 I am envying those of you across the country who already have strawberries in season!  It will still be quite some time before we have fresh berries locally.  The good think about this Easy Strawberry Oatmeal Bars Recipe is that even if you don't have strawberries in season, you can make it with a can of strawberry pie filling.

Easy Strawberry Oatmeal Bars Recipe

INGREDIENTS
1 box Yellow Cake Mix
2 1/2 cups Quick Oats
3/4 cup melted Butter
1 can Strawberry Pie Filling – OR – Fresh Filling (instructions below)
FRESH STRAWBERRY FILLING INGREDIENTS
1/2 cup mashed strawberries
1/2 cup water
1/2 cup white sugar
1 1/2 Tbsp cornstarch
2 tsp lemon juice
1/8 teaspoon salt
2 cups sliced strawberries
TO MAKE FRESH STRAWBERRY FILLING
Place mashed strawberries and water in a saucepan. Bring to a boil.
Reduce heat and simmer 3 minutes.
Strain juice from cooked strawberries and add enough water, if needed, to make 1/2 cup juice.
Discard strawberry pulp (or save it for a smoothie).
Combine sugar, cornstarch, lemon juice, and salt in saucepan. Add in strawberry juice.
Bring to a boil, stirring constantly, until clear and thick – about 4 to 5 minutes.
Remove from heat and cool slightly.
Stir in sliced strawberries.
TO MAKE BARS
Preheat the oven to 375.
Spray a 9×13 inch pan with non-stick spray.
Mix together oats, cake mix, and melted butter until it there is no more dry mix.
Press 1/2 of this mixture evenly into the bottom the prepared pan.
Spread pie filling evenly over the crust.
Sprinkle the remaining oat mixture on the top evenly.
Bake 18-23 minutes or until the top is lightly browned.
Cool before cutting into bars.