This delicious Easy Pork Tenderloin Recipe with Asian Slaw is quick and easy to make in under 30 minutes! Perfect for summer family dinners or entertaining.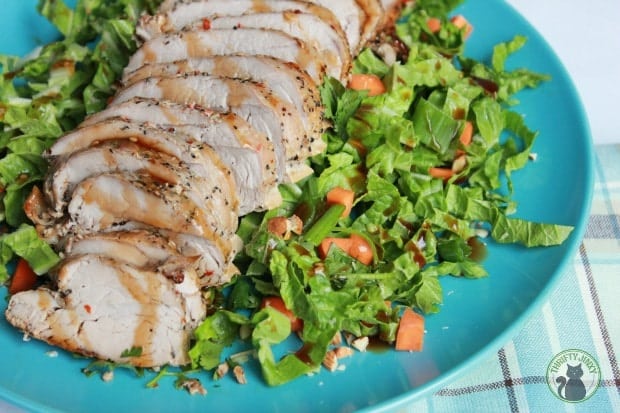 As the days continue to get hotter and we can see that summer is here (even if the calendar doesn't say so), I like thinking about new recipes for the summer months. Of course, I have a few old favorites that I either love to make or feel obligated to make every year, but it's fun to try something NEW, especially when it is delicious while still being quick and easy-to-make.
Even though summer is SUPPOSED to be the time for relaxation and kicking back, our summers usually end up being packed with activities and I feel like there is never enough time in a summer day, even with the sun going down much later at night. Between summer activities, sports tournaments, weddings, community festivals and all the rest of the fun, the basics like getting great meals prepared can start to slip by the wayside – and we do NOT want that to happen!
To make summer just as delicious as it is fun, I like to look for foods and recipes that don't take a long time to make and don't require a lot of fussy steps. Less prep times means more time to get outside and continue enjoying the summer with friends and family!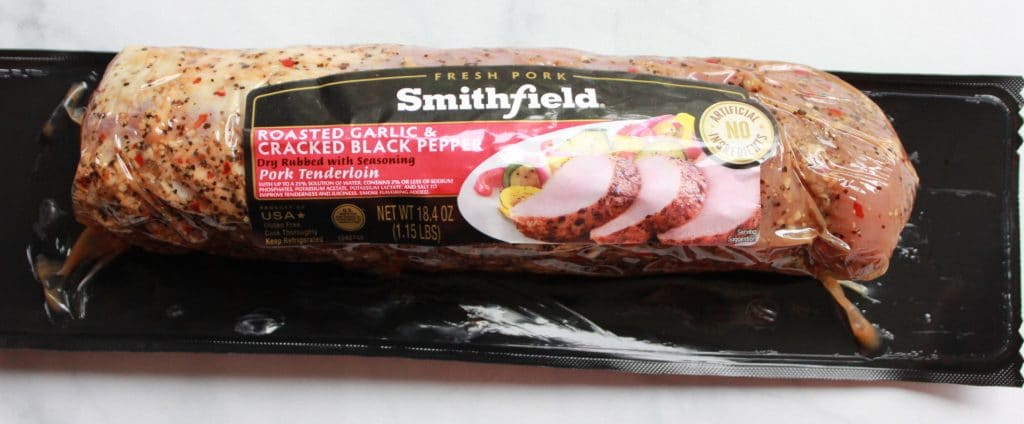 One way to cut down on that prep-time is to start with a meat that is already seasoned and ready to cook without any additional prep. The perfect example of this is Smithfield Marinated Fresh Pork, available at Safeway. For this recipe we started with Smithfield Roasted Garlic & Cracked Black Peppercorn Pork Tenderloin.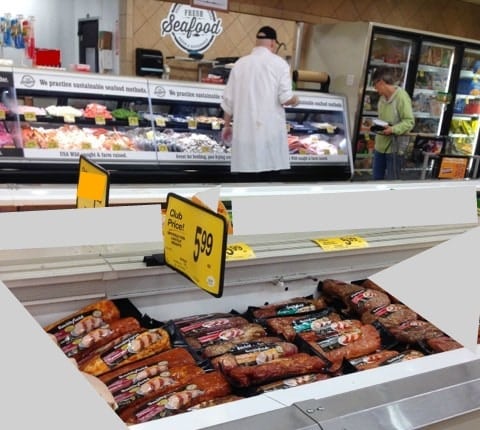 Four our recipe, we cooked the Smithfield Roasted Garlic & Cracked Black Peppercorn Pork Tenderloin in the oven, but you can choose to make it on the grill instead. For grilling, place tenderloin on a lightly oiled grilling rack over medium-high heat (400-450 degrees F). Close the grill lid and cook for approximately 20 minutes per pound or until a thermometer registers 160 degrees F internal meat temperature. Turn as needed to brown evenly.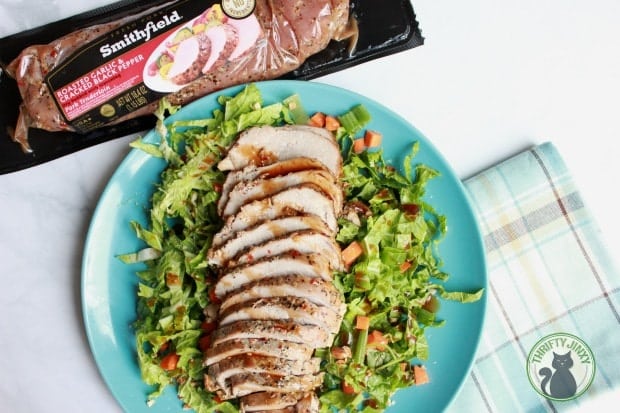 Easy Pork Tenderloin Recipe with Asian Slaw

Ingredients:
3 Tablespoons soy sauce
1/2 Cup sesame-ginger dressing
Smithfield Roasted Garlic & Cracked Black Peppercorn Pork Tenderloin
2 Cups of Napa Cabbage, chopped well
2 Tablespoons of Green Onion, chopped
2 large carrots, Chopped
1/2 Cup chopped fresh cilantro
1/4 Cup chopped almonds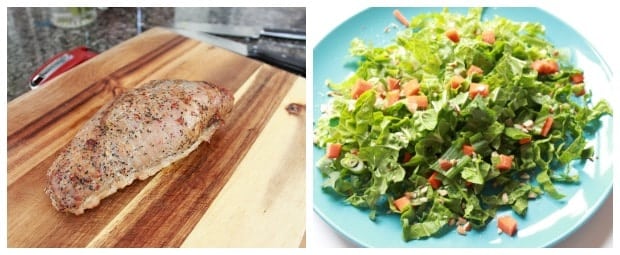 Directions:
Preheat oven to 450.
Bake the pork tenderloin for about 20 minutes – making sure the internal temperature reaches 150 degrees F.
Whisk together the soy sauce and dressing – set aside.
In a bowl, combine the cabbage, green onions, carrots, cilantro, and almonds.
Dress the salad with the soy sauce dressing (reserve about 2 tablespoons to put on the pork)
Place the salad on a plate and arrange sliced pork on top.
Drizzle the remaining dressing on the pork tenderloin.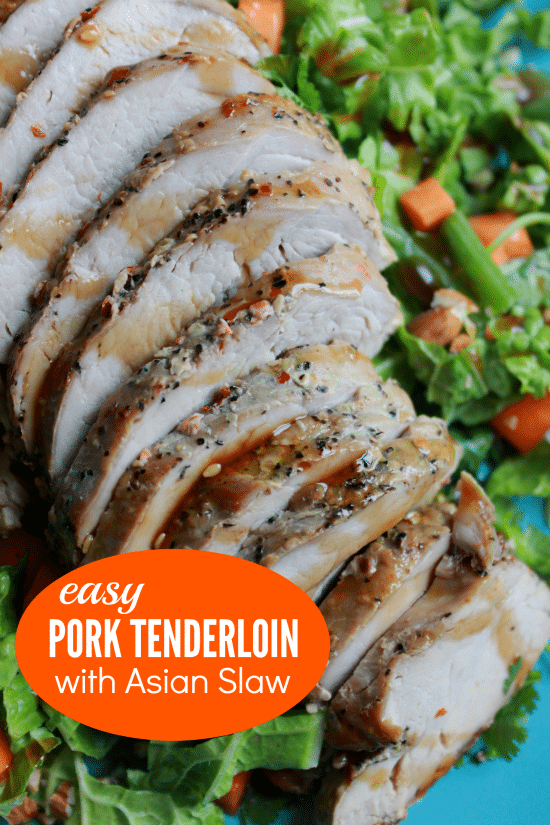 Smart Time-Saving Tip: While preparing the pork tenderloin for this recipe, place a second pork tenderloin in the oven at the same time. (You can choose this same flavor or another delicious Smithfield flavor like Applewood Bacon, Roasted Garlic & Herb or others.) Then, the following day you can slice the pork to eat in sandwiches, either cold or warmed on the grill or in the oven. That way you have a second meal ready to go with almost no prep time at all!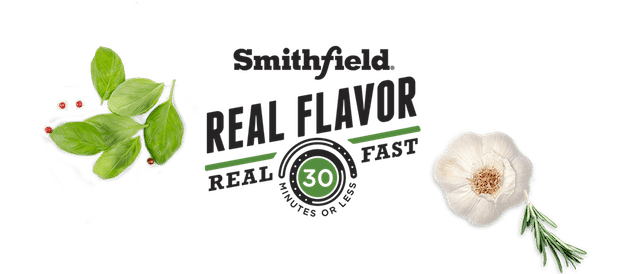 Are you ready to share your own recipe ideas? Smithfield is challenging you to see what you can do with Marinated Fresh Pork to prepare a flavorful meal in about 30 minutes with their "What Can You Do With 30?" meal and tip contest. For more 30-minute meal preparation ideas, and to submit your own original recipe for a chance to win great prizes (and to find more 30-minute meal preparation ideas) head to www.SmithfieldRealFlavorRealFast.com.