Decorate the cutest Easter Pie ever in only a few minutes when you start with a frozen pie and add on chocolate and candy.
Whenever we get together for holiday meals with the extended family, it's always a potluck type meal.
Each family brings a dish or two and the combined efforts of everyone all adds up to one delicious and FUN holiday meal!
Part of the fun of our get-togethers, is that no one really plans who will be bringing what.
So sure, that means that sometimes two people will bring meatballs – but at least they are each different recipes!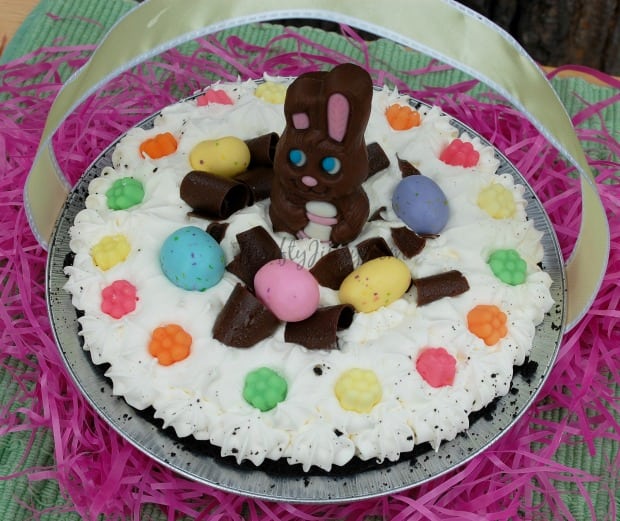 One of my favorite parts of these family get-togethers are the desserts. There will always be different types – from the simple to the fancy.
No matter what the desserts, the special touches that make them stand out are always appreciated.
This year I'm letting Marie Callender's give me a hand to make a special Easter dessert without a lot of effort on my part.
Marie Callender's has nine different cream pies that are waiting in the freezers of retailers nationwide for us to add a special ending to our holiday meals.
I let my hubby choose the pie this time and he selected the Chocolate Satin Pie. I'm glad I let him make the decision, because I couldn't decide between this pie, the Turtle Pie and the Coconut Cream Pie. They all looked so good!
For the candy, I just headed to the Easter aisle and grabbed some of our favorites. To create the handle of the easy Easter basket pie, I grabbed some wire-edged pastel colored ribbon.
Creating the pie was the fun part! The chocolate rabbit took his place in the center of the pie and then I played around arranging candies around the "basket". For the handle, I just taped the edges of the ribbon underneath the pie plate. Easy peasy!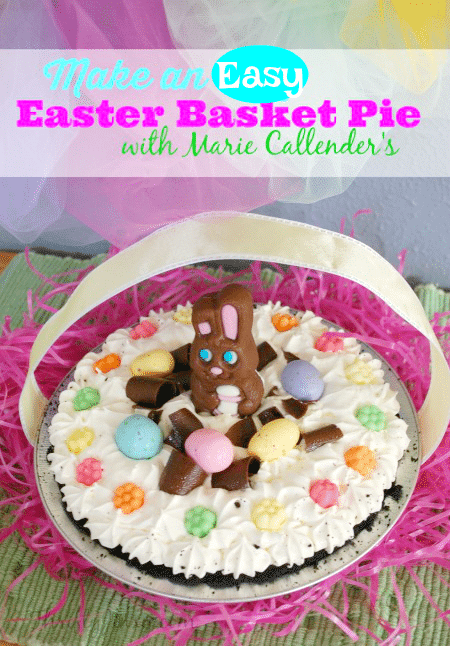 Now comes the hard part. Do I put this back in the freezer and bring it to my Aunt's house on Easter like I had planned, or do we eat it for dinner tonight? I think I'll go with eating it tonight.
This was so quick to make that I can easily swing by the store to pick up another Marie Callender's Cream Pie and create another one (or two) for Easter.