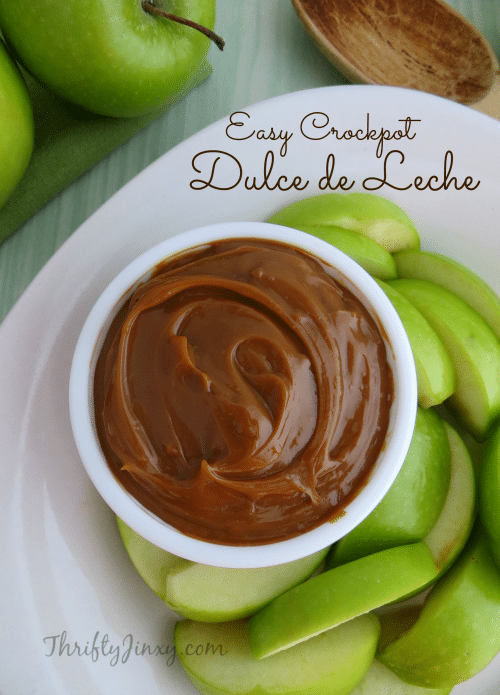 When it comes to something that is incredibly delicious, but also incredibly simple to make, I think it is really hard to top this easy Crockpot Dulce de Leche recipe! How simple is it? It only uses ONE ingredient!! That's right, all you need is cans of sweetened condensed milk – and a Crockpot of course!
If you have never tried dulce de leche before, you MUST! It's very popular in latin countries. My husband spent a month in Uruguay last fall and dulce de leche was EVERYWHERE! It's sold in jars in the store and there is lots of competition between various brands.
Dulce de leche is also very versatile! You can use it as a dip for apples, graham crackers or or pretzels. It makes a yummy topping for ice cream, cheesecake or pound cake. You can also stir into milk shake. For breakfast it makes a delicious crepe filling, or you can put it on pancakes or waffles. It's also perfect to drizzle over sliced bananas or grilled pineapple. So many options! Whatever you choose to do with it, you will appreciate how it easy it was to make!
Easy Crockpot Dulce de Leche Recipe
Prep Time: 5 minutes | Cook Time: 8 hours
Ingredients:
2-4 cans sweetened condensed milk (depending on size of crock pot)
a Crockpot
Optional: canning jars with lids and rings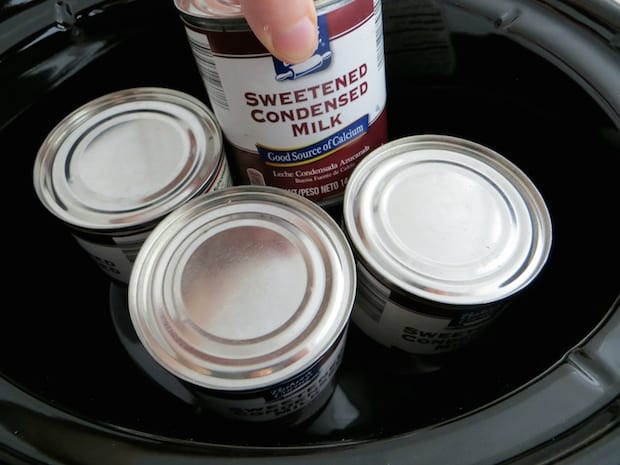 Directions:
Place unopened cans of sweetened condensed milk into crockpot and fill crock with water as full as possible so the cans are completely submerged. It's VERY important that no part of the can is out of the water during the cooking process. Cook on low for 8 hours. You may need to refill water if necessary.
Allow cans to cool on the counter until reaching room temperature before opening.
Optional if using canning jars: Before cooking, divide the sweetened condensed milk from cans into small canning jars. Close with lids and rings. Follow the same steps.
Tip: Store dulce de leche in the refrigerator. It's a fantastic dip for apples or use it as a topping for ice cream.