Downton Abbey is back, and this time, it's on the big screen! Millions of fans (including me!) are excited to find out more about the lives and loves of the Crawley family and their servants.
If you're planning to buy a gift for one of these Downton Abbey fans this holiday season or another time of year, we have some ideas for presents they will be thrilled to unwrap.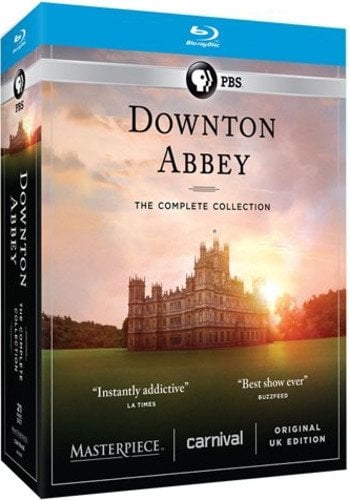 First off, the Downton Abbey Complete Collection Box Set is sure to be a hit because it will let them continue to watch the complete series as often as they would like. Not only does it include all 52 episodes, but it also has over 5 hours of brand-new bonus video! Bonus videos include: The Story of Downton Abbey; 7 Character Documentaries; Downton Abbey Creators Favorite Scenes; 9 Supercuts; Great Houses with Julian Fellowes; The Manners of Downton Abbey; and More Manners of Downton Abbey.
If you want to stoke the flames of their fandom, give them the thoughtful gift of something that lets them enjoy a small piece of their favorite show. It can be something subtle like a beautiful piece of jewelry in the Downton Abbey style or something that proclaims their love like a t-shirt or phone case. There are things to eat and drink like traditional marmalade or tea. They can decorate their tree with a Downton Abbey ornament or shore up their knowledge of the show with a book. Whichever items you choose, these Downton Abbey fan gift ideas should score you some major thank yous!

Downton Abbey Fan Gift Ideas
Downton Abbey: The Official Film Companion

The Official Downton Abbey Cookbook

Downton Abbey 2020 Wall Calendar

The Wit and Wisdom of Downton Abbey (The World of Downton Abbey)

Downton Abbey – The Ultimate Collection (Music From The Original TV Series)

Downton Abbey Coloring Book

I Love Downton Abbey Womens White Shirt

I'm Never Wrong Vintage Retro T-Shirt Violet Crawley Downton Abbey

Downton Abbey Inspired Necklace – Handmade

Republic of Tea Downton Abbey Estate Blend Classic Black Earl Grey Black Tea with Vanilla 36 Tea Bags

Garvey's Downton Abbey best Of British Traditional Organic Scone Mix, 9 Ounce

Downton Abbey Orange Marmalade United Kingdom 12 Ounce

Kurt Adler Downton Abbey Pull Bell Christmas Ornament

Downton Abbey Castle Ornament, 3.5-Inch

Downton Abbey

Downton Abbey Mug (Dowager Countess) Quote Fan Gift

Downton Abbey Silver-Tone Montana Blue Crystal Belle Epoch Pendant Necklace

Downton Abbey Gilded Age Gold-Tone Crystal-Studded Fan Earrings with Faux Pearls

Hasbro Gaming Clue: Downton Abbey Edition Board Game for Kids Ages 13 & Up, Inspired by Downton Abbey

WREBBIT 3D – Downton Abbey 3D Jigsaw Puzzle – 890Piece, Brown/A

Downton Abbey Compendium Set

Ravensburger 15034 Downton Abbey Movie 1000pc Jigsaw Puzzle,

Downton Abbey Board Game, Red

ZANGLUOJI Straight Outta Downton Abbey Heavy Duty Canvas Work Apron,Tool Pockets, Back Straps Adjustable