Well, the time has come that Downton Abbey has concluded its final season, leaving millions of fans missing the lives and loves of the Crawley family and their servants. If you're planning to buy a gift for one of these Downton Abbey fans this holiday season, we have some ideas for presents they will be thrilled to find under the Christmas tree.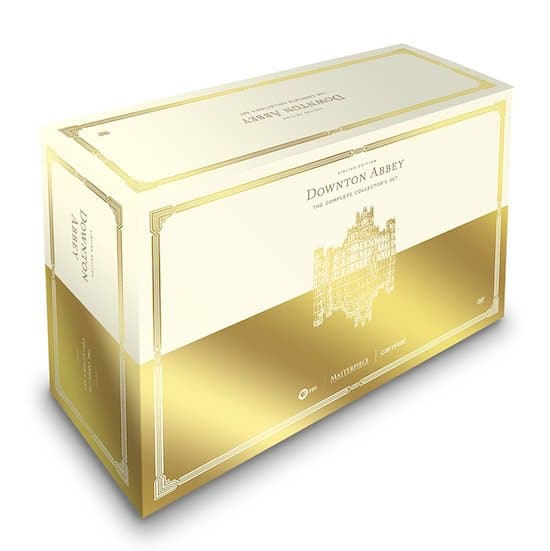 First off, the Downton Abbey The Complete Limited Edition Collector's Set is sure to be a hit because it will let them continue to watch the complete series as often as they would like. Not only does it include all 52 episodes, but it also has over 5 hours of brand-new bonus video! Bonus videos include: The Story of Downton Abbey; 7 Character Documentaries; Downton Abbey Creators Favorite Scenes; 9 Supercuts; and Great Houses with Julian Fellowes; The Manners of Downton Abbey & More Manners of Downton Abbey.
Masterpiece: Mr Selfridge – The Complete Series
Masterpiece Mystery: Inspector Lewis – The Complete Series
&
And, if they loved this PBS Masterpiece series, you might want to give them another series that may come to love just as much! Two that are recently released on DVD are Mr. Selfridge, starring Jeremy Piven, and the mystery-filled Inspector Lewis, starring Kevin Whately and Laurence Fox.
If you want to stoke the flames of their fandom, give them the thoughtful gift of something that lets them enjoy a small piece of their favorite show. It can be something subtle like a beautiful piece of jewelry in the Downton Abbey style or something that proclaims their love like a t-shirt or phone case. There are things to eat and drink like traditional lemon curd or tea. They can decorate their tree with a Downton Abbey ornament or shore up their knowledge of the show with a book. Whichever items you choose, these Downton Abbey fan gift ideas should score you some major thank yous!

Downton Abbey Fan Gift Ideas
Downton Abbey Traditional Lemon Curd
Gold-Tone Crystal Belle Epoch Emerald Color Navette Drop Necklace 

Downton Abbey 2017 Desk Calendar

Downton Abbey Flag T-Shirt

The Wit and Wisdom of Downton Abbey
Downton Abbey 2017 Wall Calendar

Gold-Tone Belle Epoch Red Stone and Crystal Drop Earrings

Women's Downton Abbey Cast T-Shirt

Lady Almina and the Real Downton Abbey

Downton Abbey Pull Bell Ornament
Black-Tone Belle Epoch Oval Filigree Bar Pin 

Foldable Umbrella with Downton Abbey Season  Design
Downton Abbey: A Celebration – The Official Companion to All Six Seasons
The Republic Of Tea Downton Abbey Christmas Black Tea
Downton Abbey Castle Ornament
Downton Abbey charm Bracelet Handmade Gift by Aunt Matilda
Angelinana Fashion Downton Abbey Tote Bag
Downton Abbey Customized Cover Case for iPhone 6 plus
Downton Abbey What Is A Weekend  Racerback T

Silver-Tone Edwardian Pave Crystal Y Drop Statement Necklace

&