Cowboy Beef and Beans Recipe makes a hearty meal with only 3/4 pound of ground beef. For an even less expensive option make it vegetarian with pinto beans!!
When it comes to cooking, it is nice to have recipes that can be made easily all in one pot to save mess and cleaning time in the kitchen. It's also nice to have handy cooking tools that make your preparation more simple! I recently received a few of these tools from Good Cook and they are big helpers! Shown below you can see these:
SMART Ice cream scoop: Scooping ice cream and other frozen desserts can be a real pain – literally!! The SMART ice cream scoop lets you squeeze handles together when you scoop and then let them go to easily release your frozen treat into your bowl.
Flip Measuring spoon: This is so cool! You can measure four different amounts all with one spoon. You can choose from 1 tsp, 1/2 tsp, 1 tbsp and 1/2 tbsp. Just push the silicone bowl of the spoon one direction or the other to choose your size.
Safe-cut Can Opener: Don't worry about those jagged can edges with this safe-cut can opener. It leaves a smooth edge and serves extra duties as a pop-top opener, grip-twist wrench, pull-tab lifter too!
Egg Separator: I have had several egg separators over the years and have never been too thrilled with them. For most you either have to hold it in one hand and crack your eggs with the other, or else find a cup that is the perfect size to hold the separator. This one easily perches on the side of any bowl!
Pot Clip Holder: This just might be my favorite tool of the bunch. Clip this holder on the edge of your pot and it will hold your spoon up and out of your cooking food, but OVER the pot so you don't lose your spoon or drip on the counter.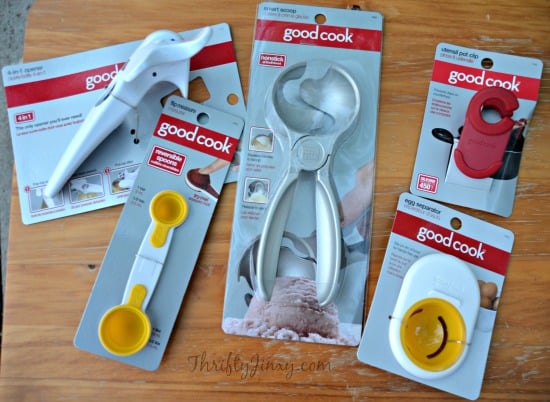 Sooooo…… three of these tools (the Flip Measuring spoon, the Safe-cut Can Opener and the Pot Clip Holder) can all be used to create this easy one-pot meal that is not only simple to make but also a very thrifty option for a hearty meal for a low price. It only takes 3/4 of ground beef to make a big pot of dinner! Even if you decrease the amount of beef it's still good. For a vegetarian option (even cheaper AND more healthy) simply replace the beef with a can of pinto beans and substitute a table of olive oil for the bacon.
Cowboy Beef and Beans Recipe
Ingredients:
4 slices bacon, chopped
3/4 pound lean ground beef
1 medium onion, diced
1 tsp paprika
1/2 tsp salt
1/2 tsp pepper
2 cloves garlic, minced
2 15-oz cans of baked beans
1 15-oz can whole kernel corn, drained
How to make Cowboy Beef and Beans:
Cook the bacon in a large saucepan over medium heat. Remove the cooked bacon and brown the ground beef in the bacon drippings. Add the onion and spices. Cook until onions are soft (appx 5 minutes). Add garlic and cook for an additional minute. (At this point you can drain the meat, but if using lean beef, you may not need to do so.) Add beans and corn to the pan and crumble in the reserved bacon. Cook on low heat 15 minutes or until heated through.