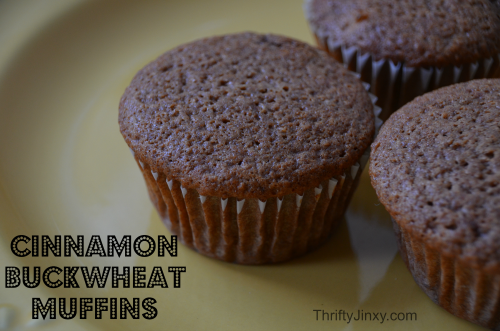 This buckwheat muffins recipe is packed with wholesome ingredients, making it a perfect breakfast on the go or anytime snack. These come out of the oven with a nice crispy top and a surprisingly light and "fluffy" inside. Love 'em!
Cinnamon Buckwheat Muffins Recipe
1 1/2 cups buckwheat flour
1/2 cup sugar
1/2 cup brown sugar
1 tsp baking soda
1/2 tsp salt
1 tsp cinnamon
1/4 cup applesauce
1 cup milk
1 egg, beaten
1/4 cup olive oil
Preheat oven to 325 degrees. Combine dry ingredients in a large bowl. Add wet ingredients and stir well. Batter will be runny. Fill muffin tins 3/4 full. Bake appx 30 minutes.
NOTE: To make this a vegan recipe, replace the milk with almond or other milk. Replace egg with additional 1/4 cup of olive oil.