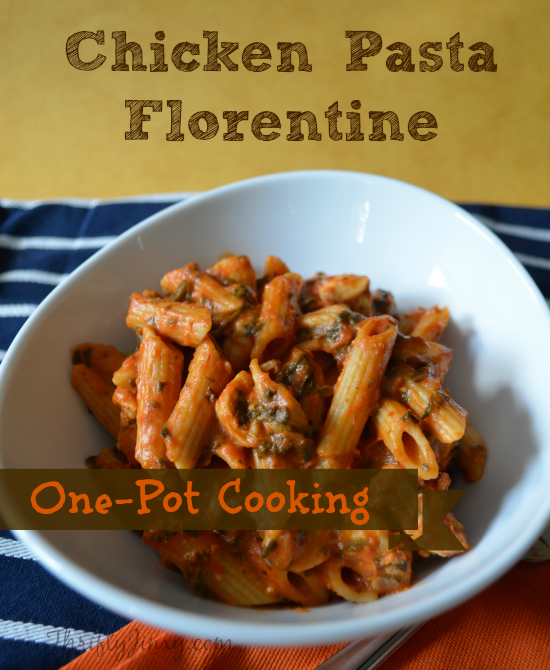 For busy weeknights, it's great to have some good standby recipes that you can prepare in just about 30 minutes. What's even better is when they are one-pot cooking recipes! I hate finishing dinner only to face a big sink full of dishes that I used during preparation. This Chicken Florentine Pasta Recipe fits but of those requirements. It is done in right around 30 minutes and it all cooks in ONE skillet.
My husband absolutely LOVES this dish. I agree that it is pretty darn yummy with tangy tomato sauce and creamy cheese. I also like that the tomato sauce and spinach in the recipe adds that nice boost of veggie nutrition.

Chicken Pasta Florentine Recipe

2 boneless, skinless chicken breasts, cut into cubes
1 Tbsp olive oil
1/2 small onion, diced
5 oz bag of spinach, chopped (or you can use drained frozen spinach)
2 cups uncooked penne pasta (or your favorite pasta shape)
1 24 oz jar pasta sauce
2 cups water
1/2 cup shredded mozzarella cheese
2 Tbsp cream cheese
Heat the oil in a 12″ skillet. Cook the chicken and onion over medium high heat until chicken begins to brown. Add pasta, spinach, pasta sauce and water to the skillet. Bring to a boil, reduce heat and simmer 20 minutes, stirring occasionally. Stir in cheeses and serve.