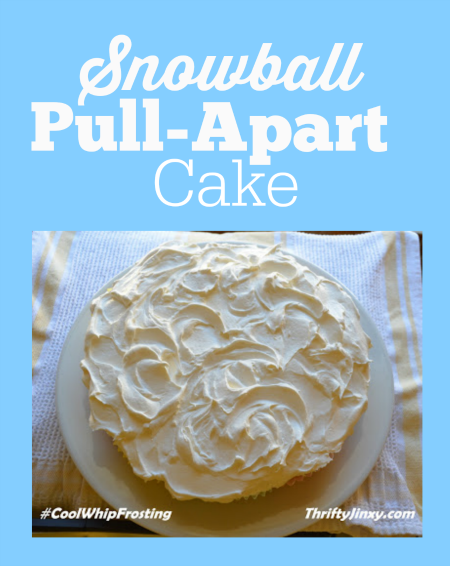 Snowball Pull-Apart Cake Recipe
It's winter. It's cold. We deserve an award just for surviving. So, we decided to actually celebrate making it through another week of winter by creating a yummy treat with the help of Cool Whip Frosting!
When winter weather means that we spend a lot of our days trapped inside, one of our favorite things to do is bake. Little R loves to cook and bake and he is becoming somewhat of a pro of it at only 4 years old!
For this baking project, we planned to play up the winter theme to make a Snowball Pull-Apart Cake. These is really a hybrid between cake and cupcakes. It looks like a regular cake, but hidden under the frosting you can see that it is made up of individual pieces that you can pull apart without needing a knife and you can eat them without needing a fork!
Before we started baking, I actually had to get the supplies. You can see the Google+ story in pictures of my whole trip to Walmart to get Cool Whip Frosting here.
And here's the recipe/instructions to make a Snowball Pull-Apart Cake:
NOTE: This actually makes TWO cakes!
Snowball Pull-Apart Cake Recipe
Prepare white cake mix according to package directions.
Using two 9″ round pie plates, nestle 12 cupcake papers into each.
Fill the wrappers half-way with batter:
Bake according to box directions for a layer cake. Once they start to barely brown, stick a toothpick in the center to see if it comes out clean – if so, they're done! (I cooked these just a bit too long.)
Be sure to let the cake cool thoroughly, and then transfer to a serving plate. It's ok if the pieces come apart while you're doing this – it's easy to fit them back together like a puzzle. Frost with Cool Whip Frosting. I used a full container on each of the two "cakes". (My plan was to sprinkle coconut on top for a real "flake" look, but I was vetoed on the coconut plan. Using a knife to make swirls in the frosting still looked nice and snowy!)
The only thing left to do was enjoy! Someone just couldn't wait for cake pictures to be taken and had to sneak some of the yummy Cool Whip Frosting!
Everyone LOVED this treat. It was so yummy and really made a bright spot on a cold winter day. Looks like we will have to be doing some more winter celebrating very soon!
You can find out more by visiting Cool Whip on Facebook.
Ready to make your own creation with Cool Whip Frosting? Grab a coupon!!
Coupon printing help resource. MAC users, please use browser other than Chrome.
Disclosure: I am a member of the Collective Bias® Social Fabric® Community. This content has been compensated as part of a social shopper insights study for Collective Bias® and Kraft Cool Whip. Any opinions expressed are my own. #CoolWhipFrosting #cbias #SocialFabric