If you wear glasses, like I do, you know how important it is to get glasses that are both functional and look good. They are something that you wear every single day and, if you're like me, from the minute you wake up to the minute you go to sleep, with only a very few exceptions along the way. So, choosing the right glasses is super important! Being able to try on glasses at home makes a big difference!
I'm super indecisive when it comes to choosing glasses (well truthfully I'm indecisive about most things), so if I go to buy glasses in a store I can end up spending a looooooong time there trying to pick just the right frames. That's why I was pretty excited to try Warby Parker's Home Try-On program, which I think is the BEST way to buy glasses from home.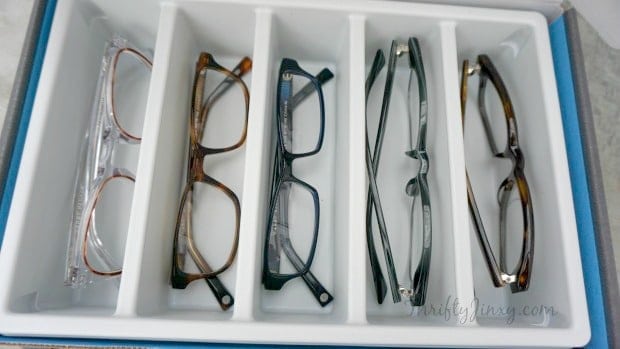 Warby Parker Home Try-On:

With the Warby Parker Home Try-On program, you can browse the wide selection of frames on their web site and choose the 5 that you think will look best on you. They will ship them to you for FREE and then you have 5 days to try them on and figure out your favorites. What is so awesome about that option is that you can take your time. You can even try your glasses with different hairstyles or different outfits – – or even just when you're in a different mood.
It's also helpful because you can easily ask the opinion of your spouse, your sister or your friend. You can even crowdsource the decision by sharing selfies on social media and having your friends vote! Since I am so blind without my glasses, I like to have the selfies of me in each set of frames available so I can look at them with my glasses on and actually see what I look like.

Then, once you have selected your favorites, you send your try-on box back to Warby Parker with the prepaid return label. You just have to put it in the mail. Then head to WarbyParker.com to order the pair (or pairs) you selected. The prices at Warby Parker are great! That's actually the reason the company started – to provide higher-quality, better-looking prescription eyewear at a fraction of the going price. I'm still not quite sure which pair I want, but think I have it narrowed down to these two: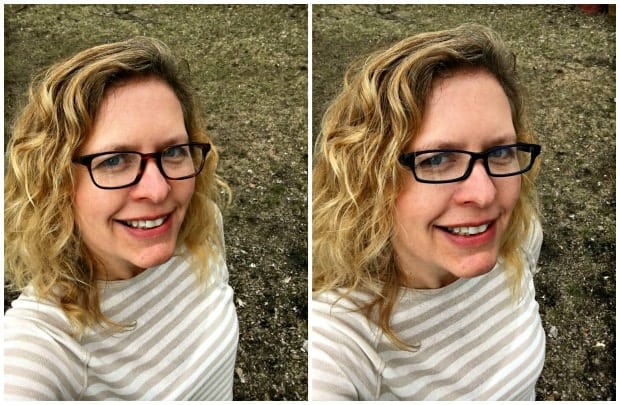 Warby Parker is also in the business of doing good. Almost one billion people worldwide (about 15% of the world's population) lack access to glasses, making them unable to effectively learn or work. To help address this problem, Warby Parker partners with non-profits like VisionSpring to ensure that for every pair of glasses sold, a pair is distributed to someone in need. So, when you buy YOUR pair of glasses, someone who desperately needs a pair gets one too!