I can't think of another summer movie this year that says FUN like Bad Moms does and that is exactly how the Bad Moms press junket in LA was – SUPER FUN! Between screening the film interviewing the cast, and indulging in a lot of pampering and playtime, it was a whirlwind 24 hours. Our interviews included Mila Kunis, Christina Applegate, Kathryn Hahn and Annie Mumolo, as well as Producer Suzanne Todd and writers Jon Lucas and Scott Moore – who also wrote The Hangover.
The event started out with a bang with the screening of Bad Moms. We started the evening with some pre-show photo-ops and video-ops outside the theater and along the red carpet. We also enjoyed food and drink – some more than others!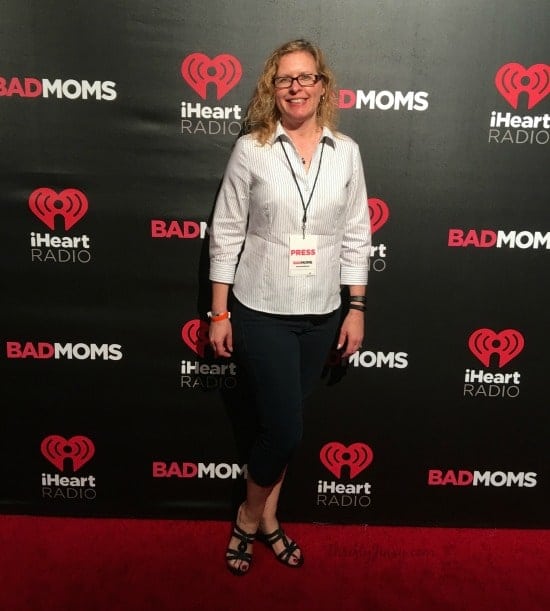 Once the lights in the theater dimmed we had a BIG surprise – a visit from the cast themselves and a live concert by Flo Rida! Everyone was up and out of their seats dancing. (To be honest I became a fan of Flo Rida from hearing his music in Zumba classes and the love took off from there. This surprise concert was seriously FUN!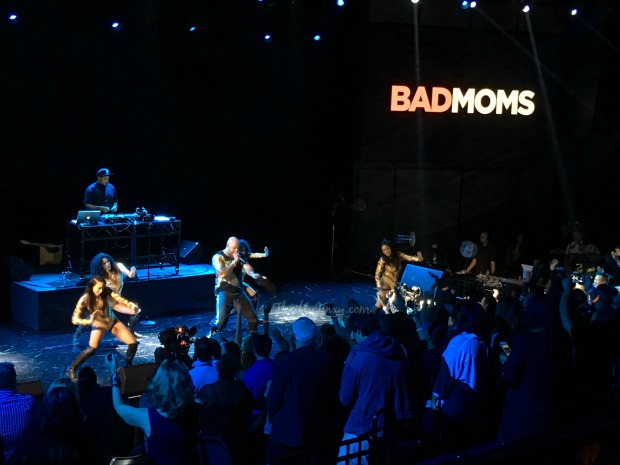 Then it was time for the movie itself and I just have to say it was AWESOME! It has been a while since I laughed that hard and the movie totally surpassed my expectations. Besides all of the laughs there were touching moments and a message that I'm sure all moms (and non-moms) can relate to. I can't wait to watch it again with my sister!
The following day, we headed to the SLS Hotel in Beverly Hills for press day. We again had some fun photo ops and enjoyed food and drinks. Suja Juice teamed up with Bad Moms for the day and I think I am now totally addicted to their Lemon Love juice with a touch of cayenne pepper. SO GOOD!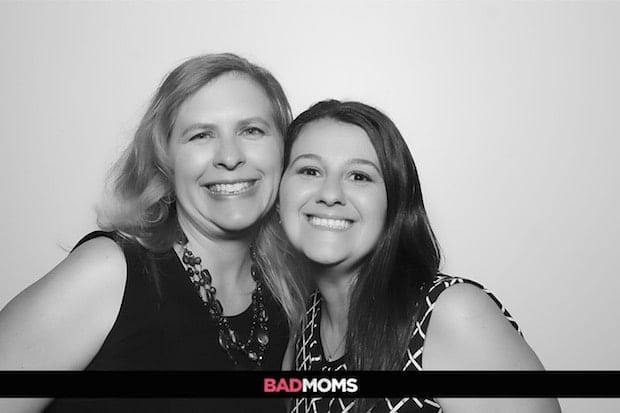 Oh, and the pampering!! We had our hair and makeup done by professional stylists and I even had a pedicure at Ciel Spa at SLS Beverly Hills. Massage therapists from Zeel were also on hand for massages.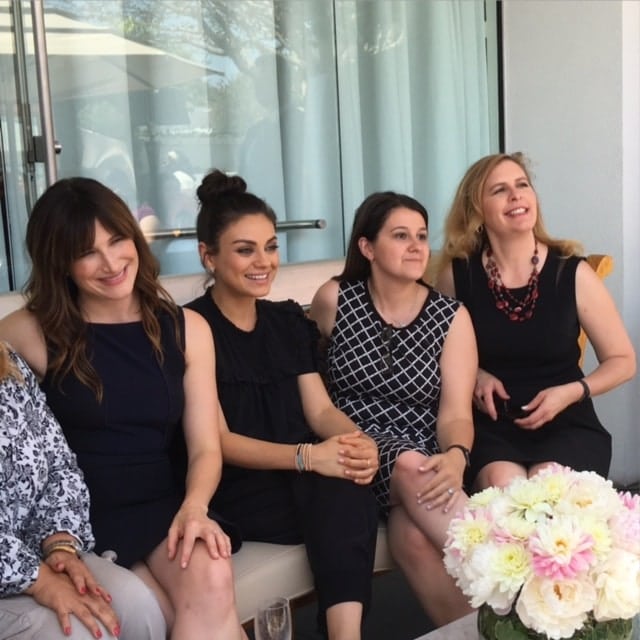 The real focus of the day, our interviews, included Mila Kunis, Christina Applegate, Kathryn Hahn and Annie Mumolo, as well as Producer Suzanne Todd and writers Jon Lucas and Scott Moore.
First up was Mila Kunis and Kathryn Hahn, who were both adorable and SO funny! They are both clearly excited about this movie and Kathryn said, "I feel like had I not been lucky enough to be in this movie, I would have been so excited to see it. And I would have started an e-mail chain and got all my mommy pals to see it. I feel like, so often moms and mommies in movies are kind of painted with a saintly glow around them – – and we know that that's just not the truth. We've got so much more complexity, so I was excited to just to see mommyhood examined from the way that we all know it, or at least would love to experience it."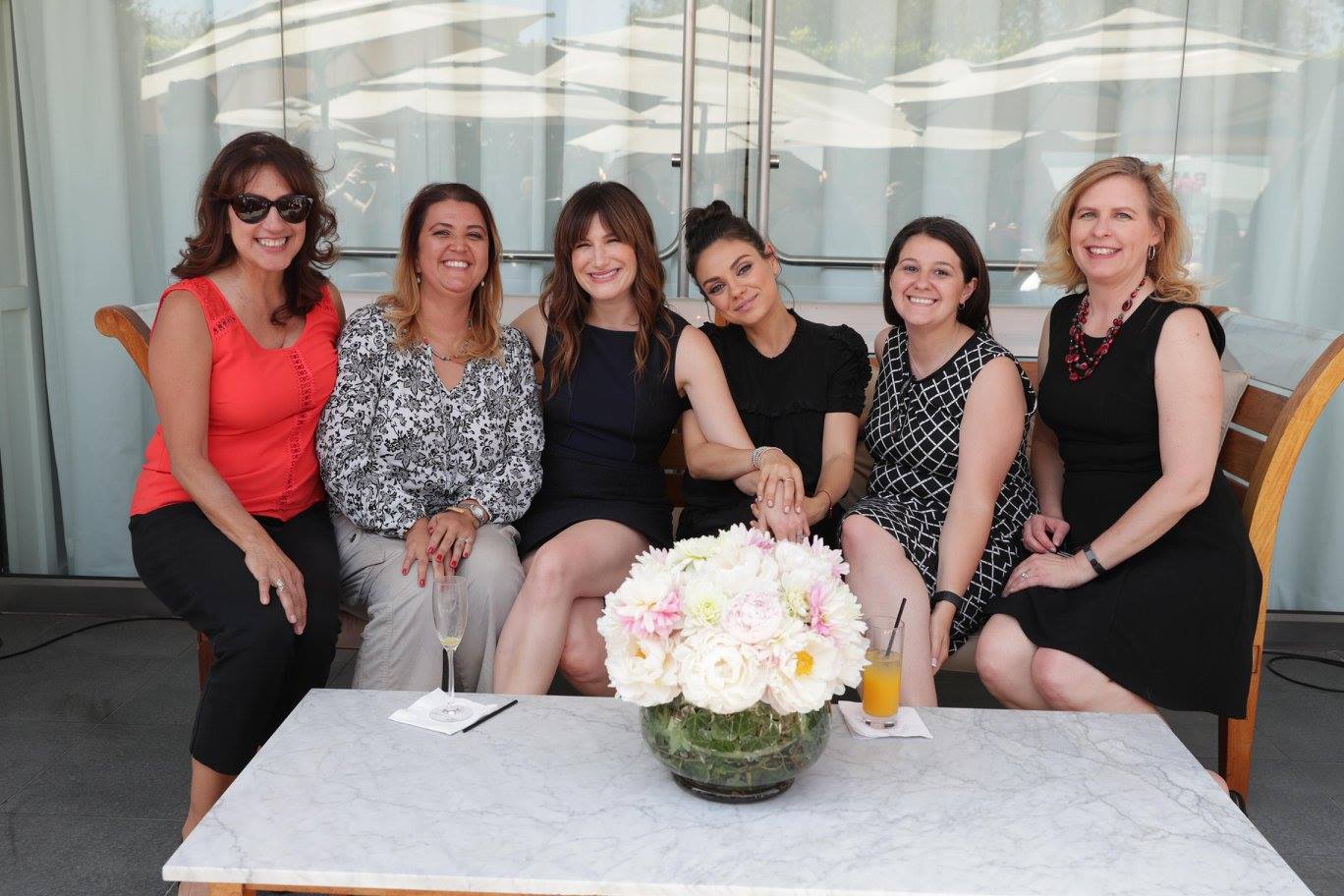 Both women shared some of their less-than-stellar mom moments. Mila confessed to a recent mishap with her baby girl Wyatt. She planned for them to visit her husband at work and "driving with an 8-month-old for a couple hours is like going on a road trip, so you pack up the car with all this stuff." After being proud of herself for getting everything put together, and starting on the trip down the highway she thought Wyatt was being very quiet, she looked into the rearview mirror to make sure everything was ok. "I look and she is happy as can be, but just not strapped in. I was like 'oh, f#*% me.' I'm on the 101 and she's just like fine in her car seat with no strap whatsoever. And I think I just turned white….So, I pulled over. I calmly crawled in the backseat, strapped her in, continued to drive."
Next up was producer Suzanne Todd and writers Scott Moore and Jon Lucas. This was my second time in two months interviewing Suzanne Todd and she is an amazing woman who has been making movies for 30 years, which isn't easy in a Hollywood still dominated by men. She was attracted to this project because of the incredibly funny script written by Scott Moore and Jon Lucas, who also wrote The Hangover. She said, "You can't believe was written by two guys because it's so accurate. Credit to both of their wives, who I've gotten to know and are amazing people." Scott and Jon reiterated that the movie works because so much of it is based on situations they have witnessed their wives experiencing.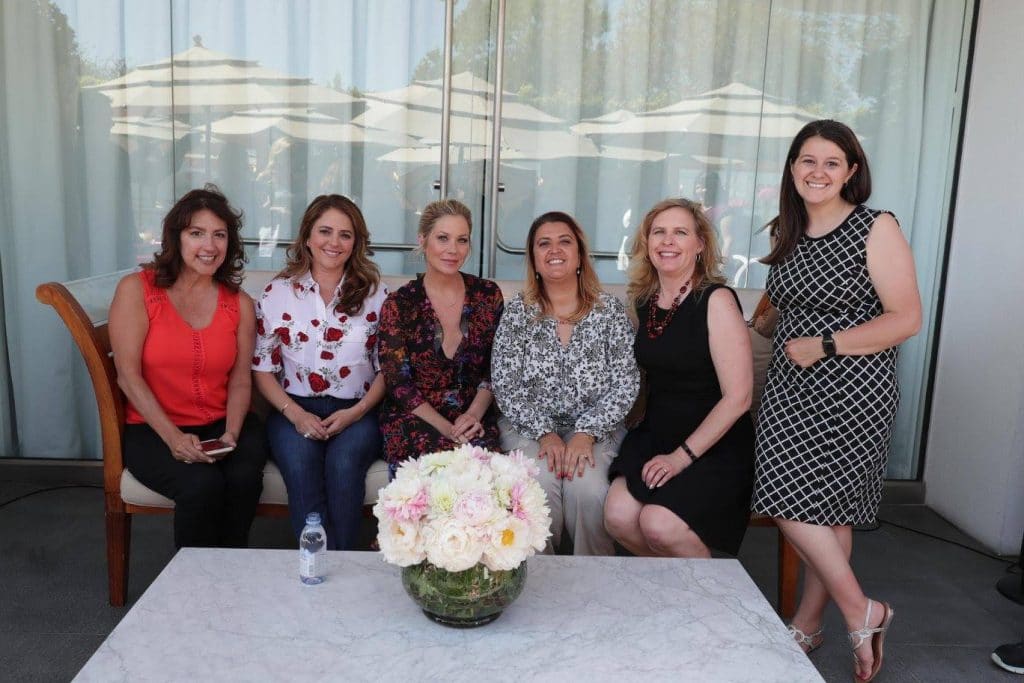 My husband usually doesn't get jealous about my interviews, but I think he was feeling a few tinges when he knew I would be meeting Christina Applegate since he grew up with her on "Married with Children" and has always been a big fan. I personally think she is AMAZING in Bad Moms. You really get to hate her character, Gwendolyn, and I think it takes a lot of talent to be so hated!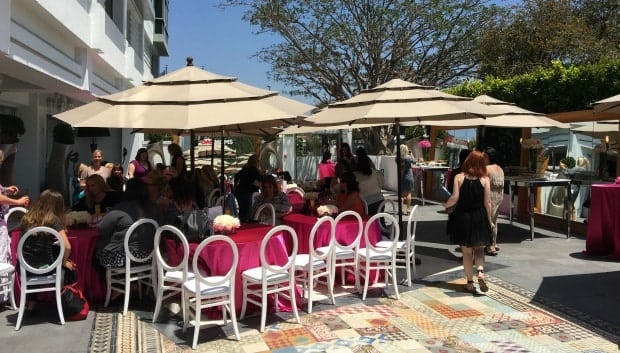 As we started the interview Annie Mumolo, who plays Vicky commented, "This feels like a weird baby shower." I think she was spot on with everyone in summer dresses and sipping on mimosas on the pretty umbrella covered patio. From there our interview continued to go off track and that's what made it so fun! Christina is definitely not a Gwendolyn in real life and had plenty to say about her type, particularly those who have a blowout at school drop off. "Did you go to dry bar like at 5:00 this morning to make your f#@%ing hair look that nice? Like, if you asked me if I have lice, I wouldn't know because my hair's so damn dirty. Do you know what I mean?"
All the real talk from these four ladies throughout their interviews makes me seriously love all four of them. I think I want them to be my besties. 🙂
Bad Moms is in theaters July 29th. Order your tickets now and make a plan for Girls Night Out or get Grandma to babysit and take your husband – he'll enjoy it too!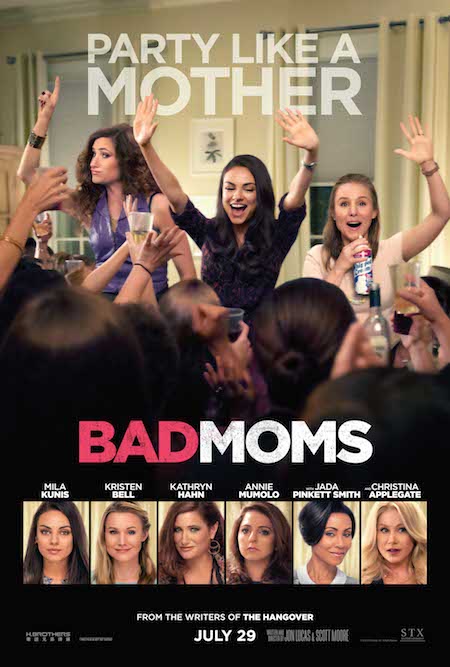 About the movie:
In this new comedy from the writers of The Hangover, Amy has a seemingly perfect life – a great marriage, over-achieving kids, beautiful home and a career. However she's over-worked, over-committed and exhausted to the point that she's about to snap. Fed up, she joins forces with two other over-stressed moms on a quest to liberate themselves from conventional responsibilities – going on a wild, un-mom-like binge of long overdue freedom, fun and self-indulgence – putting them on a collision course with PTA Queen Bee Gwendolyn and her clique of devoted perfect moms.
Visit the Official Website
Like on Facebook