Make delicious meatloaf in the Perfect Meatloaf Pan, as seen on TV, that helps drain the fat to keep meatloaf from getting soggy or falling apart.
Have any of you ever tried this As Seen on TV Perfect Meatloaf Pan? I liked the infomercial and it seems like a great invention – especially how all the extra fat drains out. (UPDATE: Read my note at the bottom about another option!)
It's also a pretty good deal with the free knife (although I'm not sure of the quality) as well as a second pan free – great for making extra to freeze.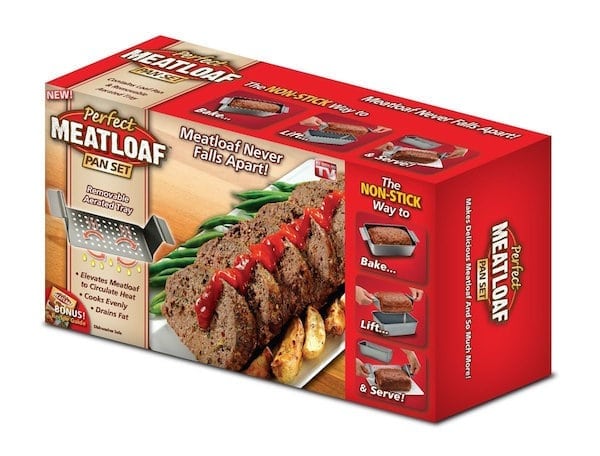 A few of the details about this perfect meatloaf pan (As Seen on TV) are:
Contains loaf pan and removable aerated tray
Elevates & cooks meatloaf evenly, every time
Never soggy, drains fat keep meatloaf from falling apart
Keeps meatloaf from falling apart
Includes bonus recipe guide
If you have tried the Perfect Meatloaf Pan before, leave a comment and let us know your thoughts!
UPDATE: We have found a copper meatloaf pan version that is much lower priced! You can find it here.
Some other options to make meatloaf in this style if you don't have the magic meatloaf pan is to use a regular loaf pan and place crushed up balls of aluminum foil in the bottom. Do not crush it too tightly so that there is space in the "foil balls" for excess grease to drain down.