Does this scenario sound familiar? It's the holiday season and you're not entertaining any guests this year.  You're enjoying the time off work, the delicious leftovers, and the fact that sweatpants are appropriate attire for the weekend ahead.  Housework,  laundry and floor cleaning are the last things on your mind as you soak up every family-fun-filled minute.  All of a sudden your phone rings.  A family member is on the other end, informing you they'll be driving through your town in a little while and want to stop by.  Of course you tell them you're excited to see them, but deep down a mini-panic sets in as you look at the unclean state of your home.
Don't let this scenario be your reality this year!  Here are ten simple tips for quickly cleaning your house for unexpected visitors:
Enlist the family.
Give everyone in the family a job and make it seem like a game.  Offer up a prize for the person who does the best job cleaning their assigned area.  A little friendly competition will surely get them motivated!
Forget the ladder, but don't forget the cobwebs.
People can overlook a lot of unclean areas, but if they spot a cobweb they will immediately notice everything else.  You can knock down cobwebs quickly by covering your broom with a towel or an old pillowcase and sweeping them down.  No ladder required!
Turn off the lights and open the windows to see areas that need dusted.
Turn off your artificial lights and open up your windows for natural light if you want to see all of the areas where dust is hiding in your living room.  Give a little one a dust rag and let them go to town.  Once they're done, if it still looks dusty, just close the windows and resort back to your lamps to hide any missed dust.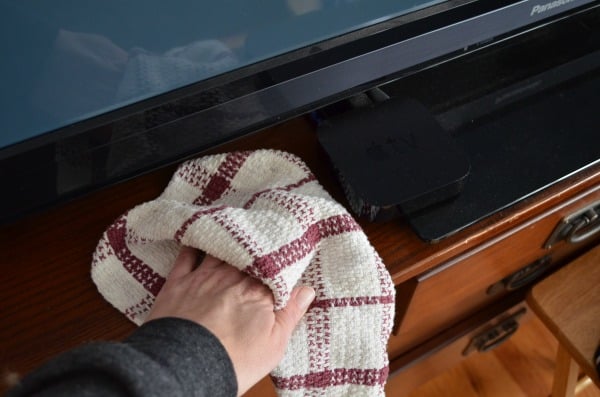 Make your house smell nice.
Use an old real estate trick to make your house smell amazing in an instant.  Bake a cookie!  You don't have to bake a BATCH of cookies, though.  Do you have a pack of pre-cut cookies in your fridge?  Simply pop one into the microwave and it will smell like you've been baking for hours. (But you might want to make them all if your guests will be looking or them with that great smell!)
Declutter!
Everything doesn't have to go to its "permanent home", but you can quickly declutter to make your home look better. Grab a laundry basket and go around loading everything into it and stash it away in a closet or unused room.
Clean the Path
Think about the way that your guests will be walking through your home and focus on those spots first.  Will they be walking through the kitchen but not down the hallway?  Clean the kitchen, forget the hallway.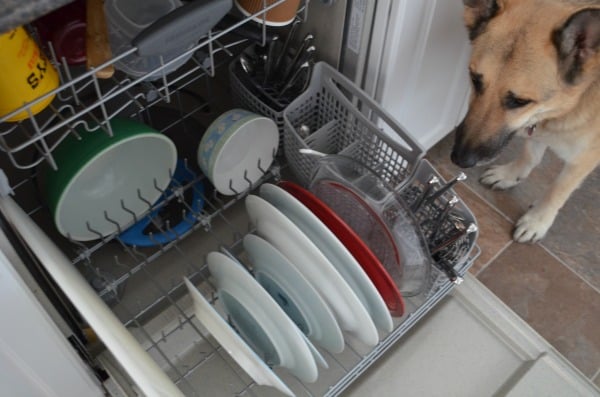 Hide the Dishes!
Fill your dishwasher as full as it will go, and hide the rest.  Half-fill your kitchen sink with water and dishsoap and put the rest of your dirty dishes under those suds.  Hey, a little pre-soak never hurt anyone, right?
Clean the Bathroom
The main room you should focus on cleaning is definitely the bathroom!  Take everything off your counters, spray them down with a cleaner, and wipe it all down.  For a quick toilet bowl cleaning, use old fabric softener sheets.  Make sure there is plenty of toilet paper to avoid awkward situations for your guests.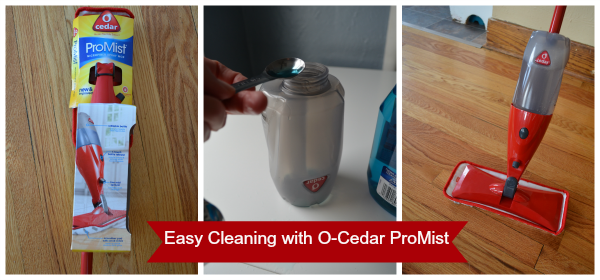 Give the floors a once over
Clean floors can go a long way to make your house look clean. This is especially the case when you have pets! Run a vacuum over the carpets (if you have them) and take a mop to the bare floors. That doesn't sound like a "quick tip", but with the O-Cedar ProMist I'm able to finish my whole little house in a few minutes. (I got mine at Walmart.) The cleaner is held right on-board the mop and it has a handy reusable/washable cleaning pad. Super easy!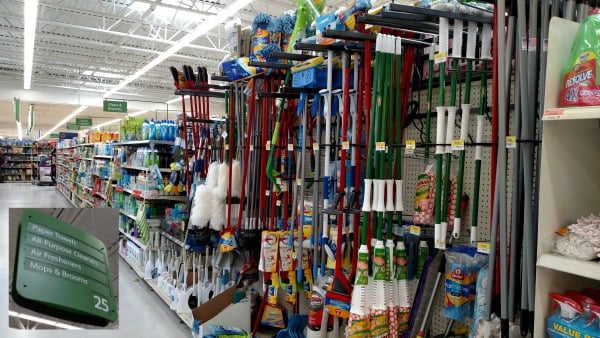 #CleanForTheHolidays #CollectiveBias
Calm down!
Take a deep breath and don't stress out.  Your family is your family and your friends are your friends. If they notice a little bit of a mess it won't be the end of the world.
* * * *
So for now, keep on relaxing in your sweat pants and enjoy the holiday season, but if you get that call from unexpected holiday visitors, you'll have these these ten simple tips lined up to help you keep your sanity and the appearance of a super clean home.