Ohhhhh!!! This is SO fun!! For all of us Arlo lovers who are also excited about counting down the days 'til Christmas, we have this The Good Dinosaur Printable Advent Calendar The Good Dinosaur Printable Advent Calendar!
The calendar includes a top page featuring Arlo and doors numbered to represent each of the 24 days of December leading up to Christmas. The bottom page features Forrest Woodbush, the awesome Styracosaurus in The Good Dinosaur, and all sorts of interesting and adorable critters he has collected.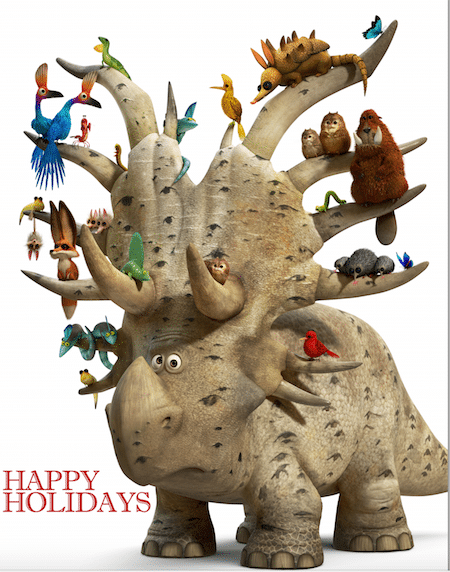 The Good Dinosaur Printable Advent Calendar is super easy to assemble. Just print out both the front and back pages and use a scissors to cut the top, right and bottom of each door, but DON'T open them yet! Then place the top sheet on top of the second page and tape or glue around the edges to hold it in place.
Open the corresponding door for each day of December to reveal a different critter leading up to revealing Forrest Woodbush himself on Christmas Eve!
THE GOOD DINOSAUR is now playing in theatres everywhere!
Like THE GOOD DINOSAUR on Facebook: https://www.facebook.com/PixarTheGoodDinosaur 
Follow THE GOOD DINOSAUR on Twitter: https://twitter.com/DisneyPixar
Follow THE GOOD DINOSAUR on Instagram: https://instagram.com/disneypixar/
Follow THE GOOD DINOSAUR on Pinterest: https://www.pinterest.com/disneystudios/
Visit THE GOOD DINOSAUR on Tumblr: https://disneypixar.tumblr.com
Follow Disney/Pixar on YouTube: https://www.youtube.com/user/DisneyPixar