I love all my pets dearly – I truly do. But one thing that drives me bonkers as a pet owner is all of the pet hair. With multiple cats and a big 'ol German Shepherd it is a LOT of pet hair making its way onto our floors every day. It's enough that we really should vacuum every day – or at least every other day – but there is no way I have time for that. This conundrum has plagued me for years, so I was SO, actually SO SO SO excited, to receive the Samsung POWERbot Robotic Vacuum.
It has been years and years that I have wanted a robotic vacuum, but never quite pulled the trigger on getting one. The Samsung VR9000 POWERbot Cleaning Robot Vacuum was an awesome one to wait for! It features Cyclone Force, which reduces clogging and maintains suction power and uses a Visionary Mapping Plus System to create the optimal cleaning path – making sure your entire floor is covered.
There are so many cool features in the POWERbot, but what I love most is just the basic function. All I have to do is keep it in its charger and when I want my house to be vacuumed I push two buttons and its off! It navigates its way around our entire house (it's a single-level) cleaning everything in its path and then returning to its charger when it's finished. What is even cooler is that if I like I can program it to start itself each day, eliminating the need for me to do anything at all.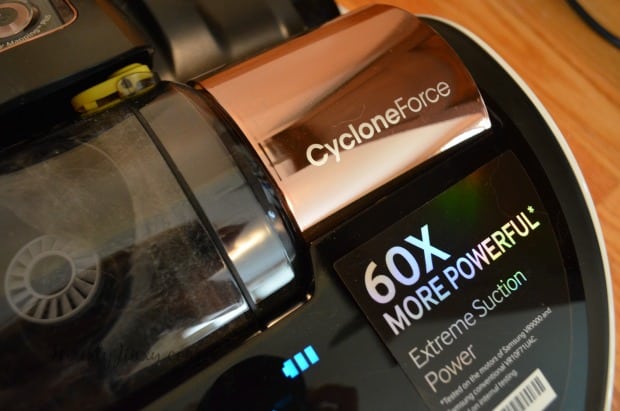 The first time I ran it, I was nervous that it would have problems of actually running into things or getting stuck, so I watched it almost the entire time. But, I'm amazed at what a great job it does navigating. That first time it did have a bit of a problem getting stuck trying to go under a piece of furniture in our living rooms on short legs, so I have now blocked off that area with a cat scratcher so it won't try to go under there again.The POWERbot does come with a Virtual Guard that can restrict the vacuum from certain areas – say a stairwell or your houseplants. I have found it to be easy to just set something in the way of those areas, i.e. a box, a pet bed, or even a line of shoes.
Another cool feature of the POWERbot is its Point Cleaning remote that lets you direct the vacuum to clean up messes. You just point the remote where you want the vacuum to clean it follows the red light to that spot. I have not yet told my husband about this feature because I have a feeling he will start playing with the POWERbot like it was a remote controlled car!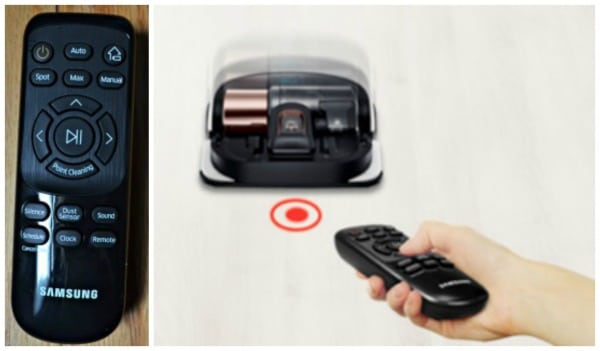 It is so handy that I don't ever have to worry about charging because it always returns itself to the base and charges automatically. The only other "maintenance" I have to do is emptying the dust chamber. That is very easy to do, only taking a few seconds to remove open, empty, close and return to the vacuum. I love that!
There are a few drawbacks to the POWERbot. It would be helpful if there were brushes on the side to get dirt that is missed there. I also wish that it would work on thicker carpet. I'm not able to use it on the rug in our living room. (At least I have an awesome Samsung upright vacuum to use on that.) The height of the vacuum also limits it from going under beds and sofas.
But, the pros to the POWERbot far outweigh the cons and in just a week I have to say it has made me very happy that I can have clean floors every day while I just sit at my desk and let the vacuum do its job on all its own. Oh, and I didn't even mention how COOL it looks. The sleek black and shiny copper design and functional lighted control panel makes it look like the awesome piece of equipment it is.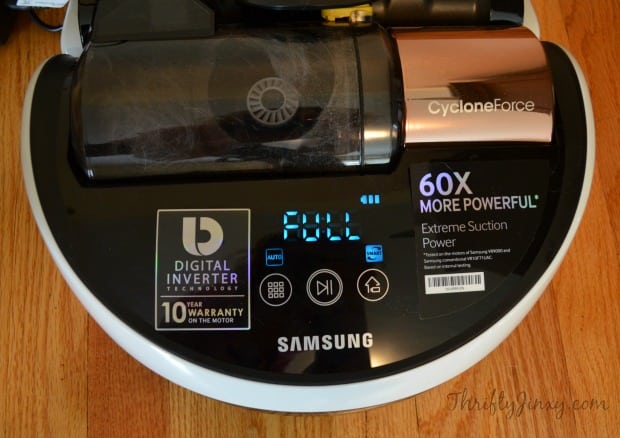 I'm extremely happy to have my Samsung POWERbot Cleaning Robot Vacuum. Clean floors every day with no work on my part is a pet lovers dream come true!
Could a Samsung POWERbot Cleaning Robot Vacuum make your cleaning routine easier?