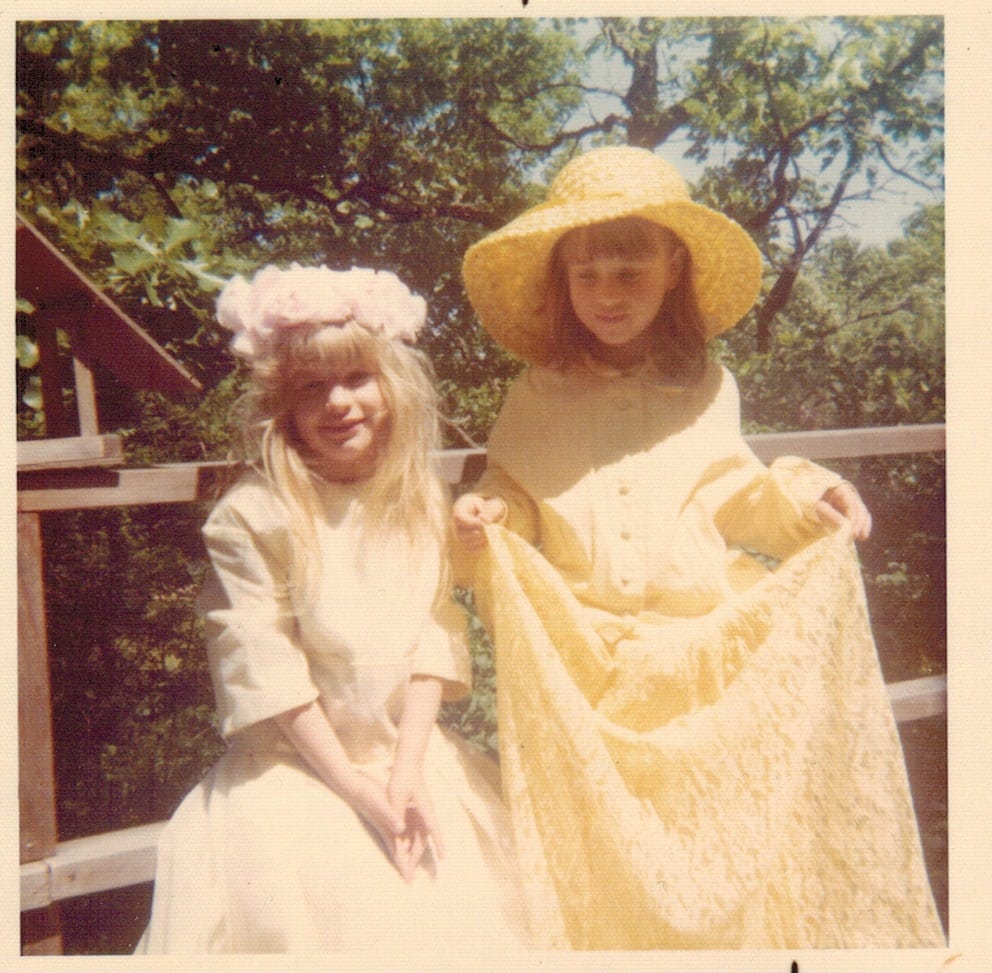 How do you save treasured memories? Are you a scrapbooker? Do you keep a memory box? There are lots of ways to remember special times and one of those ways is through clothing. When I was a kid we had a big "dress up box" that we always went to when we were looking for costumes to put on our own plays or musical spectaculars. Most of the clothes in the box were my parents old dressy clothes like bridesmaid dresses, ties and suit jackets. We still have a few of those pieces around at my mom's house and I think they hold more memories for me and my sister as a remembrance of our childhood than they do for my mom as memories of being a part of those weddings.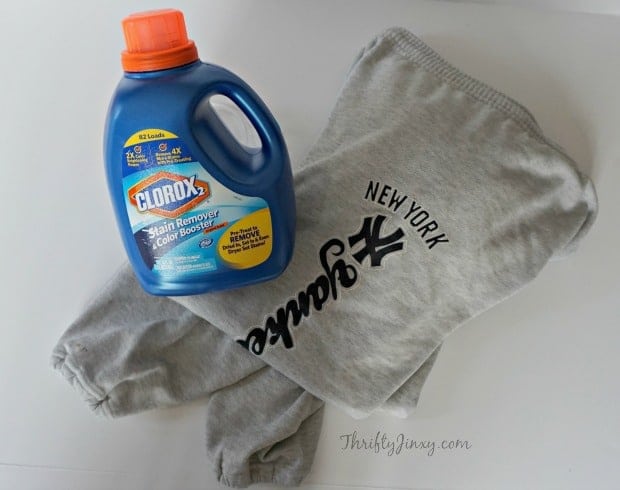 I have lots of other pieces of clothing that hold special memories for me, so it's good to know that even old clothes can stay looking new with the help of Clorox 2® Stain Remover & Color Booster. That's especially important for me with old clothes that I still wear! One of those items are my Yankee sweat pants that I bought probably close to 20 years ago. I adopted the Yankees as my favorite team after moving out East and remember buying these pants from a vendor in our company cafeteria. I'm glad I bought two pairs so they have held up better because I still like to wear them often. Using Clorox 2® extends the life of your wardrobe and keeps your clothes looking newer longer. (For best results, be sure to pre-treat using Clorox 2® Stain Remover & Color Booster.)
There are some of the other pieces of clothing I keep for the memories, even if they aren't worn anymore: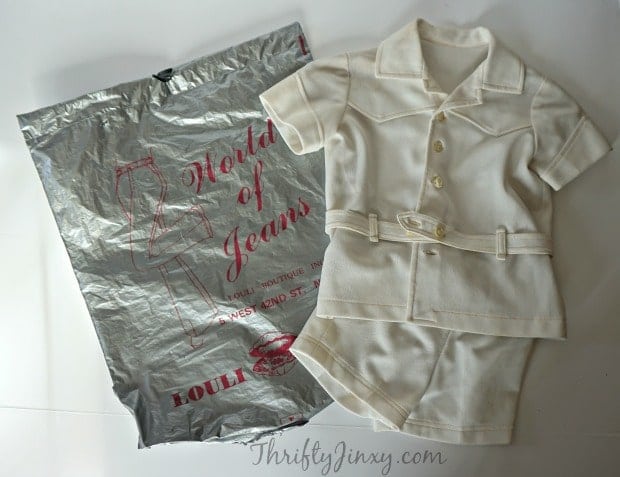 One of my very favorite things is this outfit from when my husband was a baby. It's the only thing besides photos that we have from way back then. Not only is the outfit adorable, but I even love the funky 70s bag from "World of Jeans" in NYC that his family stored it in. It kept it safe for a long time!
Speaking of the funky 70s, I also have an outfit that was one of my Grandma's way back when. It is in pretty much perfect condition and I'm sure that's because she probably only wore it for special occasions.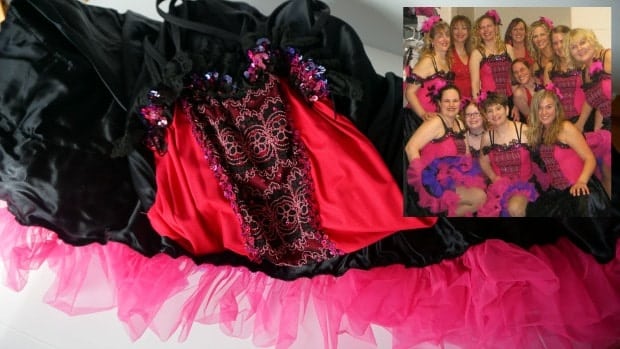 I mentioned at the top of this story that we loved to play with the dress up box as kids. Besides old grown-up clothes, we also had lots of our dance costumes in that box. A few years ago I decided to go back to dance lessons and even did a few recitals. While my childhood dance costumes are still at mom's I have my more recent costumes, which not only have good memories but also remind me to keep doing things that challenge myself!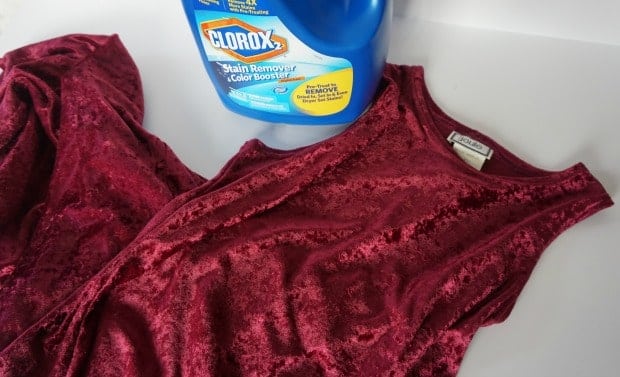 And, speaking of dancing, I also have some of the dresses I have worn for festive occasions over the years, including this dress I wore at a company Christmas party back in the 90's, where I just happened to win the disco dance competition (for which I ended up with a really nice boom box!) I swear this is going to be fashionable again soon and it's machine washable so I'll be ready to go. Removing tough stains and brightening colors is easier with Clorox 2®. We can use it to pre-treat set-in stains you thought would be there forever – even ones that have been through the dryer!
Don't let time and stains wear away at your most cherished items! Use Clorox 2® to keep your clothes looking new and brighter for longer with these Stain Removal Tips from Clorox.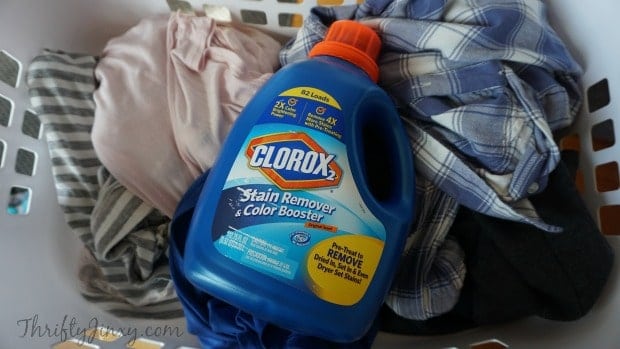 Stain Removal Tips:
Pre-Treat to Remove Tough Stains:

For best results, apply product directly to stains.
Rub in gently and let set for 5–10 minutes. Don't allow to dry on fabric.
Wash as usual with Clorox 2® product and your favorite detergent.

To Remove Stains and Boost Colors:

For standard washing machines, add product to the wash basin along with your favorite detergent.
Fill the cap to the first fill line for small or regular loads and to the second fill line for large or extra-large loads.
For HE washing machines, fill to the first fill line and add product with your favorite detergent in the detergent dispenser.
For best results, start the washer and add both detergent and product before adding clothes.
For extra-dirty clothes, pre-soak the garments before starting in mixture of 1 cap-full of product (to the first line) and 2 gallons of water (the warmest water recommended on the care label). Pre-soak for 30 minutes.
Reader Giveaway: One lucky Thrifty Jinxy reader will win a C2 gift pack including a $200 Container Store gift card, Clorox 2 Stain Remover Pen and Clorox 2 Stain Remover liquid. To enter, just complete the entry form below by 11:59pm ET on 3/9/17. Good luck!
I am participating in a VN campaign for Clorox®. I am receiving a fee for posting; however, the opinions expressed in this post are my own. I am in no way affiliated with Clorox® and do not earn a commission or percent of sales.